Hello steemit and sports community, my name is @manchochris and I am very passionate when it comes to sports to be more specific football.
From my childhood I have been motivated by Cristiano Ronaldo not because he is the best player in the world but because of his hard work, passion and style of play.
But again there is this wonderful footballer who has motivated me beyond in the past 7 months, he has made me realize how important I can be to the community I leave in through the game of football. He has placed me in the best position to support young children who are passionate about football just like me.
He has provided reasonable support to me that I have used to support over 100 children in just a period of 7 months now. He is none other than Andre Gray.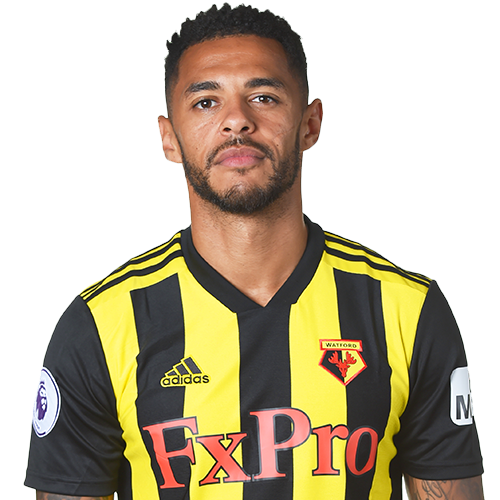 Andre Gray is a professional footballer who players for English club Watford. This man is one person who has come up to support young talent youth from unprivileged countries through cryptocurrency to be more specific steem.
I want to assure you that very many people have benefited from this project which runs on steemit blockchain and being powered by oracle-d.
Let me take this opportunity to show you my achievements and Road map through which I hhave moved on with the AGFA project. I am very sure you will be amazed by the power exhibited in steem!!!
Since January 2019, I have supported 5 football teams through the funds I receive from the AGFA project.
These Teams have their different accounts here on the steemit platform and they Include;
I started this project while training my personal drills with a few friends of mine who are also here on the steemit community in December 2018 before I got an idea to start supporting young children.
This was my first training video

If you have watched this video you could have noticed how excited I was to land on a great opportunity where I feel my life belongs. It was a sweet moment for me I can assure you.
This is my latest video

I think if you have gone ahead to watch the latest video you realized quite a number of positive changes as compared to the first video..Did you?
I now have nice training soccer attires
I own training balls
My talent has greatly improved over time due to regular training
That is for me as a person and I have been able to reach this far through the support from Andre Gray.
In January 2019 I started supporting children and the team I started with is called Teens soccer academy. We trained with teens soccer academy for quite a number of months and during that time I was able to provide the team with;
New soccer balls(6)
Training Bibs(15)
training cons(22)
I was able to provide all this to the Teens soccer academy through funds gathered from the Andre Gray Football Academy project.
To me this was a great start because I never knew I could support such a number of children and most importantly through the game of football. This was a dream come true!!!
This is one of the videos showing proof of some of the playing equipment being handed over to Teens soccer academy

If you have watched the video then you have seen me addressing the children and giving them a motivational speech while handing over some balls to them. This is really a great memory isn't it?
As If that was not enough I went a head to support children who are unprivileged but talented and passionate when it comes to football.
I found a number of children who were very passionate about football in some village here in Uganda. I approached them and later I organized them into a full team which I named Tibens Soccer Academy. My intention was to support them both academically and talent wise because I had the opportunity to do some thing and change their lives some how.
This how the team looks like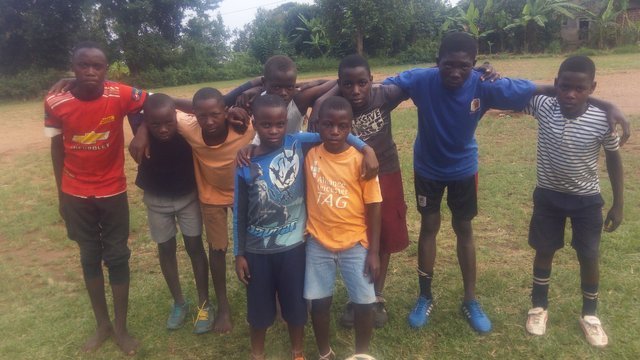 I started training them on a regular basis and when I collected some more funds from the AGFA project I managed to get the team the following;
Training soccer balls(2)
A dozen of books and pens for each team member
This was my second team in charge and I manged to support them mostly via academics because that is what they prioritized and I personally found it very necessary.
However along the way I encountered a few issues with some people around the village who claimed I wanted I was just fake the children. They insisted that there is no possible way I can have connection to an English player. They wanted me to show them the money instantly which I was not able to do. That isn't how I operate anyway.
Unfortunately these children started doubting even after I had given them scholastic materials to help them in their education.
As time went on most of the team members stopped coming for training but the fact is that I needed patient and talented players that I could support as you all know the pay out system takes 7 days and I needed like a month to collect some funds to get some reasonable money to provide more and more to the team.
However I am very glad I extended Andre Gray support them and they were able to benefit in one way or the other.
I never stopped on that I continued to look for children who are passionate and talented. Fortunately I landed to some remote school which had many children but unprivileged. I approached the Head Master for this school and I discussed with him on how I wanted to support a number of children from his school.
He listened to me and allowed me to go on extend the opportunity to these children. This is where I came up with the Lady Giants Football Academy(@lgfacademy).
@lgfacademy is a football academy that I formed in February this year 2019 consisting of girls only.
This team started with almost nothing because even the playing ground that we could use for training was to be hired but I never stopped because I had the zeal to push it forward and I thank God today it is really in a better shape.
This is how the team started!!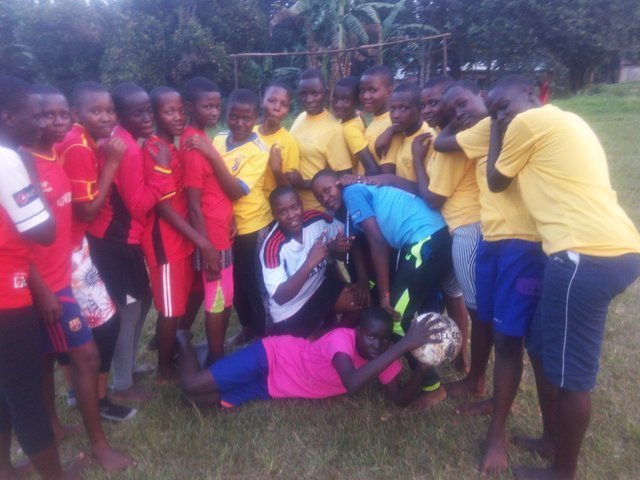 It was really great for me to start a new challenge this time with a full team of only girls. It was very important for me to extend the support from Andre Gray to girls as well.
In the picture above you realize that the players did not have playing equipment, no training attire but I had to persevere and support them to a team I wanted them to be.
Soon or later I was able to collect funds from AGFA Project and I was able to provide to the team the following;
Training Balls(8)
Training Bibs(18)
Training Jersey(1 set)
This is the video showing proof of some the equipment received by the team

Again if you have watched the video then you have seen me handing over a set of jerseys to the the team and passing a word of appreciation to Andre Gray.
Below is a photo showing you how the team looks after receiving the new training jersey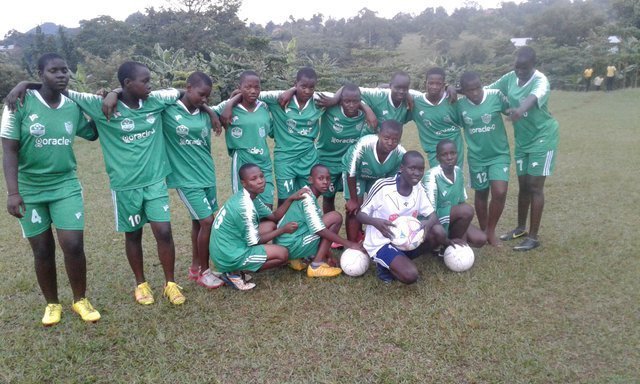 What a great achievement this is!!! from nothing to something, from no team to a super recognized team.
Those are some of the tangible achievements I have managed to extend to the Lady Giants so far and team is still alive and kicking training well with at least a reasonable number of training equipment.
The Lady Giants will be going out for a tournament name Airtel Rising stars this Saturday to compete for the number one position on the ladies side. You can wish the well in the comment section if you may wish.
I never stopped on Lady Giants I went on and looked for more needed children as I am going to show you below
My passion for supporting children grew stronger after I had seen the Lady Giants grow at a very faster rate. I went on to check various schools that I felt really had very needy children.
Unfortunately some of the school heads for some schools were not in line with me as they were not sure of how I was going to support the children claiming me that even the government has not done enough then who is me!!!
However I was able to get a school again with a number of needy children and very talented. I was given chance to extend the opportunity to these children and boom....guess what!!!
This is how the @ysfacademy or call it Young Stars Football Academy came about. I started up this team with very passionate children but with hardly nothing, but as usual I never give up and this has paid me off highly.
This is how the team started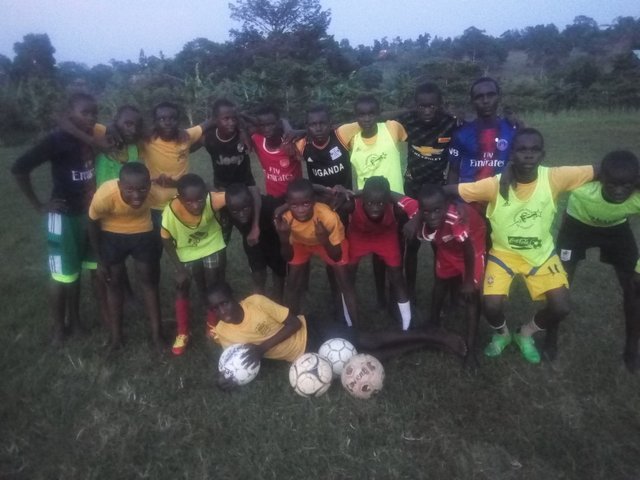 I started training the children and as time went on I was able to collect some funds from the AGFA project and secured the following for the team;
Training Balls(10)
Training Bibs(15)
Training Jerseys(1 set)
A dozen of books and pens for each team player.
Below is a video showing proof of how some of the training equipment was handed over to the team

Again if you have watched the video then you have seen how excited the team was when they received the jerseys and you have seen me address the team and thanking Andre Gray on behalf of the team.
New look of the team after receiving new jersey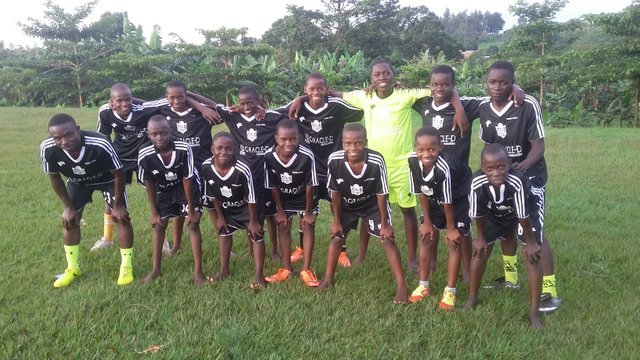 This is again a wonderful achievement recorded as I can not explain how I have been able to achieve all this in a just a short period of time. Do not joke with the power of steem. It has done so well for me and it through steem that I have been able to achieve this much.
Finally I was approached by a friend to my friend who had been sent by friend of course to seek financial support to help support his team which includes only young girls. I was very glad to being referred to as some one who could actually help people out. However I want to make sure I extend this opportunity to as many people as possible.
This is how I came to bring the @super-ladies to steemit community and we started training together and after a period of about 1 to 2 months I was able to give the team the following;
Training balls(5)
Training Bibs(20)
A dozen of books and pens to every member in the team
This is how the team looks like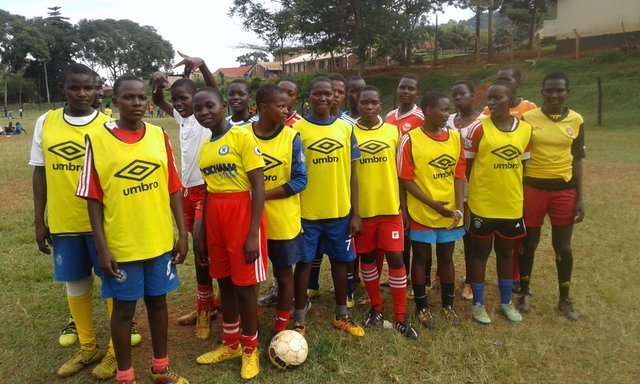 This has been my journey so far and no doubt I have touched many lives and many talents. This is proof enough that I have passion for the game and with this kind of support I have exhibited I intend to even more and more children. I want to make sure many people get to know about steem, AGFA and now Sportstalk plus many other important platforms here on the steem blockchain.
My future plans for supporting children are very wide and bright and I am sure I am still going to do this because it makes me feel like I am able to give to children what I missed to get during my time and that alone is satisfaction to me.
I want to take this opportunity to thank Andre Gray for this wonderful project may be many people did not know what is happening here that is why I decided to take time and share my story. It may not be the best story but it is worth it!!!
I want to also thank Oracle-D for always curating our posts tirelessly and for powering the AGFA project.
I want to also thank the steem community for supporting us every day. Thank you so much.
In my conclusion I think if we get as many projects as the AGFA project here on steemit then we can be able to change as many lives as possible. I want to assure you that AGFA has been a success story for me and this can be you tomorrow.
However, with the introduction of the new sports community called the sports talk social I believe I shall be able collect more funds to add on the already established so to see that I can support these children even better.
Thank you so much for reading my post and thank you every one for the support you are giving.
@manchochris, Uganda