---
Will wonders never cease! I came into the game Sunday night down by about ten points and projected to lose once again for the week. I had one player left to play and based on historic numbers it wasn't looking very likely that I was going to win.
Neither of us had players in the game last night, so I actually knew I won Monday morning. I had a World Series game to post about, so you are getting my fantasy breakdown today.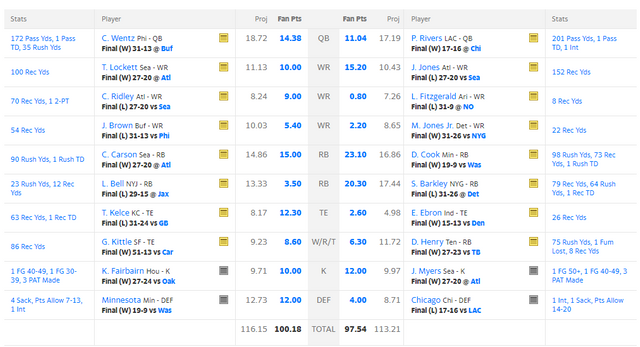 ---
This week was even more concerning that usual given the fact my starting quarter back was on bye. I knew I wouldn't be able to count on Wentz for very many points. I was obviously correct in that thinking as he only netted me a measly 14 points for the day.
My wide receivers continue to be an issue but I will gladly take the ten point average game Lockett and Ridley gave me vs. what I have been getting in the past. The 5.4 points that Brown put up is a more common sight in my roster.
Running backs also continue to be an issue for my team. Carson was the clear star of the week for me with 15 points. Bell continues to put up unimpressive numbers and he will soon find a place on my bench if he doesn't turn things around. I know he has the potential to be explosive, so that makes it hard to not play him each week.
Tight ends were very acceptable this week. In fact, the 12 points by Kelce are what allowed me to pull past my sister in law for the win. I wasn't sure how things were going to go with Mahomes out with an injury, but the replacement quarter back seemed to target Kelce enough to give me what I needed.
My Defense and Kicker also put up pretty great numbers with 12 and 10 points respectively.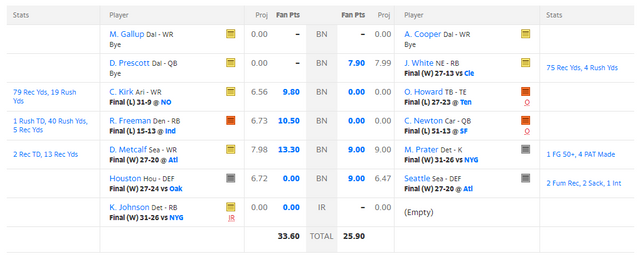 ---
As you can see, our benches would have made very little impact on the game this week. It looks like right now Freeman could be a potential replacement for Bell. Metcalf would have also been a better play vs. Brown this week at wide receiver. History tells me if I move them around, they will have horrible weeks next week. It might be best just to leave them be.
Prescott and Gallup will for sure be returning to my starting lineup going into week 9.
The win this week moved me out of last place in the league and I now sit solidly in position 7 out of 8. @mrsbozz took a hard loss this week to a team that just put up an amazing number of points. She could have done everything right and still not won.
Based on points she is in second place though her and the number one team have the same record of 6 - 2. Barring some divine intervention my season is pretty much over, but I can still do everything possible to make sure I don't end up in last place this year.
Stay tuned for my Week 9 recap next week!