---
Holy cow! I can hardly believe it! Week nine was very kind to me offering me a win over my brother in law. I was actually pretty confident going into last nights game, my brother in law only had his kicker left to play and I still had a WR and my Quarterback. Trailing him by just 5 points or so, I had a feeling my odds were pretty good.
Knowing my luck his kicker could have had a 25 point game, so I didn't want to get my hopes up too high...
Let's look at the breakdown: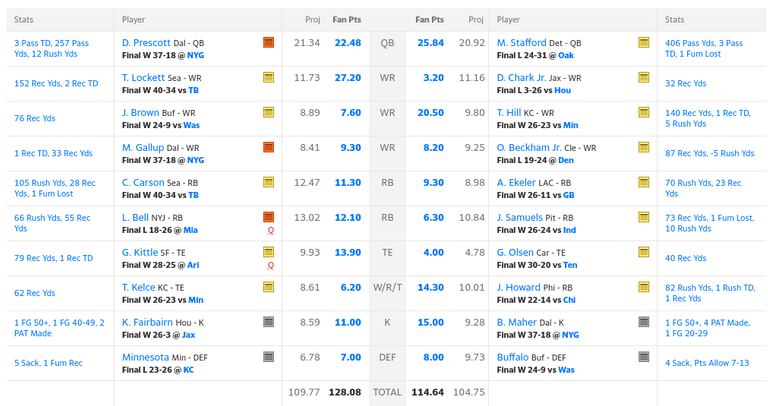 ---
I am mobile today, so I apologize if the screenshots aren't up to the quality that you normally expect.
Prescott gave me a decent game at QB with right around 21 points. I'd like to see him average in the high twenties each week, but I guess I shouldn't complain too much.
Lockett was my suprise star this week in the wide receiver slot. If I could have at least one WR each week that puts up those kinds of numbers I might have a better shot.
Brown was kind of a let down this week. I picked him up to try to turn things around in the WR position, but so far he hasn't really been that impressive. I am also a bit disappointed that Gallup didn't do a little more give the decent game the Prescott had. I guess he just isn't Dak's first choice when he is looking to throw the ball.
I can't really complain about the numbers that Carson and Bell put up in the running back slot. I'd like to see them closer to the high teens or just over twenty on a regular basis, but I guess I am just never going to be that lucky.
Kittle was a decent play for Tight End, but Kelce might be moving out of my flex position until (or if) Patrick Mahomes comes back this season.
I can't complain about my kicker and my defense was kind of just "meh" again this week.
The Bench
<center.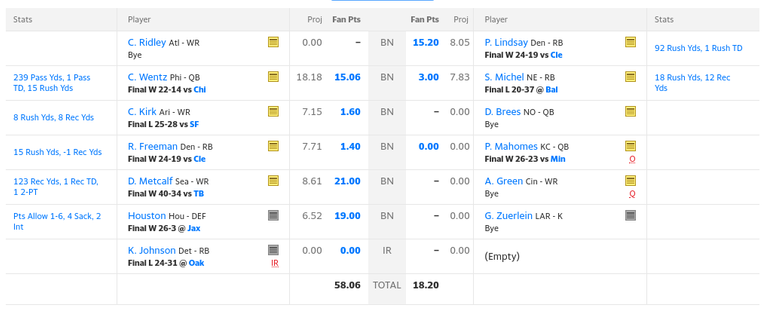 ---
As you can see, my opponents bench wouldn't have helped him that much. However, I really need to take a second look at mine. Look at all of those points that I left sitting out there with my defense and Metcalf at wide receiver.
Houston won't be an option next week because they are on bye, but Metcalf might be a good replacement for Kelce. Knowing my luck Metcalf will have a horrible game and Kelce will have a fantastic one if I flip flop them, but oh well.
Week ten should be interesting as I am matched up against @mrsbozz for the second time this season. She has been having a rough patch taking another loss this past week. Even with me getting the win and her getting the loss, I am still solidly in seventh place out of eight teams and she is still in second place out of eight.
Tune in next week for the results of our showdown!