---
Aside from my lone win last week, this is really starting to feel like a broken record. I'm actually not that mad about my loss this week. It was a close match-up and the win could have went either way with just a few more points on my side.
I can handle a close contest like this better than I can handle getting blown out of the water by my opponent. As you can see from the projections I was supposed to win, but a couple of my players just didn't give me the numbers I needed.
The Breakdown
---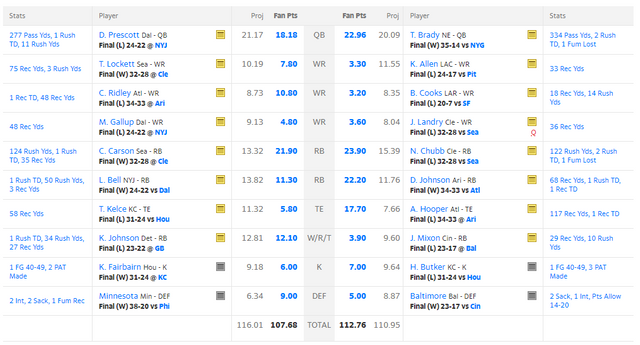 ---
At quarter back, Prescott didn't put up the numbers I was hoping for. He had some really great games at the beginning of the season (when I wasn't playing him of course). I think these scores in the low twenties are going to be the norm moving into the rest of the season.
Once again my wide receivers let me down. The only thing that helped me in that area was the fact that my opponents WR's did worse than mine. I don't know how to fix this, I really don't. Wide receivers have the potential to score you some massive points but mine are always just worthless. I really feel like my WR's are the sole reason for my horrendous record this season.
Diggs finally came back to bite me in the butt. I dropped him a couple of weeks ago because he was not putting up any numbers on the season. This past weekend he scored close to 40 fantasy points and who have totally been the difference between me losing or winning.
My running backs did pretty decent this week, but I still think Bell is not performing up to his potential. Maybe it is just the switch to the Jets or a little rust from not playing a season, who knows...
The rest of my team did pretty decent. You will see I should have probably swapped out my tight ends though. Kittle had a much better game than Kelce.
The Bench
---

---
Thankfully my sister in law didn't play her other quarter back. The score wouldn't have been nearly as close as it was. As I mentioned, the only real change that might have given me a shot was playing Kittle instead of Kelce.
Next week is going to be a touch match up against my brother in law. He usually participates in several fantasy leagues each season so I can always count on him to be on top of things and some tough competition.
On a side note, @mrsbozz was handed her first loss this past week. That moves her down to second place in the league and her brother that won last season moved up to first. My loss last week dropped me down to last place again...
Please, I am begging you guys, give me the name of a hidden gem that I can pick up for me team. Who should I drop? I am in desperate need of some help here!