Home Made Beef & Smokey Chili, Slow Cooked on Our Ol' Wood Stove!🌶️😋 12 Yummy Pics ...

... From Start To Finish!!
🌶️😋 What a great way to relax now and spend the Saturday afternoon, Then making and slowly simmering This delicious Beef and "Cheese Smokey" Hot Chili! As it's Hockey Day in Canada, we allready watched the Vancouver / Washington Game this morning where the Canucks won in the shoot out! Woot!! Now we Are waiting for two more games tonight, with a awesome Chili That can be eaten at any time!
🌶️😋Hope You like My pics, and have a fantastic Weekend!! ENJOY!!😋🌶️🇨🇦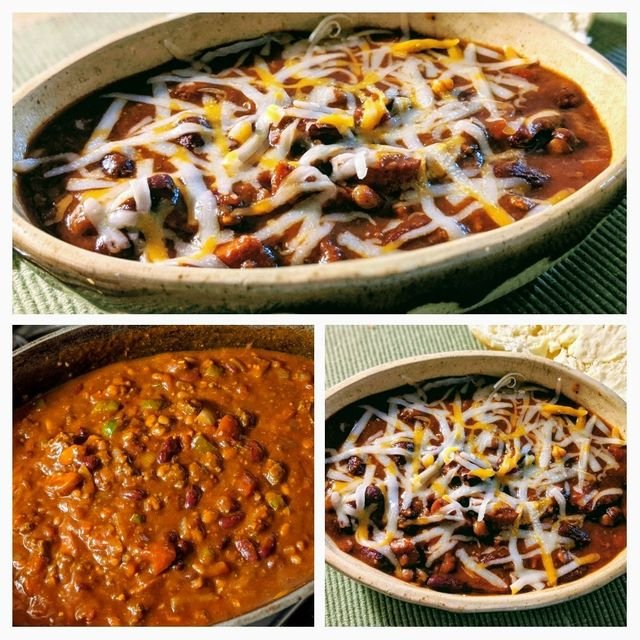 Mmmmm, Super Hot Homemade Chili and Hockey Day in Canada! What a DELICIOUS COMBO!! Thanks for dropping by folks, your support is much appreciated!!

"All Photos Taken and Created By Me @karenmckersie At my Homestead in Beautiful British Columbia Canada, On My Google Pixel 2 XL Cell Phone, Check my new phones Specs. Here:"
https://www.movertix.com/en/google-pixel-2-xl-bl

Slow Cooked all afternoon in my Great, Great, Great Grandmothers, (Now mine, lucky me!) Old Cast Iron Roaster, Its the best!!!

---

Mmmmm, Chili! Check out All the stuff that went into my Chili here, + my Yummy Step by Step pics!:

Mmmmm, I Made A Chili Bowl Just For You!!

---


@karenmckersie

"I am a 3 X Whale / 6 X Orca / 7 X Dolphin, And Stake All Tribe Tokens, GO TRIBES!"

❤ "Blogging and cooking live from our Camper, up in the mountains of British Columbia Canada HOPING to finish the other half of our house by this Fall!" ( NOW Next Spring!) ❤ "Being Creative, Living & Loving A Country Lifestyle!"
---
---