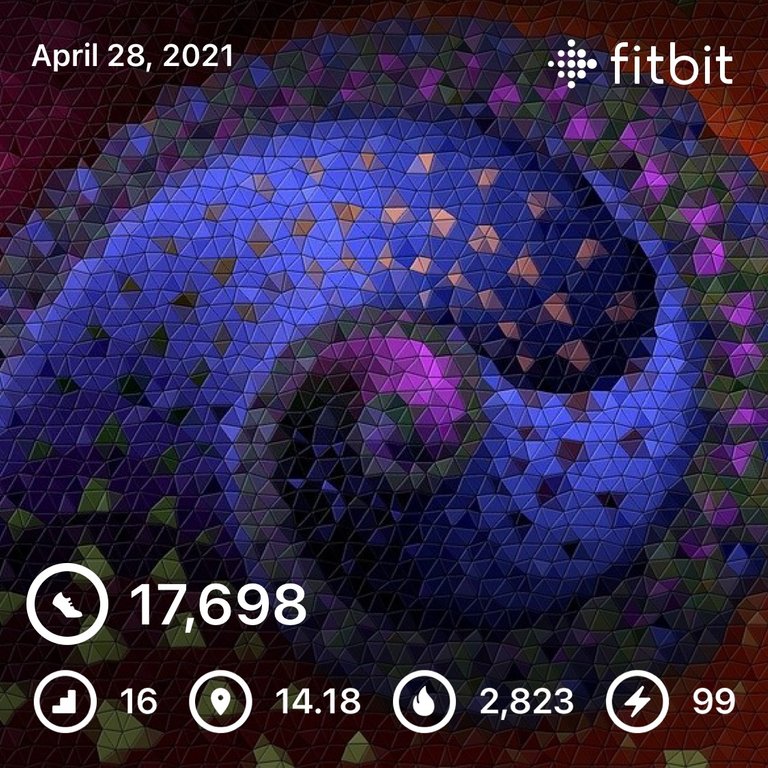 Up a bit too early again this morning. Out of bed by four thirty and round about two hours short. It just doesn't seem to settle into any reasonable pattern. 😢
Did the usual morning stuff. Doesn't seem to be too much going on in the crypto markets, just consolidating, except ETH which pushed up to new highs! 🤑 We finally broke up through the .05 resistance, so hopefully see some strength relative to Bitcoin, which is basically trading sideways.
Chatted a bit on Discord, did some curation, watched some YouTube videos...went outside to see if I could find our kitty and it was really quite nice out. I already had a fairly good start on my steps for the day by the time the sun was up, so I decided to try and beat the rain and get a #AutomaticWin. 💪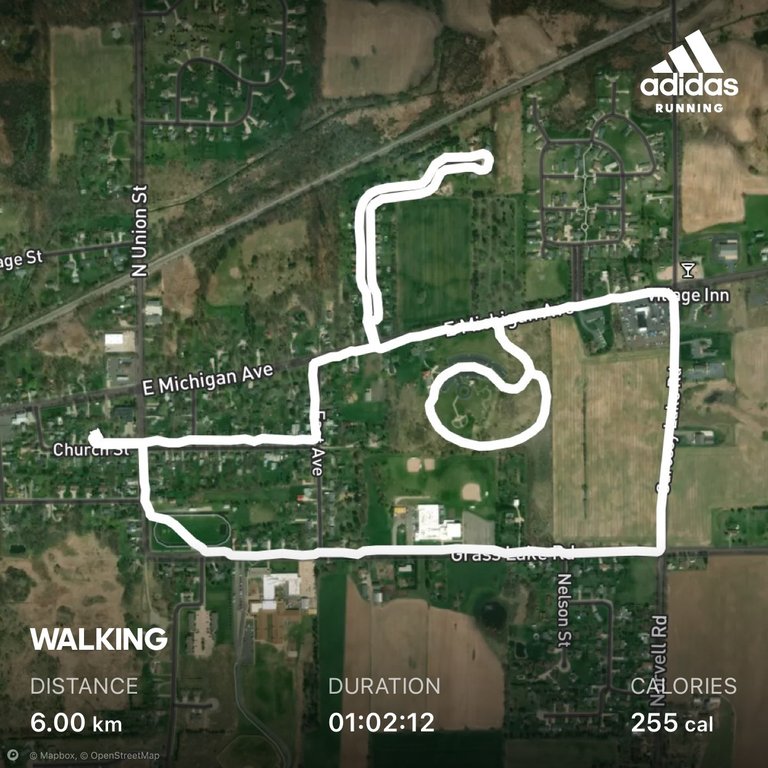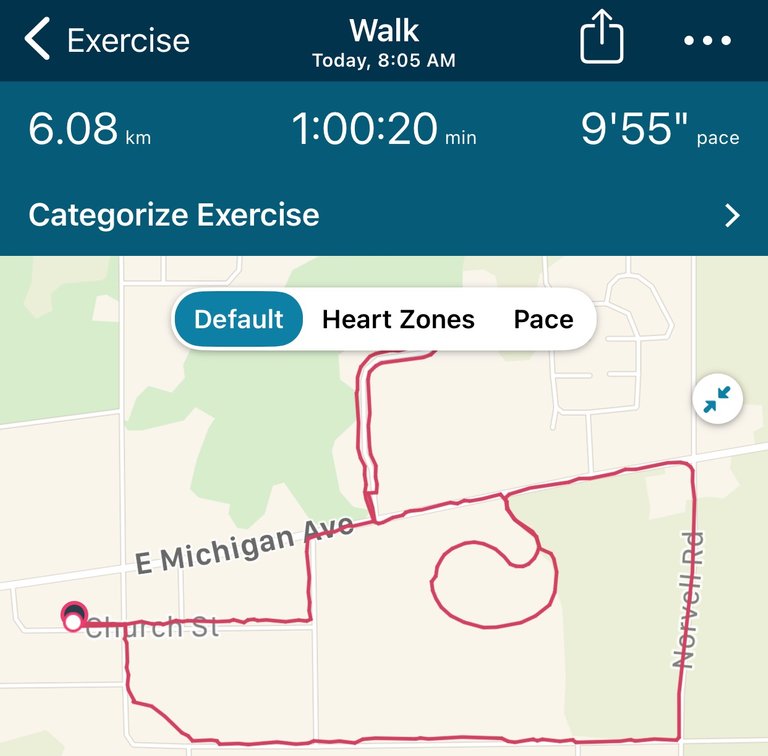 I did get rained on, well sprinkled on, toward the end, but it didn't matter much because I had to fricking pee so bad and there were people all over and I couldn't find a safe spot...I did make it home, but barely! 😱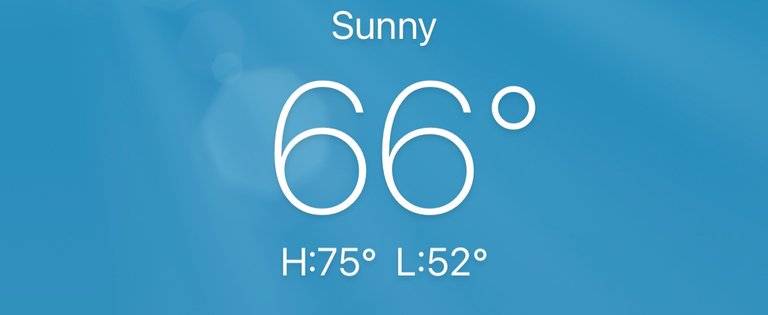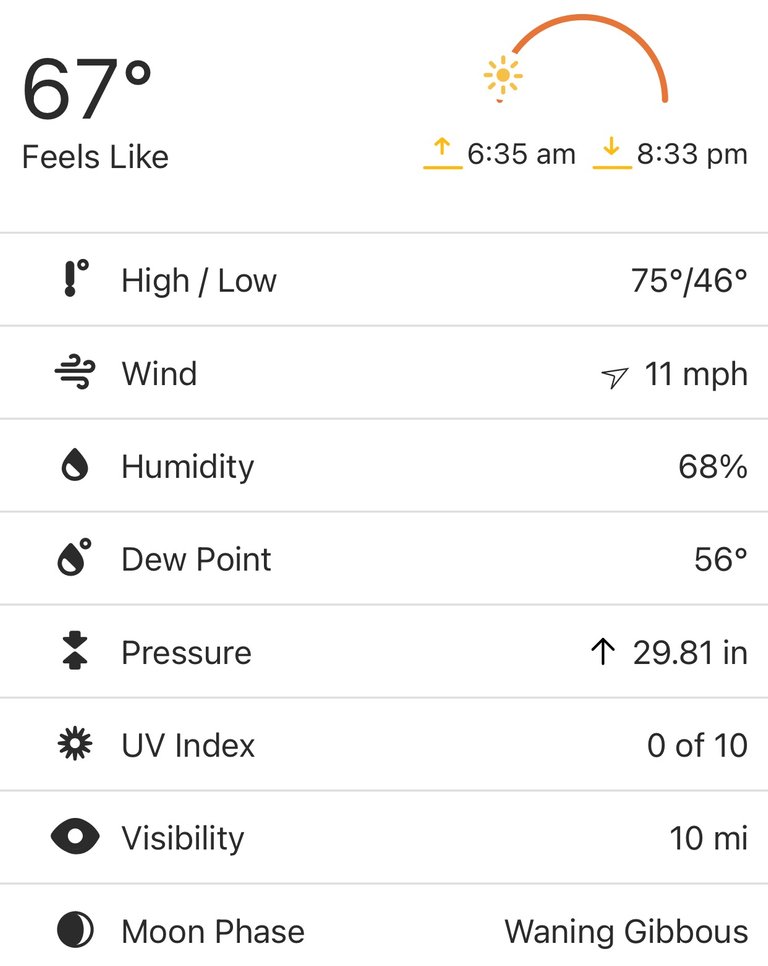 Felt and smelt pretty springy out today. Not a heck of a lot of sunshine, but I was able to forego the hat, scarf, and coat. A couple drops of rain, but no big deal.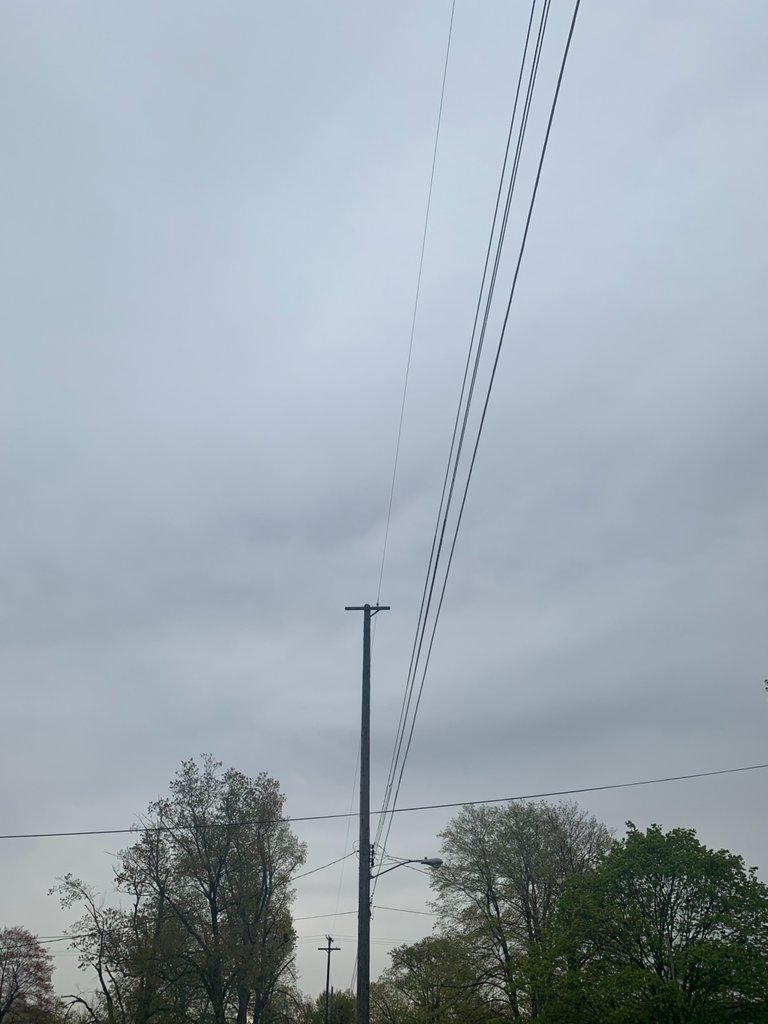 I laid down and watched some TV for a bit after that...I keep trying to remember what the hell I watched, but I just can't. Some sort of scary-ish movie. It kept me awake, anyway.
Been a while since since I played Beat Saber (procrastinating on playing Wraith now 😛), so I cranked out some new high scores. Went back through and improved some of my old scores and then did a couple where I'm already near the top and did them with the modifiers to make it harder and boost the score. Got another solid half an hour (according to FitBit) of aerobic exercise. 😁
Like I've said the past two days, been feeling bad that I haven't gotten any work done on the website, so I finally quit resting on my progress from Friday and got to work.
Didn't work on the website, per se, it was solid work constructing the database. I got all the tables I need for the site to function (I think) and made a bunch of decisions about what fields are necessary where and how to make the information efficiently searchable and not overly redundant.
I'm pretty happy with the structure, at least for now...already thinking of things I might need to add to the Meta table and ways I might be able to reduce information duplication...didn't want to make multiple calls to the dB, but I think a call to a relatively small table will have a relatively small impact versus duplicating a text description, say, for every instance in the dB. We'll see, may have to run some stress tests to see if it's going to slow the site down noticeably.
Regardless, that was a major piece of work that needed to be done with tons of decisions that needed to be made and now it has been accomplished...can always be edited if needed. I also started populating the tables with some dummy entries so I can start working on the I/O. 🤓
Next major hurdle is the blockchain interaction...Hivesigner and Keychain and all of that. 😱
In the evening Wenche made turkey tacos for dinner 😋 and we watched some tube before bedtime.
---
More or less settled into a "whatever" or "it is what it is" state of mind where it regards dCity. I guess if you swim around in poo for a while it starts to not smell so bad.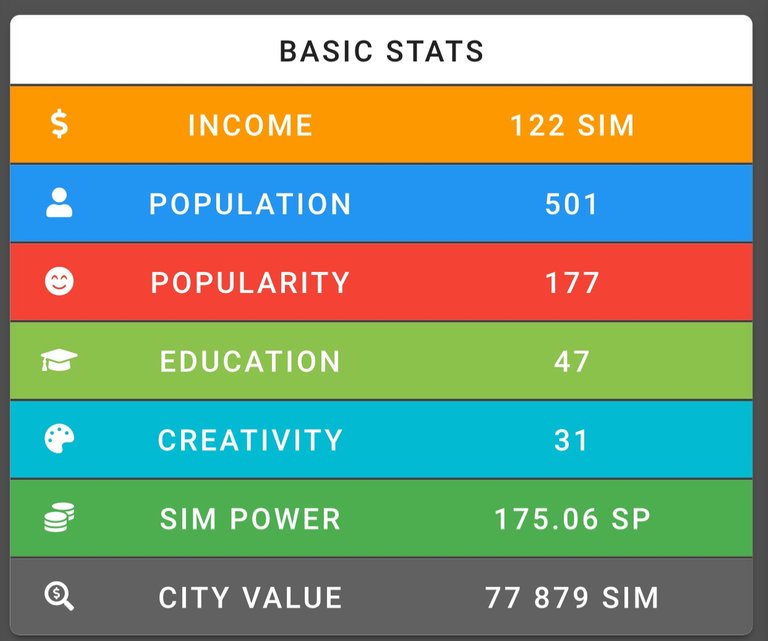 Still accumulating everything on Solairitas. Really thinking I should just join them, I'm maintaining a zero balance most of the time anyway...would save me the trouble of sending it over every day. 🤔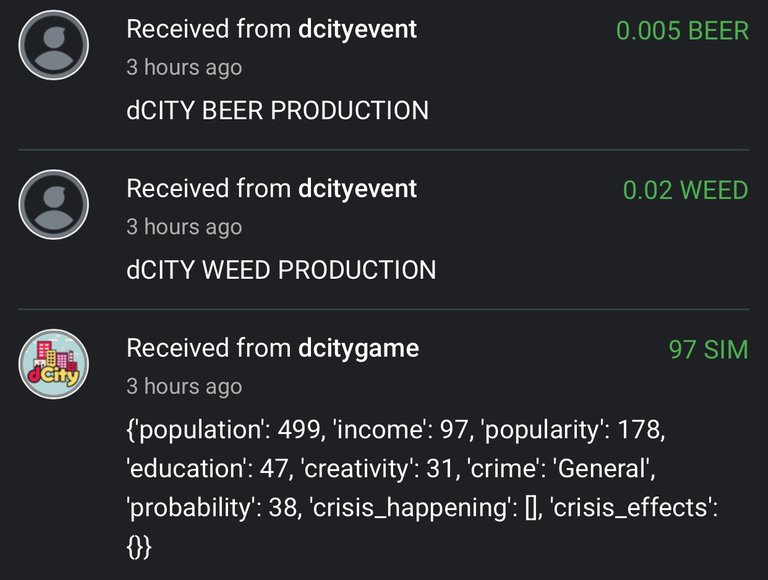 ---
Got my Holybread tasks done for the day and, once again, though I held first for a bit, I got knocked back a slot.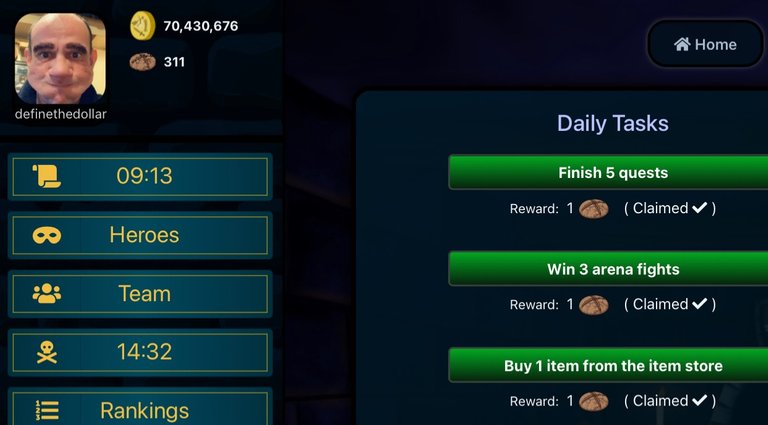 I tried to beat rms, but it's just not happening...might need to start training the Legendary hero that I have warming the bench.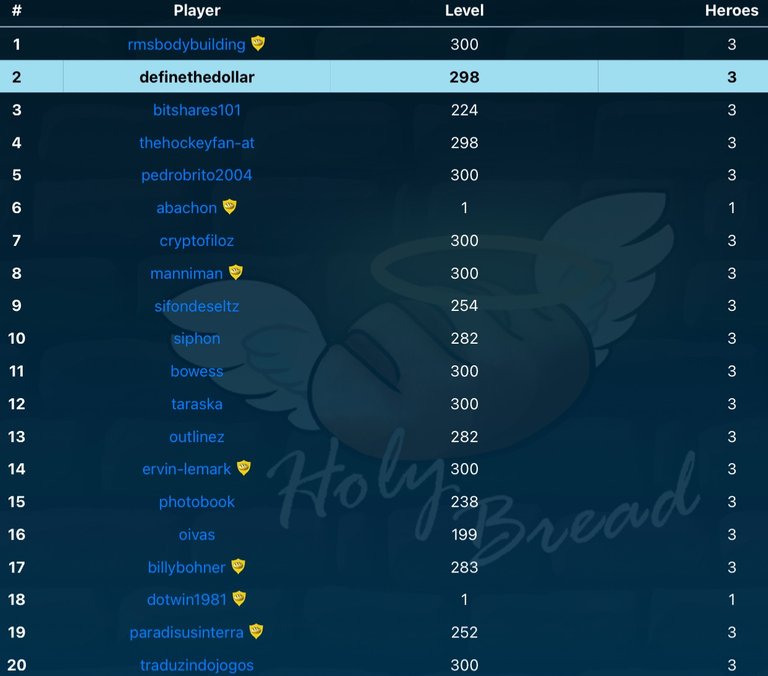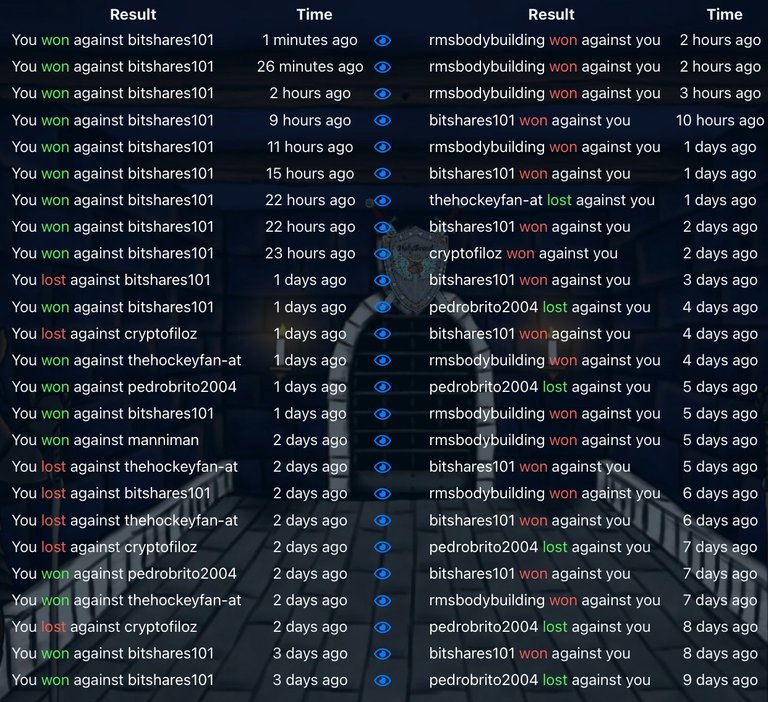 ---
Already only need one more ingredient over on CryptoBrewmaster! 😮 It was actually available as a task as well, so I should be able to start a brew right away!
Went and checked on the CBM market. It's more or less sitting where it was, could get about 2 HIVE out, maybe...thinking I'm just going to sit tight for a bit.
---
Well, with only a day left in the Splinterlands season, I made the conscious decision not to play today.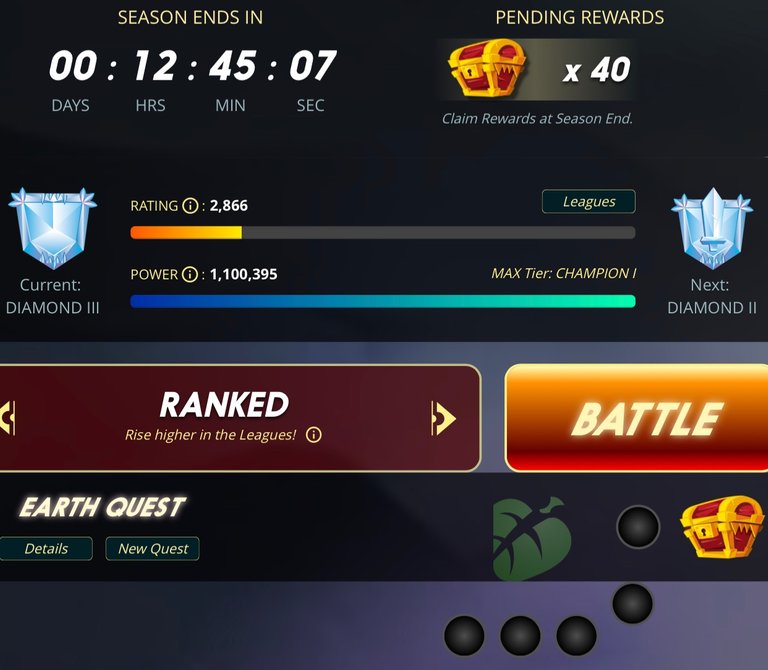 I was slightly tempted by that Earth quest waiting for me, but the few extra chests (likely potions anyway) I would get from completing it didn't outweigh the risk of losing back to Gold and getting nailed on the reset.
I did sign up for the next guild brawl, though. Got a silver one not restricted to Untamed or golds this time! I might actually have a chance of doing better (contributing more) than the last couple times...
---
Proof of #AutomaticWin: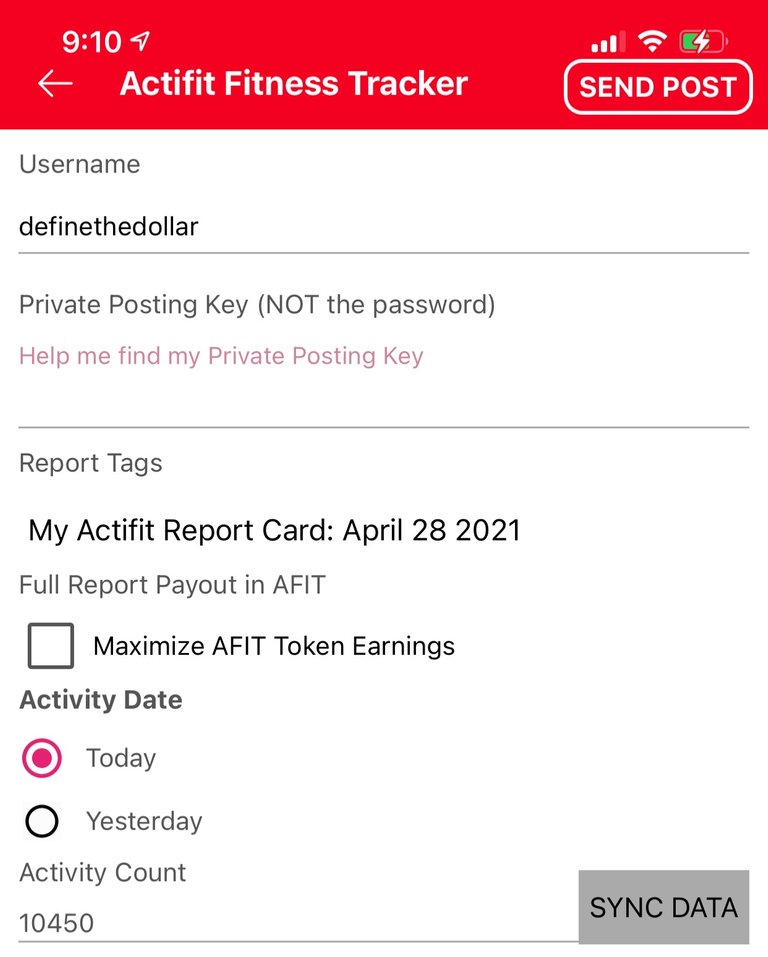 ---
Average Last 7 Days: 14,405
Lifetime Average: 15,268
10k per Day Streak: 74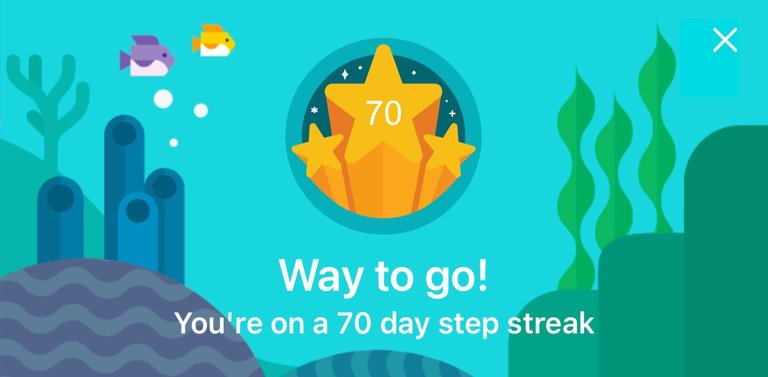 Longest Streak: 204

Distance on shoes: 416.92 km
Distance on hikers: 58.02 km
#AutomaticWin Tally: 343
#AutomaticWin Streak: 1
Longest Streak: 19
#TripleTen Tally: 118
#TripleTen Streak: 0
Longest Streak: 7
#DoubleDay Tally: 165
#DoubleDay Streak: 0
Longest Streak: 5
Highest Floors: 120
Highest Daily Steps: 41,528
Zombies evaded: 0/0
Mindfulness Diary:
Health: 90%
Satisfaction: 89%
Energy: 86%
Productivity: 88%
---
Referrals: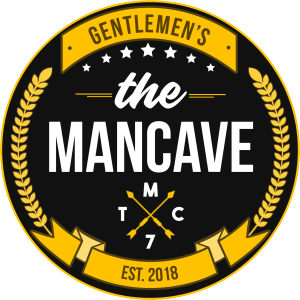 Power up and Hive on!