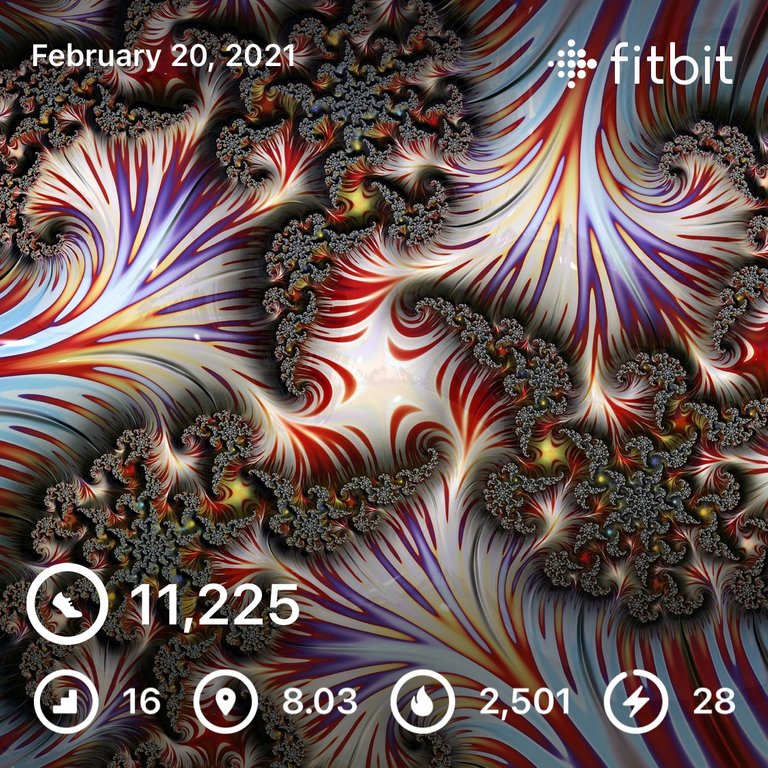 Well, at least the furnace made it through the day and night without shutting itself down, so that progress (sort of)!
Was up at five today, but another two solid hours short. Just can't seem to get the sleep under control. 😰 Been feeling a little worn down in addition to dragging...sore throat and stuffy nose, got a bit of a cold, I guess.
Did the usual morning routine and was happy to see Bitcoin pushing new all time highs once again! The volumes are super insanely low, though, so not sure how long this rally is going to last.
I got my post done for the day, actually did a full proper post, but need to go back and edit the day before still.
Jacked in for a bit and played the last level of Shadow Point and then some of what seems to be an epilogue. Been watching more VR programming tutorials as well as a little Blender...this idea is really under my skin right now, can't seem to shake it; even so, need to recognize my limits and try to find artist(s) and devs I can rely on.
When evening rolled around and I started looking towards getting ready for bed, I still had nearly four thousand steps left to go for the day. 😱🤬 Busted out like a solid hour of laps around the house to keep the step streak going...still no trophy photo, though. 😢
---
Had an Economic Crisis in my dCity today, and the taxes are still terrible and there's still a weird discrepancy with my income, but at least I didn't get robbed! 😝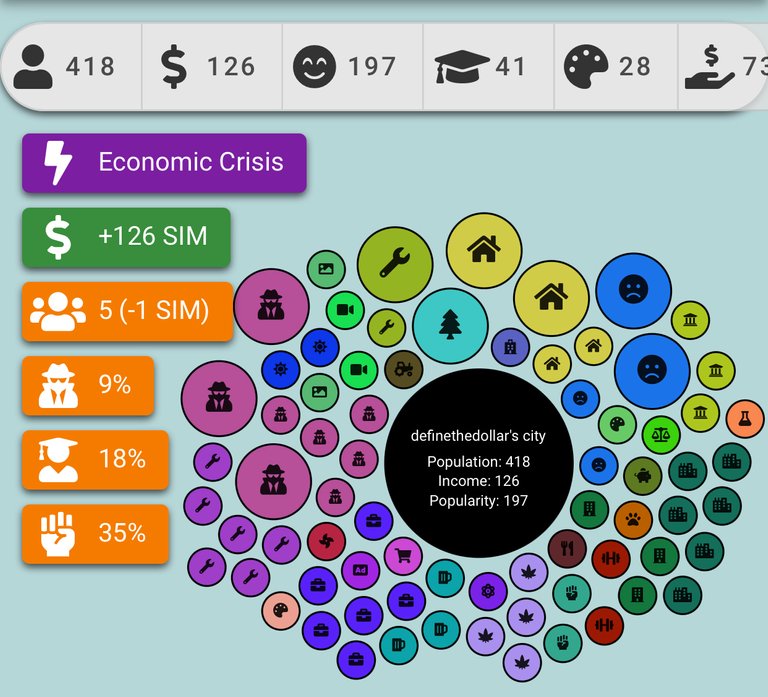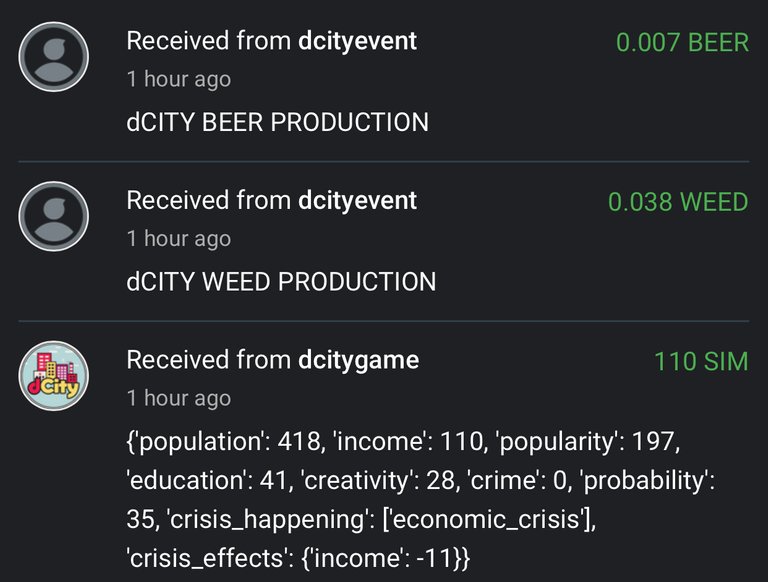 ---
Been doing alright on Holybread the last couple days. 🥳 Got all my tasks done again today! Potions were due up for refill today, but had plenty of gold with some left to put into stats. Items are about due for repairs as well, need to keep an eye on that.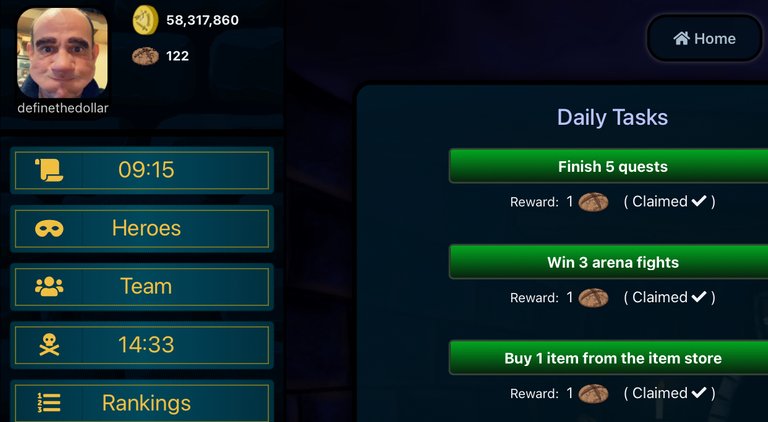 Still holding my position! 👍💪 Yummy votes!!! 🤑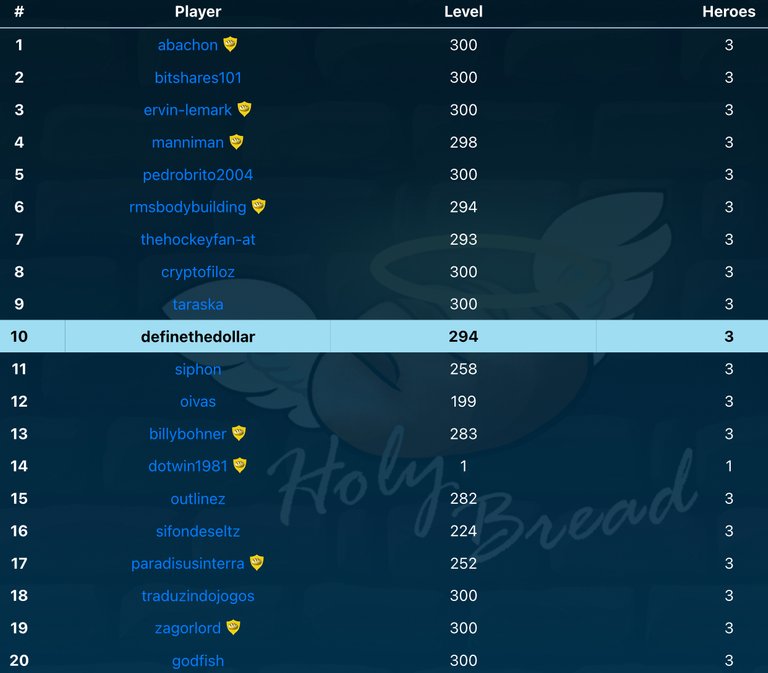 ---
Finally weekend, so I got some water on CryptoBrewmaster and got a brew done. Was lucky again and got a blue lager.

Sold it out and that finally put me over the 1000 CBM withdrawal threshold for the first time! I tested it with a small withdrawal of 2 CBM, and sure enough, now I can't withdraw again...have to have 1000 to move at all! Considering I paid for it and played to threshold, this is complete and utter bullshit. 🤬
---
I did play some Splinterlands again today, but it wasn't worth much other than pissing me off.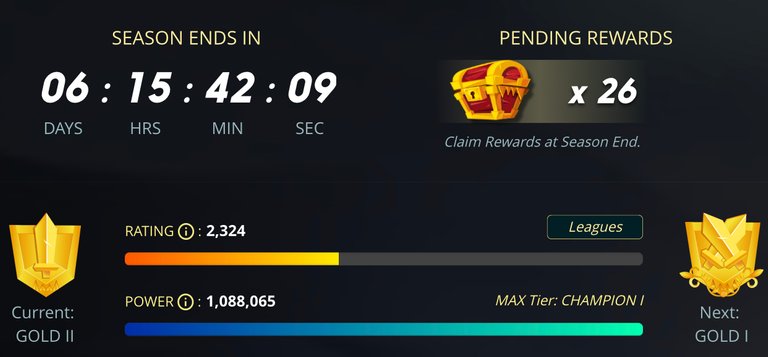 Had Fire splinter for my daily quest, but just repeatedly lost and would have been better off not playing at all, both in terms of rank and in terms of my life.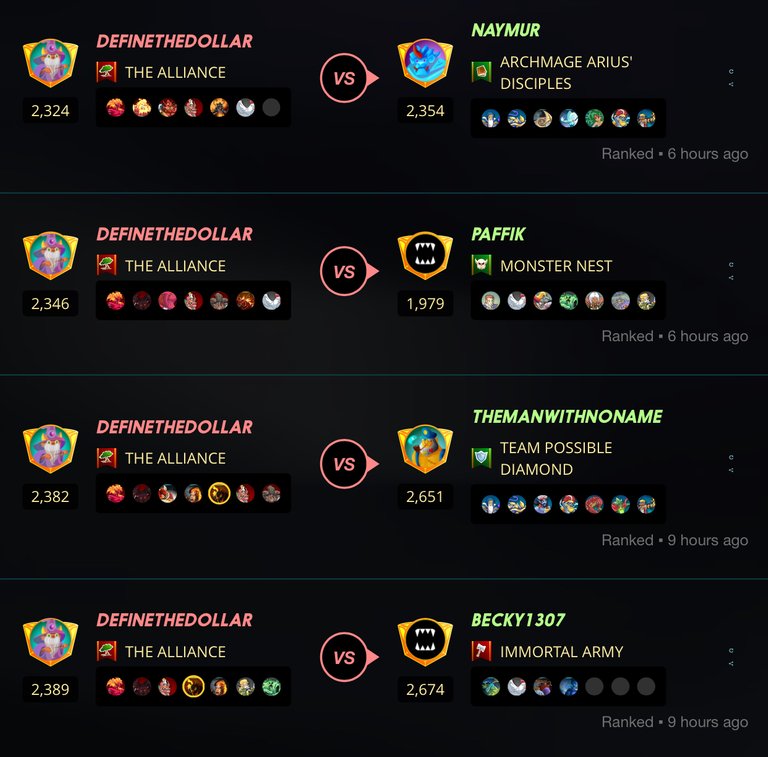 No rewards, nothing accomplished except feeding the rank of a few other dudes.
---
Average Last 7 Days: 11,935
Lifetime Average: 15,331
10k per Day Streak: 7
Longest Streak: 204

Distance on shoes: 269.95 km
Distance on hikers: 26.35 km
#AutomaticWin Tally: 312
#AutomaticWin Streak: 0
Longest Streak: 19
#TripleTen Tally: 117
#TripleTen Streak: 0
Longest Streak: 7
#DoubleDay Tally: 156
#DoubleDay Streak: 0
Longest Streak: 5
Highest Floors: 120
Highest Daily Points: 41,528
Zombies evaded: 0/0
Mindfulness Diary:
Health: 81%
Satisfaction: 67%
Energy: 65%
Productivity: 50%
---
Referrals: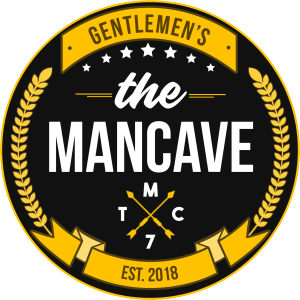 Power up and Hive on!