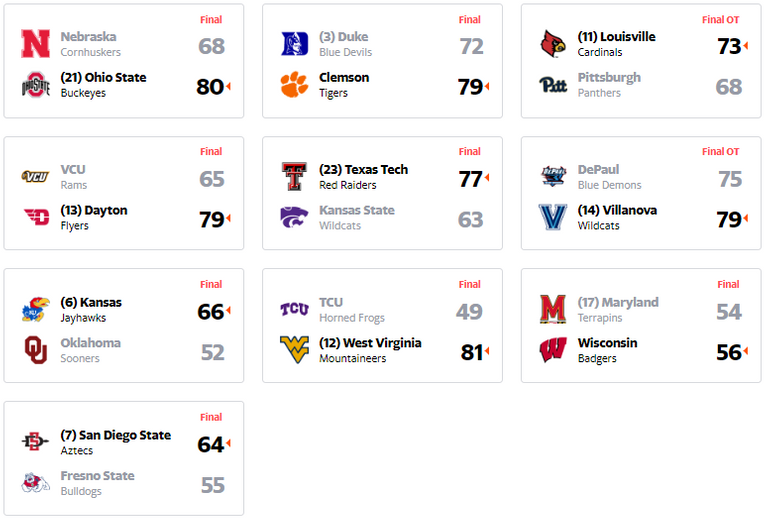 ---
With NCAA football out of the way, it is time for us to turn our attention fully to college basketball. Early Winter is a great time of year where between the NFL, NCAA Football, and NCAA Basketball, there is always something to watch.
I was flipping through the channels last night before I headed in to bed and I stopped on the Clemson/Duke game. The Tigers basketball team must have wanted to make up for the loss their football team suffered on Monday night. They were hammering Duke and ended up winning 79 to 72.
I am not a fan of Duke and I was pretty happy to see them out of the top rankings early in the season. Apparently they were able to work their way up to #3, but this loss to an unranked team should knock them back down.
Ohio State broke their four game losing streak and beat Nebraska (sorry @gooddream). I could be wrong, but with Northwestern winning this past weekend Nebraska might be the worst team in the Big 10 now. If not they are definitely tied with the Wildcats.
Louisville was able to beat Pitt in overtime, but it was a close game. Additionally, DePaul took Villanova into overtime as well. This is just another example of some really great unranked teams making it tough for the top 25. I hope we continue to see this trend through the rest of the season.
Dayton is a team I am definitely going to keep my eye on assuming they make it to the tournament. I could potentially see them going deep and maybe busting a bracket or two.
The other big surprise is Wisconsin beating #17 Maryland by two points. This is a big win for Wisconsin, especially coming off the upset over Ohio State this weekend. That makes at least two ranked teams in a row that The Badgers have beaten. I wouldn't be surprised if we see them start to climb into the top 25 before the tournament starts.
source