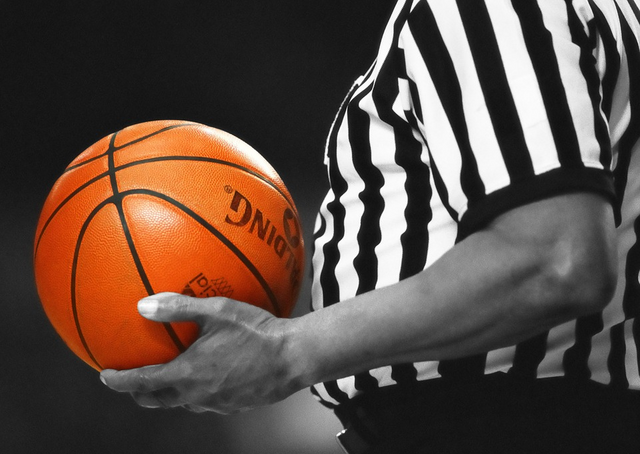 source
---
Well I got my wish and it looks like we are going to see a Chiefs/49ers Superbowl. I am beyond excited about that. I think it is going to be a really fantastic game!
For now though, it's time to talk about basketball. I was gone over the weekend so I have a lot to catch up on.

---
Wednesday night was pretty calm for the top 25 teams with the exception of Oregon. They got beat by Washington State by 11 points and I have a feeling that weighed heavy on them going into their matchup on Sunday. I will talk about that one a little bit later.
Gonzaga stays in the number 1 spot with a decisive victory over Santa Clara. I really wouldn't have expected any less...

---
I was really pleased with the results from the games on Friday night. Michigan State was able to shake off the huge loss they had to Purdue earlier in the week and they easily handled Wisconsin. That is actually a little surprising considering the big upsets that Wisconsin has had lately. I was honestly expecting it to be a closer game.
Dayton was able to pull out an overtime victory after trailing Saint Louis most of the game. I was in a bar watching it and I was actually shocked to find that they had pulled out the win when I saw the scores at home.
Michigan started strong against Iowa, but just wasn't able to hang on the road. I really think the only thing keeping UofM in the top 25 at this point is reputation. They haven't done anything lately to prove they deserve to be ranked so high.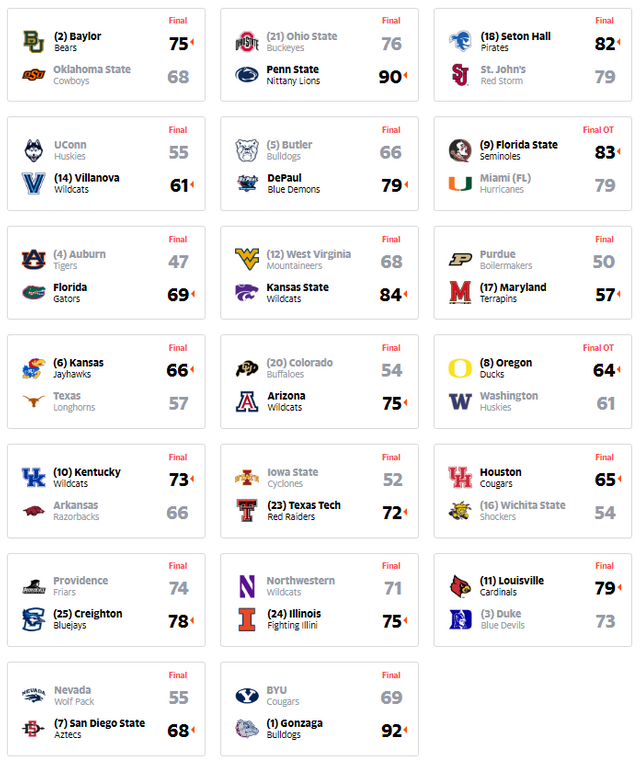 ---
As you can see, Saturday was a big day for the top 25 teams with twenty games taking place. I guess they were trying to cram all the games into Saturday so they didn't have to compete with the NFL playoffs on Sunday.
Going through the list, the first upset we come to is Penn State over Ohio State. It was a home game for the Nittany Lions, so it isn't too surprising they did so well. This Ohio State team had a lot of promise and potential at the beginning of the year, much like the Wolverines. It will be interesting to see if they can pull things together and finish strong.
How about DePaul over # 5 Butler. Nothing against DePaul, I know they have had some good teams in the past, but I don't think anyone would have seen that upset happening.
Speaking of upsets, the #4 team didn't fair so well either as Florida took down Auburn by a pretty stunning sum. This is the second loss in a row to an un-ranked team for them. We should see them slip pretty far when the new poll comes out.
Adding to the underdog victories is Kansas State over #12 West Virginia, Arizona over #20 Colorado, and Houston over #16 Wichita State. I also want to mention the Oregon/Washington game. Coming off their loss to Washington State that I mentioned above, Oregon trailed most of the game. They were dominated early by Washington. It wasn't until the last half of the game that they were able to come back and force overtime. By then their three point shooting was getting hot and that is what sealed the deal on their victory. It was a very exciting game.
As I said, there were no games last night and we only have two top 25 teams in action tonight.