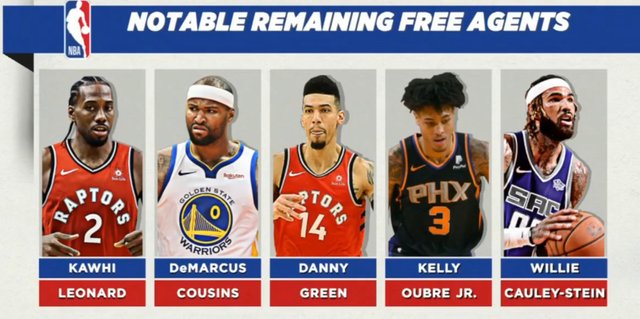 Last Sunday June 30th @ 6pm ET
The frenzy had begun where big name players moved from team to team.
The real contract signing will take place July 6 if everything is right.
If you are a fan of basketball 🏀
So much was happening at 6:01 pm that Sunday.
I guess clearly all deals were cooking in the background and less then sixty seconds we are hearing them.
The most notables are
KD is leaving Warriors for Brooklyn Nets
Kyrie Irving is leaving Celtics for Brooklyn Nets
Al Horford is leaving Celtics for 76ers
Jimmy Butler is leaving 76ers for Heat
Klay Thompson is staying with Warriors.
D'Angelo Russel is heading to Warriors. I
Kemba Walker is heading to Celtics
Tobias Harris is with 76ers
Julius Randle with the Knicks
AD way before free agency via trade will join force in LA.
There is more I should mention but the list is exhaustive for big name.
There is one guy I didn't mention so far.
Actually this guy is doing this year free agency his way.
He is a champion and two times MVP.
This guy is a three-peat stopper.
Once against Miami and this time with Warriors.
He is not flashy and you may not see him in the game but he will score easily 20+ points.
Right now three teams want his service.
Where will he go ?
The next team, he will play, has the potential of winning it all next season.
Kahwi holds the balance and easily he can shift the landscape of the NBA.
the shift is already in the making.
Warriors are out of the picture by missing on two stars (KD and Klay injured)
This year we can witness how injuries changes everything.
CHAMPIONSHIP CALIBER
—
Kahwi wants to win another championship he has clearly two places he can go.
Stay in Toronto
Go to Lakers.
I will keep it that simple for the MVP.
Any inputs are welcome.
In the EAST it is wide open.
Brooklyn is looking good.
Got to wait for KD to be back full strength.
In the meantime 76ers, Bucks are getting better.
Boston I am not sure how they will pick up the crumps and get back to contention again.
Jimmy Butler surprised everyone with the Heat deal I guess he wanted to play in South Beach.
Cinderella
—
Lately the Knicks has been prudent with their choice of players.
Unfortunately they missed on KD and Kyrie.
If you are looking on big name team in the NBA they are right there.
Superb front office and good management attract super stars.
Chicago Bulls are down since MJ left.
Boston tried but fell back again.
Houston looks good on paper but on the court they are just a good shooting team zero defense.
San Antonio has fall out of contention.
2019-2020
—
Keep an eye on all the big names moves.
Many teams I will pay attention to
Warriors, we will see how Kerr plays his rotation now they are a regular team.
Lakers, clear contender to be on top all season but playoff is the real thing.
76ers a powerhouse in the East
Toronto, hum ! Kahwi ?
Bucks, great potential to get better and farther
Any surprises ? They all play to entertain us.
Let's hope we have a season free of injuries and may the better team triumphs.
Keep on postin