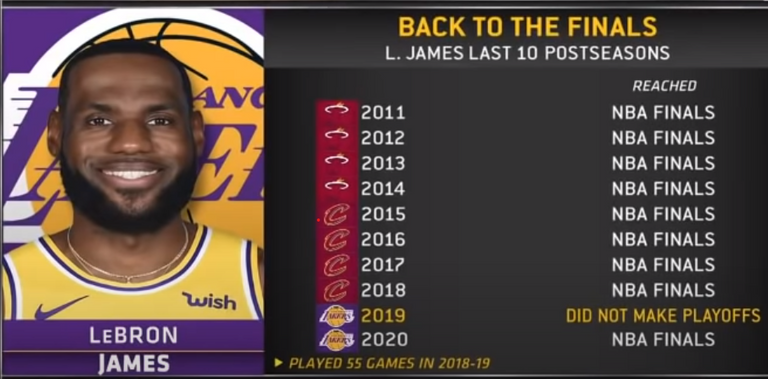 source
The best player takes over the game. I remembered when Lebron came over to the NBA from high school, it was in 2003 and got right quick rookie of the year. Timing is everything cause we saw James greatness coming to fruition in 2010 when he got to the #finals with the #Heat. There were some hiccups in the way since he did not have the right help to win it all in Cleveland at the time.
Since then he went back to the #finals 9 out of 10. Winning or losing effort he was there competing for a #Championship. Quickly a fan of the game might say where do you put #leBron if he wins a ring with #lakers? This will be some interesting talks going forward. #MJ was in a different era. One player does not want Championship. You need help to get there.
As the leader in all his Championships quest he has been the most dominant player on the field.I have to say winning in #Cleveland was the craziest of all since he did not have a great cast except for #Kyrie. This year AD should help with the scoring. Somehow J R Smith still around even though his IQ to control the game got the best of him. He is a good player and that is why he is still around.
There is one player I will be happy for since he has not won a Championship yet even though he has been a dominant player for a while. #Dwight Howard came back to Lakers after he has a stunt with late #Kobe. This time lapse shows you can be a great player but not a leader. AD should be high on the list and learn quick cause I hope he continues what LeBron started in LA.
#Heat could not close the deal Friday versus #Celtics. Another try and if #Celtics reverses course you can be sure it will be hard for them to see a season moving away from them. The match up could be more relevant from Heat vs Lakers. I am not denying Celtics the opportunity to get there.I mean this is the #Finals and bubble is good for everyone.
#Nuggets did fight to the last quarter. I think they were tired mentally and it carried over physically. The stage could have been so high for them. The core is great, Murray, Jokic, Grant, Porter Jr and many more like veteran Millsap.If they find away not to fall behind early, they can be a threat going forward.
This season is crazy and can't wait to see how the nba will evolve out of the bubble.
Good Sunday y'all