Today we have a tip from the league that yearns for Chelsea — Championship! Only 18 games to the end, and the situation is cooked up to the point of unprecedented declimax and the most boring season ever. What a chance for Betman!


Betman will not hold you in suspense for long. Just a quick reminder to another Betman's winning tip from Saturday:


Acting fumblers for today are West Bromwich and Albion, who are very much like Harry and Sally… I meant Meggy — just about to be stripped of their Royalty…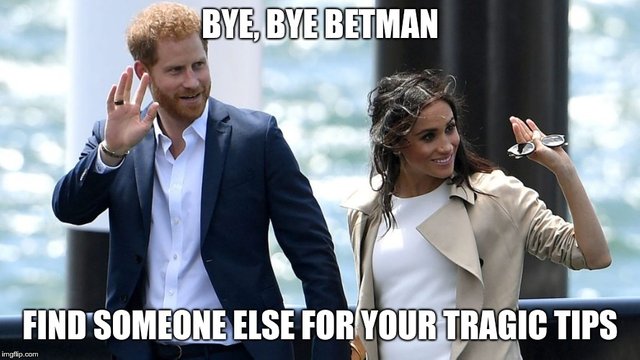 Oh, you'll be back for Betman's tips as soon as the money dries up, kids! I doubt your grandma teached you to save bitcoin for the hard times, right?
Well, West Brom is still at the top of the table, but barely. They didn't win last… let me see… 1, 2, 3, 4, 5… Is it possible? They haven't won over anybody since last year? OK, Betman likes risk. And this one encompasses a possibility that they forgot even the rules of the game! How come they are still at the top? They can thank for that to a bunch of schmucks from Leeds, who manage to lose two games in a row, and are still trailing a point. But Brom cannot depend on a bigger fumblers then themselves, so they would have to win at least once a year. Especially because they have Fulham, Brentford and Nottingham, who are lurking behind the stomp ready to jump and make their chance to embarrass themselves in the Premiership — just like Chelsea!
On the other side of the pitch there is a strange group in underwear and spiky shoes with dangerous crampons, called Stoka… no, it's Stoke City. They have just closely escape relegation zone with a few good results, and they do not intend to go to League 1, even if Betman would tell them it's for a noble cause of leaving a place for Chelsea. Maniacs!
So, we'll have totally unpredictable match, and even some odds at BetScorum which Betman is ready to accept:


Furthermore, this match will resemble to the most funny fake derby in Europe — silly Belgrade people's pacifier Partizan−Crvena Zvezda — because they have black-white and red-white jerseys. And while in Belgrade the match is usually decided in political parties, in Championship you will have to fear for your precious SCRs (still close to $0.008) until the last whistle. That is, unless you didn't secure your investment through the Scorum Loyalty Program (not only) for tipsters, which can return a part of your nerves if you have written the tip, or a reasonable analysis that cannot help anybody.
Ready to confront Betman?
Find it all out at Scorum


Universal
Basic Income


Check out ABRA and easily invest in 28 cryptocurrencies or BIT10, an index of the top cryptos. Use this link to sign up and get $25 in free bitcoin after your first Bank/Amex deposit, or 1.5% cash back when you exchange cryptos

1GZQG69sEKiMXKgGw9TcGcUCBoC4sC1ZYp