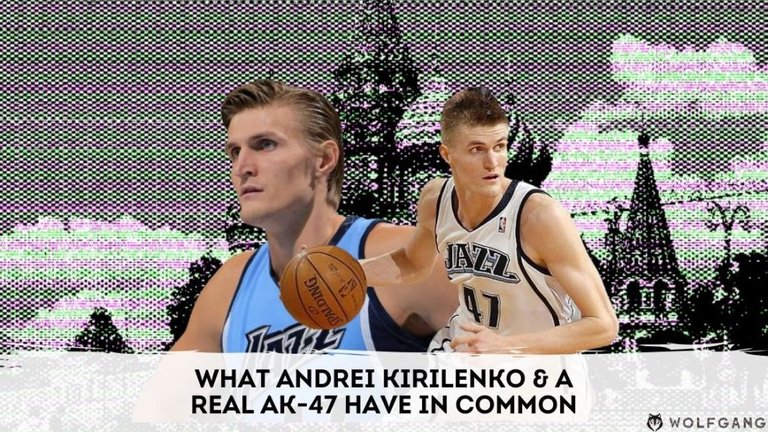 Andrei Kirilenko spent 10 seasons with the Utah Jazz tearing it up throughout the early 2000's.
During his time at the Jazz there was no one more popular in the Beehive State than the AK-47, adorned by fans for his insane versatility and athleticism.
On the court he was deadly. So what does a real AK-47 gun and Kirilenko have in common?
While both Kirilenko and an Avtomat Kalashnikova rifle are both extremely popular, they're also both versatile, superbly reliable and extremely accurate at close range defense.
Being named to the NBA All-Defensive team three times, Kirilenko may just be one of the best defenders in Utah Jazz history.
Off the court and on the battlefield the AK-47 is also extremely effective at close range defensive combat, making both AK-47s beastly defensive weapons.
Between 2003 to 2006, Kirilenko's full offensive and defensive arsenal was on show as he averaged 15.8 points, 7.6 rebounds, 3.6 assists, 3.0 blocks and 1.7 steals per game. You can see why Utah loved him.
In term of versatility, Kirilenko is the definition of it. He holds the NBA record for most five-by-five games with three – that's scoring at least five accumulated in five different categories (points, rebounds, assists, steals, blocks).
Even more special is that there have only been 22 five-by-five games in recorded NBA history.
Kirilenko also has one of the sickest stat lines in history – the only recorded five-by-six ever – scoring 14 points, 8 rebounds, 9 assists, 6 steals and 7 blocks recorded against the Lakers on 3rd of January, 2006, with four blocks coming in the final quarter alone.
The AK-47 rifle also has sick numbers of its own. It has an effective range of 380-yards, a velocity of 2330 feet-per-second, ballistic Gelatin penetration of 29 inches and rate-of-fire of 600 rounds a minute.
It's made the AK-47 the most popular and widely used assault rifles in the world. About 20% of all the worlds guns are AK-47 type rifles.
The AK-47 rifle is a tremendous source of national pride for Russians, in the same way that Kirilenko is literally the face of basketball in Russia as president of the Russian Basketball Federation.
So there you have it. Not only does Kirilenko and an Avtomat Kalashnikova share the same moniker and country of origin, the two are examples of Russian versatility, reliability and accuracy.
Sign up to the Wolfgang Sport Youtube Channel and watch the full breakdown here.
Keep up to date with the Wolfgang Sport podcast 
My passion for sports led me to create Wolfgang Sports in 2017 as a way to connect American & British sports culture. 
My writing is driven by a fascination for sports culture focusing on popular culture, rookie players, data analytics and sports card collecting.