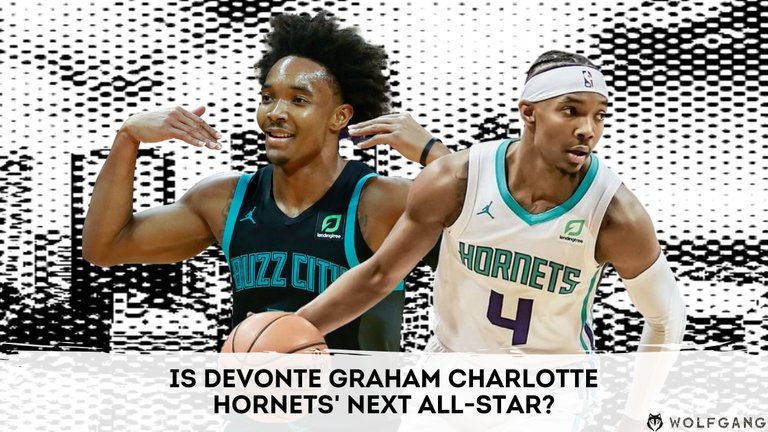 Devonte Graham is having a breakout season. The point guard out of Kansas was drafted in the second round with the 34th pick overall by the Atlanta Hawks in the 2018 NBA Draft.
He was traded to the Hornets for two second round picks.
After spending some time with the Greensboro Swarm in the G-League last season, he's now become an integral part of the Hornets lineup and has helped fill the void of losing Kemba Walker to the Celtics.
It looks like Michael Jordan has finally got something right as an owner when it comes to picking up talent MJ has a history of finding it difficult to evaluate the right players to bring in.
His first decision really set the tone drafting Kwame Brown straight out of high school in the 2001 NBA draft, and passing up on players like Tyson Chandler, Pau Gasol, Joe Johnson, Gerald Wallace and Tony Parker in the process.
It seems though that MJ has got it right with Graham.
Graham has had a breakout season seemingly transformed overnight from a fringe player to the centerpiece of the Hornets backed up with his accurate high-volume 3-point shooting.
So much so, he's earned himself discussion among favoritism for NBA's Most Improved Player award.
Graham has stepped up averaging 35 minutes. 18.2 points, 7.5 assists and 3.4 rebounds per game.
Compare that to last years averages of 15 minutes, 4.7 points and 2.6 assists per game and you can see why he's considered to be one of the most improved players.
Beyond the arc Devonte' Graham has been exceptional considering his volume shooting.
He ranks 3rd in the NBA in total attempts (585) and has hit 37.3% (218) of them becoming only the fourth player in franchise history to make at least 200 three-pointers.
So good was his shooting, he was on track to score 280+ 3-pointers this season.
He looked set to surpass the franchise record of threes in a season (260) set by Kemba Walker last season before the season was shortened due to the Coronavirus.
Graham in only his second year has become the cornerstone of the Hornets with the highest usage on the team (24.8%) and ahead of Terry Rozier (23.8%).
When you consider that Graham is on a 3-year deal worth just over $4m, he makes Rozier's $58m, 3-year deal look like another one of Jordan's disastrous business deals.
Credit still needs to go to MJ for drafting Graham, as there was consensus concern with his age and the fact he spent four-years with the Jayhawks.
Everybody loves an underdog and Graham is just that.
A fun fact, that his mum is only fourteen years older than him.
"She had me when she was 14," Graham said. "I couldn't ask for a better mother, better parent than her. Just everything she does to support me. Even when she didn't have the money to do it, she always found a way."
The numbers his throwing up has turned him into a fan favorite in Charlotte and he's also garnered national attention.
On the 12th of December, Graham's ceiling exploded as as he reached new heights with a 40 point, 5 rebound and 5 assist performance against the Nets.
A week earlier he had tied the franchise record of three-pointers in a game (10).
The Hornets overturned a 20-point deficit in the game against the Nets to win 113-108.
The game had him in discussion as a potential All-Star however he had to settle for the Rising Stars Challenge and the 3-point contest.
If he does becomes an All-Star, you'd love to be holding his rookie sports cards in the same way that Bam Adebayo rookie cards spiked in value when he became an All-Star.
If he keeps throwing up these numbers he may very well find himself in next February's All-Star game.
The one shock in all of this - Michael Jordan has actually avoided a botched draft pick and has acquired a player who can actually develop.
Well done MJ. Devonte' Graham looks to be the real deal.
Sign up to the Wolfgang Sport Youtube Channel and watch the full breakdown here.
Keep up to date with the Wolfgang Sport podcast
My passion for sports led me to create Wolfgang Sports in 2017 as a way to connect American & British sports culture.
My writing is driven by a fascination for sports culture focusing on popular culture, rookie players, data analytics and sports card collecting.