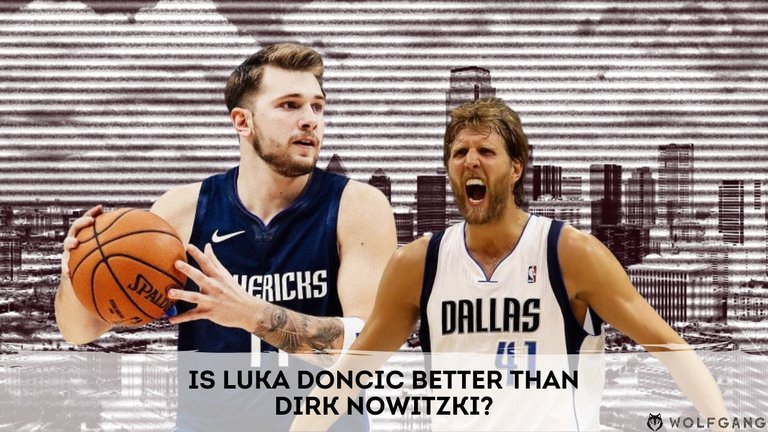 As a rookie we all knew just how good Luka Doncic was, justified by winning the 2018-19 NBA Rookie of the Year Award.
Nobody however expected him to take his game to the stratospheric level he has in his sophomore year.
He's been able to blow the sophomore jinx theory completely out of the water.
Former NBA player and coach Mark Jackson has even likened Luka to "an absolute combination of Magic Johnson and Larry Bird."
Through the months of October and November this season he put up astronomical averages of 30.8 points, 9.9 rebounds and 9.6 assists per game. 
During the November 18 game against the Spurs, Doncic became the second youngest player in NBA history to post a triple-double of at least 40 points, finishing with 42 points, 11 rebounds and 12 assists. 
He also threw up 41 points, 12 rebounds and 11 assists in a win over Detroit on Dec 12, showing that his game against the Spurs was no fluke. 
With MVP-esque numbers, Luka has thrown himself into MVP and Most Improved Player of the Year conversation in only his second year.
Such is his meteoric rise, his impact at the Mavericks is comparable to that of Dallas legend Dirk Nowitzki.
The 14-time NBA All-Star, 2011 NBA Finals MVP & NBA Champion is the Mavericks longest servicing player in a career which spanned 21-seasons.
He has played the most games, most minutes, scored the most points, the most rebounds, most field goals, most three-pointers and free throws made in Dallas history. 
The big question - is Luka Doncic better than Dirk?
Well to begin with, Dirk thinks so.
Nowitzki thinks that Luka was better aged 19 than himself at that age.
Oh yeah," Dirk said. "I could shoot a little bit, but I never had the court vision, the savviness and the stuff that he brings to the game"
"Just the way he already reads the pick-and-roll ... He's going to pick some defenses apart, and it should be fun to watch", he told 105.3 The Fan's Ben & Skin Show in 2018. 
The Dirk vs. Doncic battle isn't an easy comparison to make. There simply isn't a great sample size of data on Luka for us to be able to directly compare the two.
What also makes it hard to compare is that Doncic plays at point guard/small forward whereas Dirk played at power forward/center.
That doesn't mean that we can't try and compare the pair.
To take the Doncic vs. Dirk debate to another level I crunched some numbers.

Dirk isn't wrong about Luka being better than he was at a young age. 
Comparing Doncic vs. Dirk at age 20, Doncic has so far surpassed Nowitzki's points per game peak.
He's also surpassed 17 of Dirk's 21 seasons at rebounds per game and is just half a rebound off Dirk's rebounding peak.
A direct statistical comparison between the two isn't decisive. Doncic's sample size is just far too small.
What both Dirk and Doncic do share is the fact they can lay claim to being the cornerstone of the Dallas franchise during their times.
Despite the small sample set, Doncic's points, rebounds, assists and steals production is higher than Dirk's.

As cornerstone pieces to the franchise, let's put individual performance aside and compare their impacts to the team as a whole. 
To do so I'll use the PIPM metric, which measures a players points impact on their team on a per 100 possession basis to paint a picture on their individual impact on Dallas.
You can find out more about PIPM here.
For the exercise I'll isolate Doncic's performance so far this year to Dirk's historical data.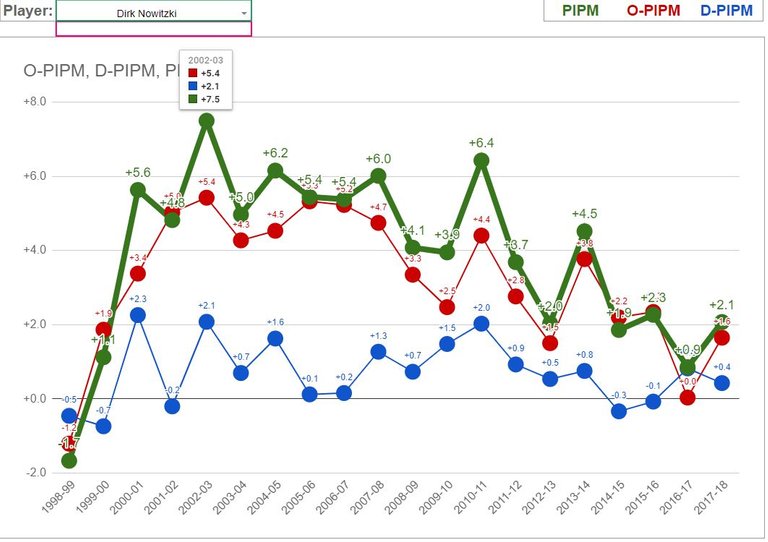 Luka Doncic has an offensive PIPM of 6.09 compared to Dirk Nowitzki's career best peak of 5.4 in 2002-03.
That translates to Luka having a 12% greater offensive impact in terms of team points per 100 possessions when Doncic is on the court than Dirk ever did.
It also correlates with Dallas being on track this year to become the best offensive team in NBA history in terms of offensive efficiency.
Related: PIPM proves Doncic offensive king, Trae Young defensive liability and Rozier is hella overpaid!Young defensive liability and Rozier is hella overpaid!
Dirk averaged a career PIPM of +4.40 with an offensive PIPM of +3.60 and +0.81.
Luka is so far exceeding Dirk offensively even compared to his career high however defensively the Mavericks were better with Dirk on court as opposed to Luka being on court.
This years Mavericks are -1.19 points worse off per 100 possessions with Luka on-court, compared to +0.81 points defensively across Dirk's entire career.
By adding offensive and defensive PIPM we can obtain an overall PIPM score to evaluate their overall impact.
2019-20 Doncic currently has a PIPM of +4.9. Dirk surpassed this 8-times during his career however, finishing with a career average of +4.4.
Again the Dirk vs. Doncic debate is made difficult by their positional differences and the lack of data. 
What we can establish is that Doncic is exceeding Dirk in terms of raw production output and offensively. 
Where Dirk counters Doncic is his superior defensive impact he has on the wider team
oncic overall impact to the Mavericks is outperforming Dirk's career average, but not his performance during his prime (2001-2011). 
If Luka does continue to perform consistently and if he can develop even further, the trends suggest that Doncic would eventually surpass Dirk. 
There remains one thing that Luka will need to deliver on to undeniably be better in the Doncic vs. Dirk debate in the years ahead.
An NBA Championship.
During the 2011 Dallas championship winning year, Dirk averaged 23 points per game, close to 52% from the field, 7 rebounds and 2.6 assists per game.
He also had Jason Terry and Caron Butler averaging 15+ points per game and Shawn Marion and Tyson Chandler both averaging close to double-double games.
Doncic is averaging almost 29 points per game, 46% from the field, 9.3 rebounds and 8.7 assists per game so far this season.
Dirk was the undisputed best player on the championship winning team and had a solid and well balanced supporting cast of Shawn Marion, Jason Terry, Tyson Chandler and Jason Kidd. 
They also had strong depth with J.J. Barea, Peja Stojakovic, DeShawn Stevenson and Brendan Haywood. 
Luka is also the undisputed best player and is accompanied by superstar Kristaps Porzingis.
The pair are backed up by Tim Hardaway, Seth Curry, Dorian Finney-Smith, Dwight Powell and Maxi Kleber who all average over 9 points per game. 
There are striking similarities in the level of depth the 2011 NBA Championship team had with the 2019-20 Mavericks.
Following the Coronavirus stoppage, the season will resume for the Mavs with a 40-27 record.
Doncic will need to try and get the best out of his teammates in the same way that Michael Jordan did at the Bulls.
Remember it took Jordan seven years to win his first NBA championship and it took LeBron nine years and Dirk 13 to win their first championships. 
Luka keeps at his almost triple-double average, Kristaps Porzingis regains his All-Star-caliber form and the Dallas bench remains strong, the Mavericks could very well add to their 2011 championship.
allas winning a championship well before the time it took MJ, LeBron and Dirk to do so could make the long term argument a whole lot easier in the Doncic vs. Dirk debate.
Sign up to the Wolfgang Sport Youtube Channel and watch the full breakdown here.
Keep up to date with the Wolfgang Sport podcast 
My passion for sports led me to create Wolfgang Sports in 2017 as a way to connect American & British sports culture. 
My writing is driven by a fascination for sports culture focusing on popular culture, rookie players, data analytics and sports card collecting.