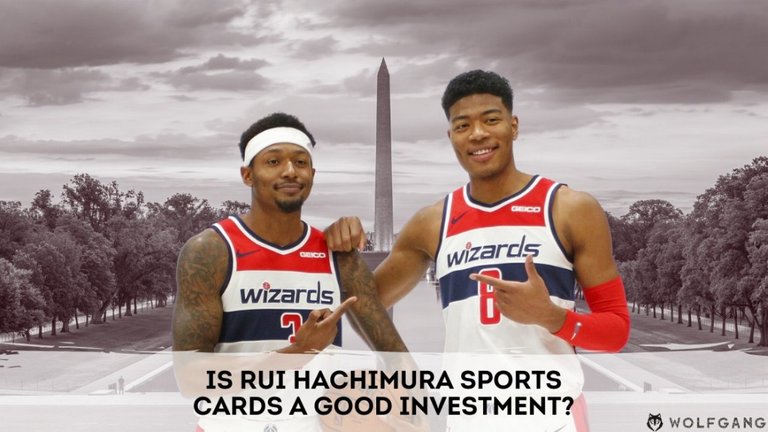 Everybody has a sports card that broke the cherry with a story to go with it.
My collection journey started back in February when I was trying to decide which card I was going to get first.
In choosing card it was always going to be a playerfrom the Washington Wizards seeing that they're my favourite team.
A quick side story as to why I go for the Wizards.
Aussies may remember a show called Sports Tonight back in the day.
It was a couple weeks after 9/11 and I happened to be up way past my bedtime.
A 12-year old me was watching as the show announced that Michael Jordan was coming out of retirement for a second time to play for the Wizards.
The rest is history. Washington was now my favourite NBA team after my first real exposure to the NBA outside of Space Jam.
It was difficult back in the day to watch any NBA in Australia so fans and potential fans had barely any exposure.
What have my Wizards done since then?
NOTHING!
Four Conference Semi-Final appearances in 20 years is all I've had to celebrate.
But my best memory has to be watching Agent Zero - Gilbert Arenas, team up with Larry Hughes and Antawn Jamison to beat the Bulls 4-2 in the first round of the playoffs in 2005.
Then the next 3 seasons in a row, LeBron James and his Cavs knocked us out in the first round of the playoffs. 
One day we'll be relevant...which leads to my best first card
I present to you …. My Rui Hachimura rookie prizm auto.
Drafted 9th in 2019 out of Gonzaga - the Japanese Jumpman has averaged just under half an hour per game.
He's averaging 13.4 points per game and 6.0 rebounds a game from 41 games this year but did miss 23 games this year due to a groin injury.
He's locked himself in as the starting power forward in DC but he does need to work on his game from beyond the arc shooting at 27%, and he's around 48% from the field.
But I'm super pumped to see what Rui, Brad Beal and John Wall can do next year. And if the Wizards draft well this year there's real potential in this Wiz roster.
Is his card a good investment for those sports card investors? 
Well look at it this way. He already has endorsement deals with Nike's Jordan Brand, NBA 2K, NEC, Casio, Nissin Foods, SoftBank and SMBC . 
He's got a massive ceiling. The sky's the limit and Bradley Beal has said it as well.
Hachimura reminds me a bit of Kawhi or Giannis, especially with the fact he's an international player. 
And he only started playing organized ball when he was 14 and look where he is 7 years later. 
So I can't wait to see how he goes in his sophomore year and I'll definitely be holding onto this regardless of its value, my first ever sports card and my favorite team. 
I'd love to hear your stories about your first sports card - let me know in the comments below I'd love to hear from you. 
Make sure to hit the subscribe button on the Wolfgang Sport YouTube channel and keep up to date with the latest in sports card and culture content.

Sign up to the Wolfgang Sport Youtube Channel and watch the full breakdown here.
Keep up to date with the Wolfgang Sport podcast 
My passion for sports led me to create Wolfgang Sports in 2017 as a way to connect American & British sports culture. 
My writing is driven by a fascination for sports culture focusing on popular culture, rookie players, data analytics and sports card collecting.