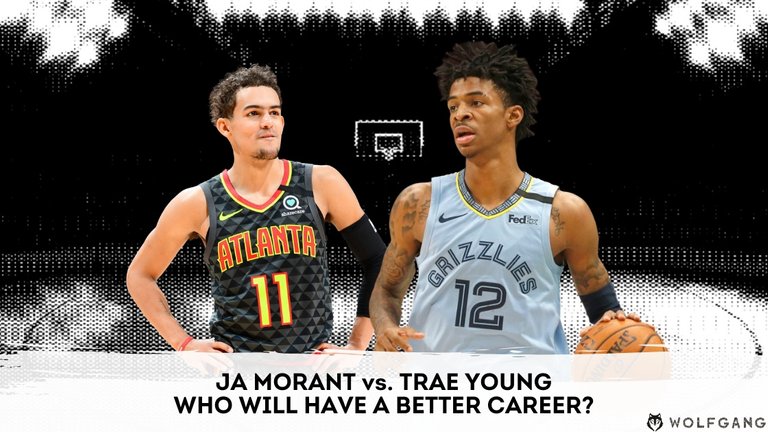 Now I love both Trae Young and Ja Morant.
The feeling I get when watching the two of them play in their early years is that they'll give us thrilling match-ups in the years ahead much like Steve Nash and Jason Kidd did.
Now Steve Nash was superior over Jason Kidd in terms of shooting however, Kidd was arguably a greater all-round player with excellent rebounding and defensive skills. 
Who was better out of Nash and Kidd is a good debate and I feel the Trae Young vs Ja Morant argument is along the same lines.
Lets admire that we have Ja Morant who I believe can be the Derrick Rose in his prime that we never got to witness, and we potentially have a Stephen Curry 2.0 if Trae continues to mature and improve his game. 
Related: Why Ja Morant can become a cultural icon ; a generational talent in the making
Both Morant and Young share upcoming elite point guard status, but in the same way that Kidd and Nash were different, Ja and Trae have their own differences too.
Looking at the numbers just by productivity, Trae has the edge over Morant for now.
That doesn't mean Trae's the better player, it doesn't mean he's going to have a better career and it doesn't mean that he grades as a better sports card buy.
A lot of it comes down to how well the Grizzlies or the Hawks will become which i'll get into. 
Now Trae is currently second for points per game tied with Giannis, as well as second for assists per game.
From a high level you'd think Trae is the better go but a deeper dive into the stats paints a different picture.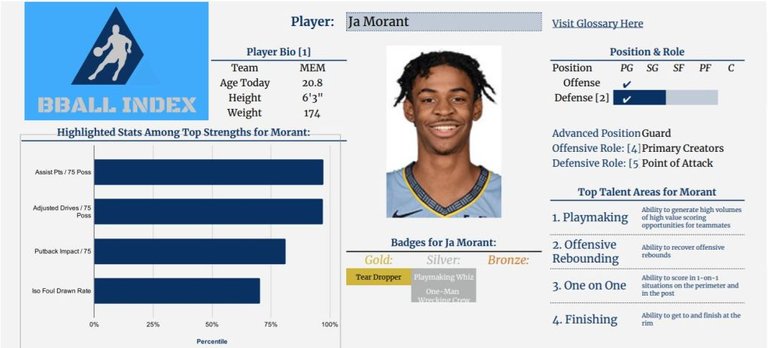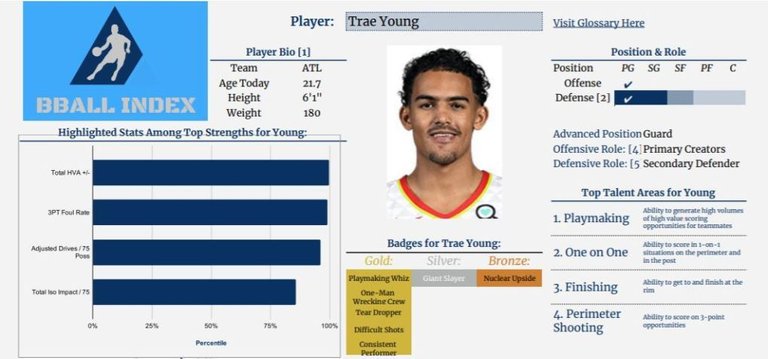 Perimeter Shooting
In terms of perimeter shooting Trae and Ja are both extremely similar.
While Young shoots at 36.1% from beyond the arc and Morant at 36.7%, Trae grades as one of the best 3-point catch and shooters (47.2%) and corner 3-point shooter (61.9%) in the NBA.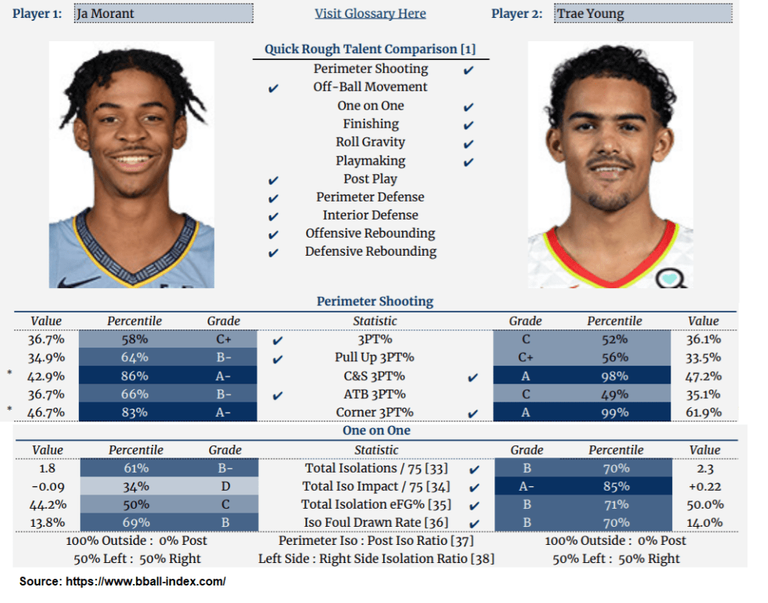 In one-on-one situations shooting from the perimeter Trae grades in the top 15% in the league compared to Ja in the bottom 34% measured by total iso impact metric.
Young has a considerably higher volume shooting almost four-times the amount of three-point attempts than Morant.
Morant also ranks a lowly 8th on the Grizzlies in terms of 3-point attempts per game whereas Young is the focus of the Hawks from distance with close to 10 attempts per game.
Based off the numbers and worryingly for Young I wouldn't consider either of them elite from distance.  
Despite Young's catch & shoot of 36.1% from distance, the comparisons of Young to Curry appear way far off of Curry's career 43.5% shooting from three.
Trae also bummed out with the lowest score in the 3-point contest in this years All-Star weekend, which doesn't do well for his shooting stocks. 
In the battle from distance, it's Trae but only based on volume shooting. 
Winner: Trae Young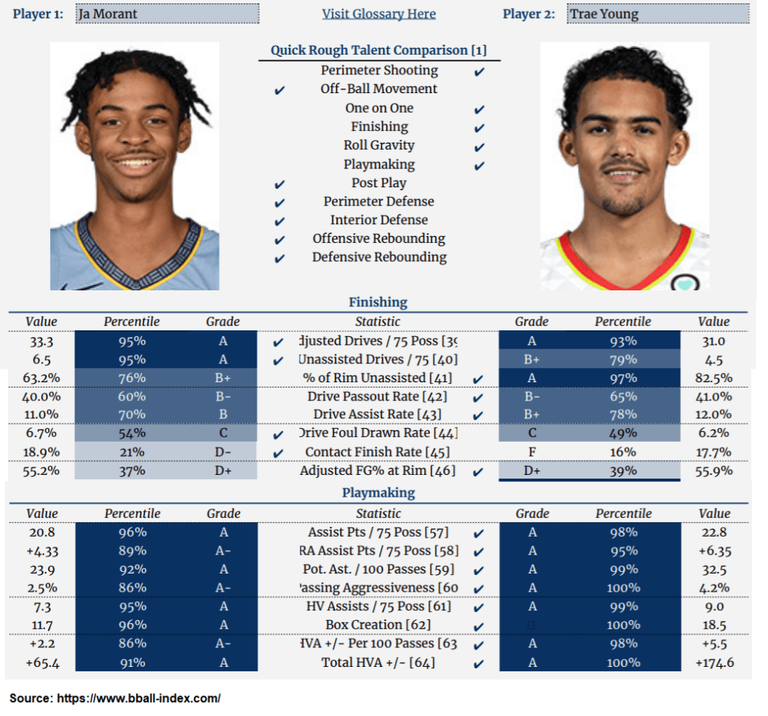 Finishing & Playmaking
Finishing grades for both Trae and Young are similar and reflective of your top point guards in the NBA.
Where Trae grades out better than Ja is his ability and evasiveness to get to the rim unassisted, ranking in the top 3% in the league.
Upon contact Trae's finishing drops considerably however that just comes down to size.
The difference with Ja is that he prefers to drive to the rim as opposed to evading defenders and finding an open pass.
I can't separate the two when it comes to finishing.
When it comes to playmaking, well … Ja Morant is only the ninth player in NBA history to post multiple games with double-digit assists and no turnovers as a rookie.
Both Ja and Trae have an assist to turnover ratio of slightly better than 2:1 which is exceptional for the volume of ball they distribute.
Where Trae edges Ja is that he's a generational passer when it comes to his aggressiveness and degree of difficulty with his passing.
Both are exceptional at dishing out but Trae is an elite when it comes to Box Creation which estimates the ability to create open shots for teammates by drawing defensive attention.
On that note, it's Trae by a whisker.
Winner: Trae Young
Defense & Team Impact
As good as Trae is offensively he is one of the worst defenders in the NBA and a liability for the Hawks on defense.
Although Ja isn't an elite defender, what sticks out to me is his ability to at least be able to deter opposition players from driving to the rim when faced up against him which reflects his physicality.
No matter how good the numbers Trae throws up offensively, his defensive woes means that most of that good work just goes to waste.
The individual talents of Morant and Trae could also be overshadowed long term if the Grizzlies or Hawks don't become playoff relevant.
Morant has a winning record of 31-28 (52.5%) in his rookie year compared to Trae who has an overall losing record 47-94 (33.3%) with the Hawks.
PIPM paints a clearer picture as to the impacts the pair have for their teams.
Morant holds an overall PIPM of +0.2, with the Grizzlies +0.7 points better with Morant on court and -0.5 points worse off per 100 possessions.
Related: What is PIPM? PIPM proves Doncic offensive king, Trae Young defensive liability and Rozier is hella overpaid! 
Trae Young does hold a superior PIPM (+1.3) over Morant (+0.2).
Offensively he ignites the Atlanta Hawks who are +5.0 points better per 100 possessions with Young on court than off it.
Defensively it's a nightmare and he holds the worse defensive PIPM in the league (-3.7).
Because Trae is a liability defensively it's a contribute to the Hawks performing so poorly.
Morant and the Grizzlies are in a playoff position and therefore Ja comes out on top in terms of defense and team impact. 
Winner: Ja Morant
Conclusion
Trae Young is superior over Ja when it comes to points, assists and rebounds per game from slightly more minutes per game.
Morant is the slightly more efficient shooter from the field.
The sheer volume of Trae's shooting makes up for this but Ja is more athletic and explosive and loves contact. 
To me that's a massive appeal for Ja Morant sports cards over Trae Young cards in the long term. 
Their leadership abilities and how they can lift their teammates will be critical in how we remember them both, irrespective of how good they can be.
Only time will tell whether its the Ja led Grizzlies or Trae led Hawks who come out on top but as of this moment the Grizzlies are far more superior.
Atlanta isn't relevant yet and they won't be until they can rectify their issues on defense.
If the current trajectory remains on course and the Grizzlies consistently make the playoffs as consistent as they did when Mike Conley was in Memphis, Ja Morant will no doubt enjoy a better career.
Unless there is some major improvement in Trae's defensive game and the other pieces come together, I don't see any other outcome here.
The concerns I have for Trae are exactly like those that marked Steve Nash throughout his career on defense.

Morant has more chance of winning an NBA Championship because of his ability to ignite his teammates which is something that Trae Young hasn't delivered on yet.

Even despite Nash earning MVP honors twice, he ended up without an NBA championship whereas Kidd won the 2011 NBA Championship with the Mavericks.

That's were it seems the Ja vs. Trae battle is heading.

Trae Young will end up being the better shooter and may have better stats but Morant has a ceiling that has not peaked yet so we could see even more from him.
On the other hand I think Trae is close to his ceiling.
Trae will end up without a ring whereas Ja Morant will be a part of successful teams and therefore have a better chance of a championship.
Ja Morant will have a better career.