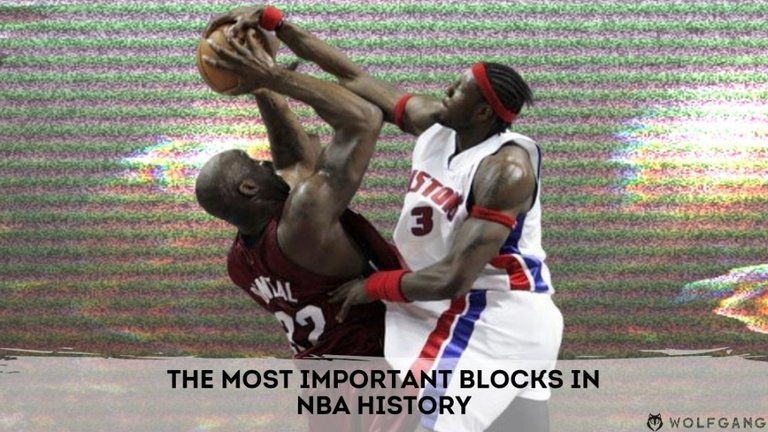 Interestingly blocked shots only became an official NBA stat from the 1985-1986 season onward.
The block is one of the most underrated parts of basketball, with the ability to gravitate fans straight out of their seats.
Blocks have changed the momentum of games and they've even swung the fortunes of entire organisations which you'll find out about.
Here are six of the most significant blocks that are among the best of all-time.
1. Ben Wallace on Shaq
'Big Ben' was the sort of player that could dominate a game without having to score a single point.
What makes this block special was that Wallace destroyed the 7'1" (2.16m), 325-pound (147kg) Shaq. 
As Shaq went up at the rim he got completely stuffed by Wallace, who showed sheer brute strength and timing to get up for the block. 
You've got to love Shaq's response to a reporter after the game. "That was a foul, young lady, that was a foul".
2. Nate Robinson on Yao Ming
Nate Robinson was famous for his hops, a reason he became the first three-time Slam Dunk champion.
The stage was set on November 20, 2006 when the Rockets met the Knicks.
The 5'9" (1.75m) Robinson showed unbelievable athleticism and timing to climb up and block the 7'6" (2.29m) Yao Ming.
Yao had career best numbers in points per game in this season but they dropped thereafter, perhaps a little discouraged to shoot the ball again.
Why is this dunk significant?
By blocking Yao who is almost two-feet taller than him, Robinson inspired all the little guys proving that it is possible to succeed in basketball despite lacking in height.
Not sure if Yao got poked in the eye or if he started to cry. 
3. Shawn Kemp Against Michael Jordan
Shawn Kemp proved to us that Michael Jordan wasn't totally invincible and that MJ was human after all.
Known more for his offensive capability, Kemp proved that he's also proficient on the defensive end as well.
As Michael Jordan went in for the basket on this one, Kemp came up with a monster block against 'His Airness'.
Kemp didn't only just block him. On the following transition he hit a floater straight past MJ.
4. Roy Hibbert on Carmelo Anthony
It was Game 6 of the 2013 second-round playoff series.
Carmelo Anthony spun around Paul George and headed for a baseline dunk.
Up stepped Roy Hibbert who completely stuffed Anthony at the rim.
"I just knew that I had to get a stop. Paul [George] had been doing a great job on [Carmelo Anthony]. I just wanted to make sure I protected the rim as much as possible.", Hibbert said on his block.
The block is significant as it not only swung momentum of the game allowing the Pacers to close out the series. It also marked the end of any momentum the Knicks had in the 2010's.
The Knicks and still yet to have a winning season ever since this block and so Hibbert single-handedly destroyed Carmelo and the Knicks organisation.
5. Ben Wallace on Hakeem Olajuwan
The Big Ben proved that he could block anything and one of the best centers to every play in the NBA wasn't immune to Wallace.
Mark down the date April 27, 2002, Game 3 of the Pistons and Raptors first round playoff series.
It was the day that 'The Dream' - the all-time leader in NBA blocks (3,830) - copped a nasty block from Wallace.
This block was significant as it marked the handing over of the reigns of the best shot blocker in the league.
Hakeem would retire at seasons end as the all-time leader in shots blocked which he remains to this day.
Wallace would finish his career with a very respectable 2,137 and currently sits 13th all-time.
6. LeBron James on Andre Iguodala
A piece of history.
With 1:56 to play in Game 7 of the 2016 NBA Finals, James chased down Andre Iguodala with the scores locked at 89-all.
James never gave up on the play as he sprung at the ball from behind to block Iguodala's layup.
"I was like, just don't give up on the play. Just don't give up on the play", James later recalled. 
It's widely seen as the play that helped decide the game and the 2016 NBA championship.
It is also considered as one of the most clutch defensive plays in NBA history.
As a result it was the first major professional sports championship won by a team based in Cleveland in 52-years.
You can view the original article here.

Subscribe and support our YouTube channel
Keep up to date with the Wolfgang Sport podcast 
My passion for sports led me to create Wolfgang Sports in 2017 as a way to connect American & British sports culture. 
My writing is driven by a fascination for sports culture focusing on popular culture, rookie players, data analytics and sports card collecting.