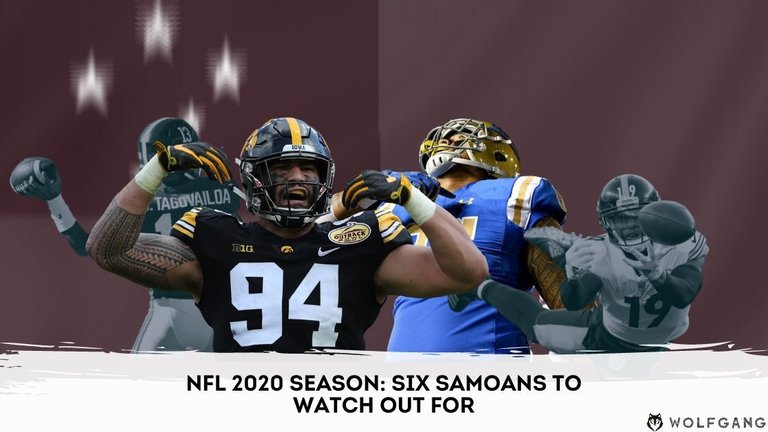 Traditionally Samoans have been must haves on NFL teams to plug either offensive or defensive lines.
Samoans have now grown into true skill positions, where players like Junior Seau and Troy Polamalu paved the way for others to follow.
We're seeing a generational wave of Polynesian talent across the NFL.
Let's take a look at 6 Samoans to watch in the 2020 NFL season led by none other than Miami Dolphins quarterback Tua Tagovailoa.
Tua Tagovailoa (Miami Dolphins)
There's no introduction needed here for Tua Tagovailoa.
The Dolphins still remained faithful to Tua despite many considering him an injury risk, picking him up with the 5th pick in the 2020 NFL draft.
The Fins have been courting Tua for quite some time is seen as the long term franchise quarterback in Miami.
Yes, he suffered the now infamous hip injury which ended his college career.
But this is the same Tua who turned around a 0-13 deficit in the 2018 College Football Playoff National Championship and threw the game winning touchdown in overtime.
Tua would likely have been the number 1 pick had it not been for his horror injury.
If Tagovailoa stays healthy, he'll likely become an elite Pro Bowler who is capable of leading his team to Super Bowl championships.
Marcus Mariota (Las Vegas Raiders)
Marcus Mariota actually served as a mentor to Tua in high school where they both dominated.
The 2nd pick of the 2015 draft hasn't exactly lived up to expectations.
He hasn't been as bad as some have made him out to be though.
Yes, he was replaced as the Titan's quarterback by Ryan Tannehill after six starts.
The Titans averaged only 16.3 points per game with Mariota under center.
Tannehill then started the next 10 games and the Titans exploded for 30.4 points per game.
Mariota now has a life line thanks to the Raiders who signed him to a two-year $17.6 million contract.
At the Titans, Mariota threw 76 touchdowns and 44 picks for a 29-32 record (3-13 rookie year record).
Raiders GM Mike Mayock summed it up best where Mariota is at.
"He's got to get healthy. We got to rebuild him a little bit to get his confidence back. It's going to take a little while I think just to get him healthy and where he wants to be.", Mayock said.
Although Derek Carr is the likely starter for Las Vegas, the Raiders aren't paying Mariota like most other backup QB's get paid.
That suggests there's every chance that we'll see Mariota at some point this season.
The fact is, Marcus has a career QB-rating of 89.6, and a very healthy completion rate of 62.9%.
His completion rate actually has him ranked as the 21st highest ranked QB by pass completion percentage in NFL history.
Juju Smith-Schuster (Pittsburgh Steelers)
At 22-years of age Juju became the youngest player in NFL history to reach 200 receptions.
The Steelers traded out Antonio Brown last season resulting in Juju becoming the Steelers' number one wide receiver however, Juju's numbers regressed last season as injuries as well as the loss of Ben Roethlisberger took its toll.
There are doubts as to whether Smith-Schuster will stay in Pittsburgh as he enters the final year of his rookie contract.
He has a colorful personality off the field, with a YouTube channel with almost a million subscribers posting video game content as well as videos of his daily life.
He'll be under pressure to prove that he's just as good on the field and worthy of being the number one wide receiver option in a year he must breakout.
Kendrick Bourne (San Francisco 49ers)
Bourne has established himself as somewhat of a spiritual leader in San Francisco.
"The locker room is just so loose," his veteran teammate Emmanuel Sanders said.
"I feel we've got a great core of guys. Just look at Kendrick Bourne … how he was even acting after getting a catch — smiling, having a good time.", Sanders continued.
His enthusiasm and flamboyancy has transformed him into a fan favorite and something of a 49ers cult hero.
Like Juju, Bourne has become his teams number one wide receiving option.
quite phenomenal for somebody who was overlooked by all teams throughout the entire 2017 draft, then becoming a free agent signing by the 49ers.
He'll be looking for a big year as will Juju, as Kendrick aims to prove that he's worthy of remaining Jimmy Garoppolo's number one target and worthy of a contract extension.
Related: Kendrick Bourne a new breed of Samoan NFL players ; remains restricted free agent with 49ers
AJ Epenesa (Buffalo Bills)
The Bills picked up Epenesa with the 54th pick in the second round of the 2020 NFL draft.
The 6'5″, 275 pound defensive end didn't have the best of combines, with his lack of raw athletic a concern for many.
Although he lacks athleticism compared to other pass rushers, he still has reasonable flexibility.
He also has the hands and skill set to succeed in the Bills' defensive line.
Last season at Iowa, he recorded 11.5 sacks, 14 tackles for a loss and forced four fumbles.
He's also proud of his Samoan heritage.
"Whenever I have the chance to go back," Epenesa said, "I definitely want to give back as well."
Epenesa definitely has the potential to be a double-digit sack pass rusher and is an exciting prospect for the Bills.
Devin Asiasi (New England Patriots)
The Patriots picked up 6'3″, 257 pounder Devin Asiasi in the third round of the 2020 NFL draft with the 91st pick.
Ten picks later, the Patriots picked up another tight end selecting Dalton Keene out of Virginia Tech with the 101st pick.
It was 10 years ago that New England double dipped at tight end, picking Rob Gronkowski and Aaron Hernandez in the 2010 draft.
Don't however expect the Asiasi-Keene combo to come close to replicating the Gronkowski-Hernandez combination.
Asiasi's combine results reflects a player with decent size and average athleticism.
On tape however he's much bigger and faster than you'd expect.
From 44 receptions last season at UCLA, he received for 641-yards and scored 4 touchdowns
What really gives Asiasi upside is the recent acquisition of Cam Newton at quarterback for the Patriots.
Cam's reliance of tight ends while at the Panthers, à la Greg Olsen, should set Asiasi up nicely to feature prominently as a receiving target on a Patriots receiving corp lacking talent
My passion for sports led me to create Wolfgang Sports in 2017 as a way to connect American & British sports culture. My writing
Sign up to the Wolfgang Sport Youtube Channel.