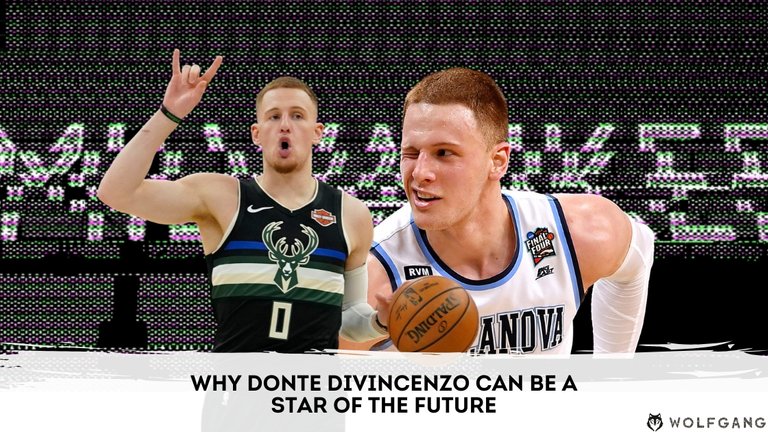 Donte DiVincenzo has every bit of potential to be a star of the future in the NBA.
As the Bucks push for a first NBA championship since 1971, DiVincenzo could be the X factor that gets them over the line.
'DiVincenzo's criteria' ; how Bucks Donte DiVincenzo is an under the radar X factor
He played 27-games as a rookie before a season ending foot injury after being picked 17th overall out of Villanova.
This year so far he's played in 59 games and has started in 22 of them.
Averaging 23 minutes per game this year he's thrown up an average of 9.4 points and shooting at just over 46% from the field.
He's also contributing 5 rebounds, 2.3 assists and 1.4 steals a game.
Compared to his first year on a per-36 minute basis he's trending upwards for points, field goal percentage, rebounding, assists, steals and perimeter shooting.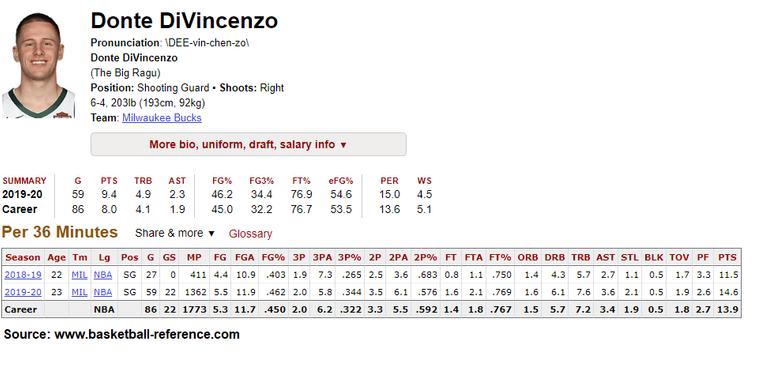 The numbers aren't anything extraordinary but let me get to it. 

When it comes to DiVincenzo It's not just his ferocious dunking, acrobatic finishing at the rim and his jump shot that makes him an X factor.
His trajectory suggests that he could be the next premier combo guard in the NBA.
There is one stat however that really sticks out as to why Donte DiVincenzo can be a future star.
ESPN's Real Plus-Minus or RPM.
RPM is an NBA player performance metric that takes a player's average impact in terms of net point differential per 100 offensive and defensive possessions.
It aims to quantify how much a player hurts or helps his team when on the court by telling us how much better, or worse, a team played on offense and defense based on an individuals isolated contributions.
Below you can see that Donte is ranked 13th in the NBA with an RPM of plus 2.8 points.
So what RPM is telling us, is that the Bucks are 1.67 points better on offense, and 1.13 better on defense with Donte on court.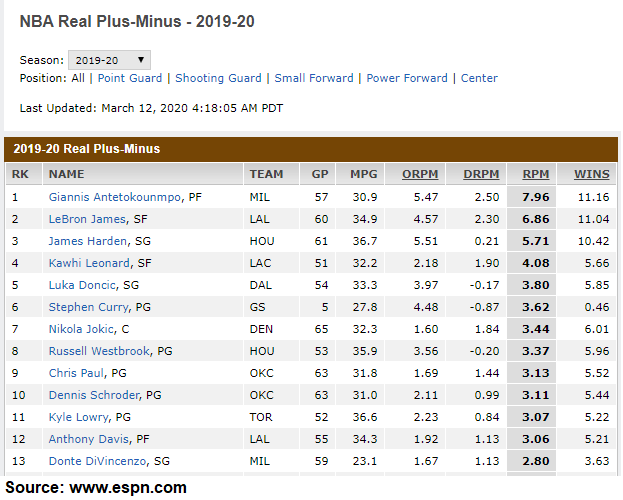 Where RPM gives us a good indication of a players true impact to their team is that its more sophisticated than your simple box plus-minus stat, or BPM, which is a traditional metric that is simply points on offense take away points on defensive per 100 possessions.
This is where Donte shines and helps to prove that he's a star in the making and when you watch him, it makes sense.
It's his intangibles that really helps set him apart from others as an X factor, not just pure numbers.
That's where the complex algorithms of RPM – in which ESPN hasn't fully made public the entire algorithmic methods – helps to suggest the trajectory in which Donte is going.
You can see below that 6 of the Top 11 players in the NBA for +/- are all from the Bucks.
Players from the Bucks who spend time on court with Giannis will no doubt favor from how he performs on the court which is what limits your traditional box plus-minus stat in isolating a players individual impact.

Complex adjustments are made in the calculation of RPM to best isolate an individual's impact where box plus-minus can't show us which helps paint a clearer picture on just who is having a greater impact on a team over others.
So in the case of Donte, it makes adjustments in its calculations to eliminate the impact that somebody like Giannis has on court by isolating metrics of Donte's only.
Giannis is the only player ahead of DiVincenzo in terms of team impact for the Bucks.
The Bucks are scoring the most points per game, the most rebounds per game and have the best record in the NBA, and Donte is having the second biggest impact on that when he's on court.
And still … not many people are talking about him.
He's genuinely flying under the radar.
This is a team that's one of the favourites, if not, THE FAVOURITES to win this year's NBA championship and most people will only talk about Giannis, Kris Middleton, Eric Bledsoe and Brook Lopez when it comes to the Bucks.
Even more remarkably when you look deeper into RPM, Donte ranks as the 3rd best of all shooting guards in the entire NBA behind only James Harden and Luka Doncic.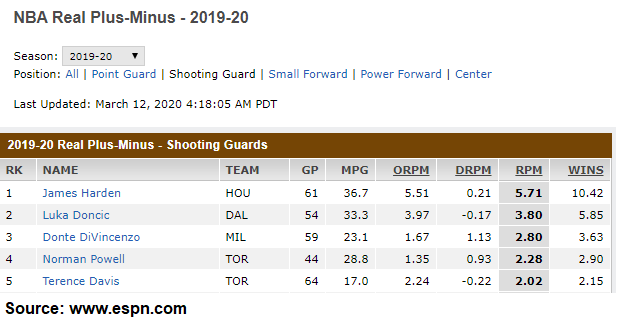 So get this .. he's ahead of Devin Booker, Jaylen Brown, Victor Oladipo and even Paul George.
Donte DiVincenzo has added versatility and energy in Milwaukee to complement superstars Giannis and Khris Middleton but don't underestimate the impact Donte's having on the team which RPM proves that he is flying under the radar.
He already has the competitive attitude that you just can't teach. If his numbers keep going up and up, I think he's definitely a good sports card purchase long term.
With the Bucks in a position to compete for Championships in the years ahead especially if Giannis stays in Milwaukee, Donte will only become more desirable.
He's one I'm watching closely as his stocks should only rise if he continues to mature and gets more game time.
His ceiling is uncapped at this stage and RPM helps prove that Donte DiVincenzo can be a real star of the future.
Sign up to the Wolfgang Sport Youtube Channel.
Keep up to date with the Wolfgang Sport podcast 
My passion for sports led me to create Wolfgang Sports in 2017 as a way to connect American & British sports culture. 
My writing is driven by a fascination for sports culture focusing on popular culture, rookie players, data analytics and sports card collecting.