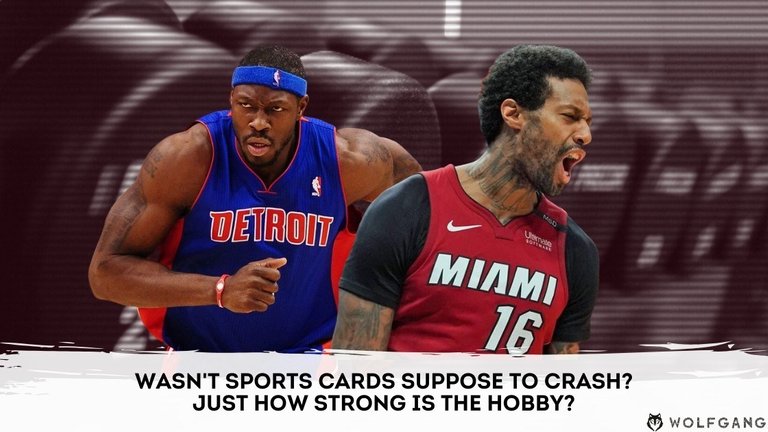 How crazy has sports cards been lately.
While the Coronavirus took over all our lives, so did the infectious hobby of sports cards for many of us.
During the peak of COVID-19, many of us woke up to find out that they'd be losing their jobs.
World markets started to crumbling overnight and it was expected that sports cards would follow suit.
To the credit of the hobby it did the exact opposite.
Not only has sports cards, particularly basketball cards, maintained their value but some cards have skyrocketed.
Basketball cards have been buoyed by a perfect storm of multiple factors.
So many everyday liberties were taken away from us so it was the perfect buffer for many seeking a distraction during a time of crises as well as something to do.
New hobbyists have since flooded in and the demand has exploded. On top of that, many old school hobbyists have picked card collecting up again.
Inspired by ESPN's docseries The Last Dance, it was initially intended for a July release but the NBA's suspension sped up its release for March.
Most of us will know what impact that had on Michael Jordan cards as their prices hit astronomical prices.
Supply chains have been decimated because of COVID-19 and sports cards aren't immune to its impacts.
The supply of sports cards has been decimated as the demand has skyrocketed.
Stocks have been stripped at hobby shops and from places like Kmart and Big W so it's been almost impossible to find retail packs.
In early May I was still extremely lucky enough to find some stocked at a Target in Sydney's west but only weeks later, I must've checked almost every Target, Big W and Kmart in Sydney's metro area to no avail.
Fortunately for hobbyists, there has still been a way to open packs but in a different way.
The sports card box break.
Now box breaks aren't exactly new, but the phenomenon has since spiraled out of control with new break groups popping up by the day.
Although the large retail stockists have found it extremely difficult to source boxes, individuals and small hobby groups and businesses have had some success sourcing some stock.
Sports card collectors (and punters alike) have been filling up box break spots like crazy.
The thrill of a box break was able to fill the void of our sporting fix and was another way to gamble for those who needed a fix.
Now that we have a date for the resumption of the NBA season, maybe now we'll see the sports card market undergo a correction.
About three months ago back in March I was suggestive that the sports card market was going to crash and that it would be a good time for those like me to pick up even more cards.
Boy was I wrong.
It seems now that the initial mass hysteria surrounding sports cards has now been replaced by a bit of a correction.
The initial hype surrounding cards and the desperateness of collectors (especially beginners) to get their hands on anything and everything has shifted toward consumers being a little wiser.
Collectors are wiser, more educated and have matured toward a more focused personal collection as opposed to just hoarding in whatever they can get.
One of the unfortunate things of the hobby is that genuine collectors are starting to get priced out of the hobby.
The inaccessibility to easily get cards and the higher price based on supply and demand principles means that its likely that people will lose interest in the hobby.
I mean for goodness sake even top loaders are exploding in price.
But its a market susceptible to the simply concept of supply and demand and even though the inflated prices might be annoying, just think that it's likely a good thing for the hobby.
The extra exposure the hobby has had can only be a good thing with the introduction of new hobbyists as well as the exposure to the younger generation.
Even on a personal level it's reignited a passion for the NBA that I haven't had in 15 years, since the days of Ben Wallace, Gilbert Arenas and Antawn Jamison.
The one thing that has shocked me in all of this is that despite the jobs losses, the prices of cards kept going up.
I suppose the government grants may have helped prop up the funding of personal collections but even so, it's surprised me that so many people are willing to buy cards in a time of economical uncertainty.
All in all the number of people in the hobby will have a correction but many of those who entered during COVID now have a taste for it will continue.
Those people will suddenly have a vested interest in watching the NBA, who's going to make the play-offs, whos going to win the NBA, whether Ja or Zion is better long term, whether certain players are going to explore in their sophomore year. who's going to be MVP next year, the most improved player etc.
Only once the season resumption and upon the conclusion of the season finishing will we see just how strong the sports card market is.
It's definitely stronger than I gave it credit for.
Regardless and like I mentioned back in March, if it does have a post-COVID crash or drastically corrects itself, well then it just gives me an opportunity to dollar-cost average (DCA) my PC.
This however is all just my opinion based on my observations of the hobby so I'd love to hear some of your thoughts and opinions.