New tokens are popping up on the Steem Blockchain like mushrooms! I'm making analysis on them and still I find my self surprised when I spot some new token that I'm seen for the first time in the data.
One of the things that tribes are doing is BURNING tokens. Burn baby burn. We see that a lot of times on tribes posts.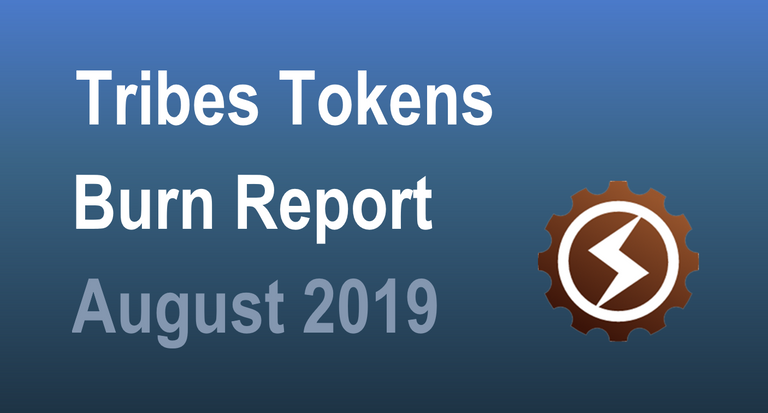 Burning tokens, or creating sinks is great. It creates pressure on the price of the token. It has been already used in the crypto space, with the most prominent example Binance. Just recently they have made another burning round. At some point the Binance token was around 30th on coinmarketcap and now it is in the top 10. They have been buying and burning tokens constantly for more than a year. Less tokens but larger marketcap.
Here I will be looking in the tokens transfer to the @null account in August 2019. These are still very early times for the tribes and the tokens. August was the first month in existence for some of the tribes. Some of them weren't even around for the whole month. The numbers can be very volatile and fluctuating a lot. Bit still let's see will we be able to draw some conclusion out of it.
Number of tokens burned in August 2019
Below is the chart for some of the most pronounce SE tokens.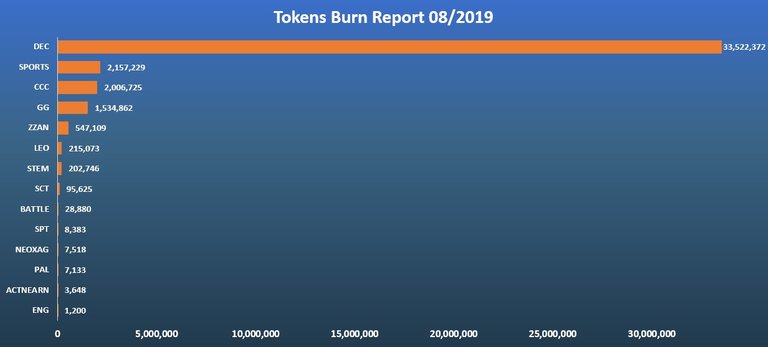 DEC is the ultimate champion here with 33 million tokens burned in August. The DEC inflation is around 1 million per day, meaning that in august there were more DEC burned that new created. On the second spot is SPORTS, then CCC etc.
Note on the CCC token. There was a huge 40M transaction to null that was ignored.
Tokens supply
The number of tokens doesn't show the whole picture. What is important is the tokens supply as well.
Here how that looks in August 2019.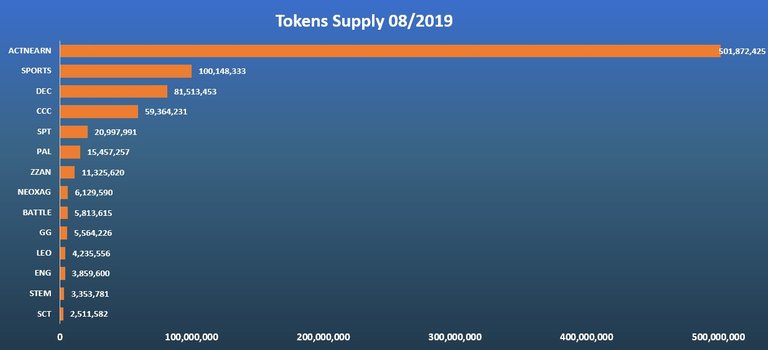 ACTNEARN is on the top with a half a billion supply according to Steem Engine. Next is SPORTS, and on the third place DEC.
Percentage of tokens burned
The most relevant number for the tokens burns would be the percentage of the each tokens burned. Here how that looks in August 2019.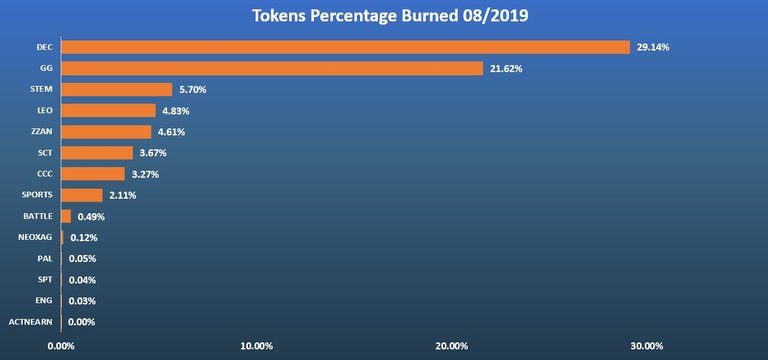 The Steemmonsters DEC token is still on the top with a 30% tokens burned in august of the total supply. What is interesting is that out of the 81 million DEC in circulation at the moment, 61 million is on the @steemmonsters account. If we exclude this amount the numbers will be even bigger. As already mentioned, DEC burned in august exceeded the number of DEC created.
On the second place is the SteemAce gaming platform with the GG token, with 21,62 % burn rate. Next are the STEM, LEO and ZZAN token with 4 to 5% burn rate.
Note that this is the amount of tokens burned only in august and not in total.
All the best
@dalz