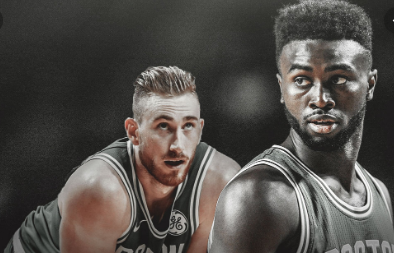 When it comes to guards and wings, I'd argue that the Celtics have more sheer talent than any other team in the NBA. Kemba, Smart, Brown, Tatum, and Hayward are lethal. The only issue is that of those five players, Tatum is the only one who could can truly be counted on for regular frontcourt minutes. While Kanter and Theis are solid players, it's a pretty considerable dip compared to the guards/wings.
I have to think that Danny Ainge is looking to balance the roster out before the deadline. As much as i love each player, there simply isn't the need for Tatum, Hayward, and Brown on the same roster. They all are very talented scorers and with a score-first point guard in Kemba on the team, it's even less necessary to have all three. I can think of one team immediately who'd be hungry to add a player of Brown or Hayward's caliber: The Dallas Maverics. There are three frontcourt players on the Mavs that would thrive with bigger roles: Dwight Powell, Maxi Kleber, and Dorian Finney-Smith, and all come at a much cheaper price than Brown or Hayward. A combination of 1-2 of those players with Delon Wright and the contract of Courtney Lee would be enough to match salaries. Add a pick in there and that should be enough to get the job done.
New Celtics Lineup:
PG: K. Walker, D. Wright, M. Smart
SG: M. Smart, J. Brown
SF: J. Brown, J. Tatum
PF: J. Tatum, E. Kanter
C: Dwight Powell, D. Theis, E. Kanter
Brown, Tatum, Smart, and Kemba are all able to take on a bigger work load and the addition of Dwight Powell and Delon Wright makes the Celtics a deeper team with even more flexibility. This makes the Celtics a more balanced team now with even more potential in the future.