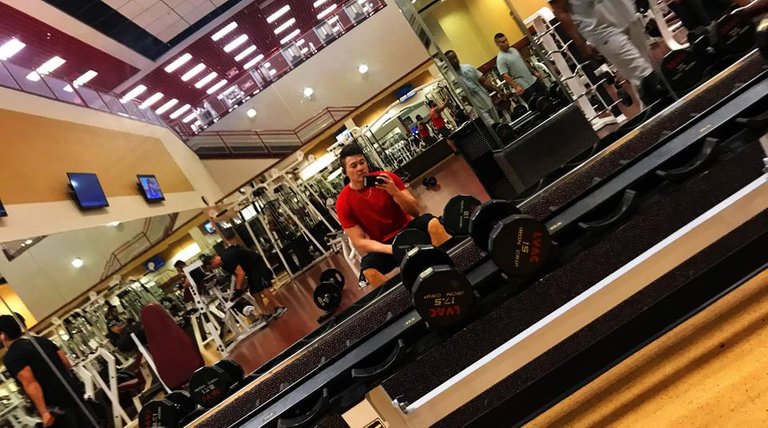 Earlier Today, I decided to hit one the biggest gym's in the whole city called "The Las Vegas Athletic Club" (haven't been at this gym in months). 🏋
The Las Vegas Club is very popular because the monthly membership is only around $16/Month while other shitty gyms are much more expensive around $30-$40/Monthly.
With the membership being so cheap and having every single workout machine you can think of, It's not the best place to get in shape for many reasons.
This place is usually freakin' packed with tons of young "meat heads" from shoulder to shoulder taking all the weights. 🤦
I just realized something, I became that "Old Guy" at the gym that I never wanted to become. HAHA
Shit, time does fly... I remembered like it was yesterday when I first started to go to the gym at the of age 18.
WTH, I've been working out (on and off) for over 24+ freaking years?! SHESSSSH! If you know basic math, you can probably guess my age. 😉
Even though this place is filled with tons of 20-30 year olds, I still somewhat fit in! I look younger than most of these young bucks!
Pretty damn hilarious to me. 😂
I just wanted to share this with all of you on what I was thinking about while taking this selfie. LOL
When will I stop going to the gym? In my 50's? 60's? 80's? Probably never... the only time I'll give it up is when I'm probably 6 feet under. 😅
Keep On STACKIN! ..... Until You're Dead!!
~ Charles Fuchs
Want To Trade Bitcoin with 100X Leverage? Create Your Free Bybit Account Here in 30 seconds and claim your $60 Welcome Bonus!
For those who's interested in following my "Content" and "Daily" Posts... you can just follow me @stackin to get my updates.
You Can Follow Me Here:
➡️ Facebook: https://facebook.stackin.co
➡️ Twitter: https://twitter.stackin.co
➡️ Instagram: https://instagram.stackin.co
➡️ Steem: https://steem.stackin.co
➡️ UpTrennd: https://uptrennd.stackin.co