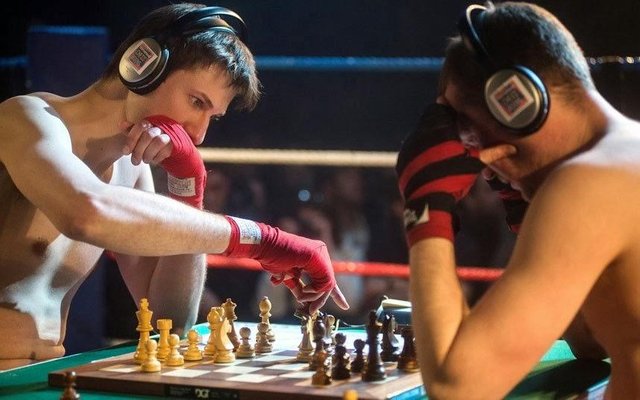 source
And you thought I was kidding.
I thought I would write about something I have no clue about and something bizarre. I Googled worlds craziest sports and came up with Chess Boxing. Talk about two opposites and sports which don't exactly go together or you wouldn't think so anyway.
The sport was invented in 2003 by a Dutchmen Lepe Rubingh and he must have been drunk or high on drugs at the time. This is how it works as it is straightforward as we are dealing with boxers and not masters of the chess board. Why didn't someone tell me about this before as there must be a sport we are all good at and have to find it lol.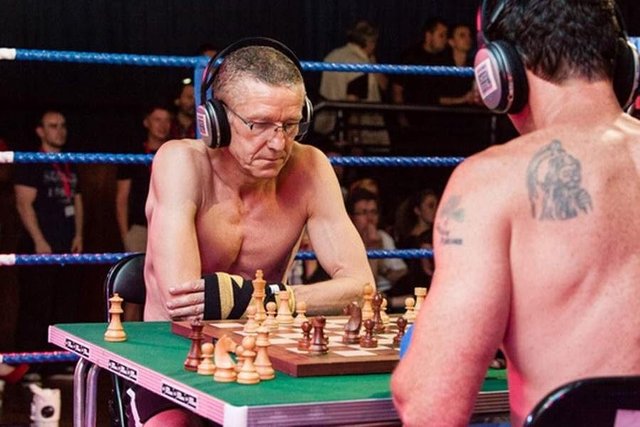 source
Looks like you would have to survive grandpa in the chess to knock him out in the ring.
Here are the rules. There are 6 rounds of chess and 5 rounds of boxing. Each round lasts 3 minutes and they alternate between the chess board and the ring. You can be knocked out by losing the chess and physically knocked out in the boxing. It kind of intrigues me enough to watch, but it sounds insane.

source
There are time penalties in the chess in order to stop cheating. A player can't take his time in the chess hoping to knock his opponent out in the ring. You can lose due to taking too long making a move playing chess. That wrecked my plan and obviously someone tried that method.
There are certain requirements to compete for a world championship. A player needs to be ranked in the top 1600 of Elo. Apparently a way of calculating someones skill in zero sum games such as chess and also you need to have a minimum of 50 amateur rounds of boxing under their belt. I had no idea that chess players were so aggressive, but then again they don't exactly look like chess players either.