Now Srija Saha is champion in the history of Asian yoga competition . Srija Saha is ten years old . She is born in Mohadanga of Mankunda of Hoogly in West Bengal in India .Her father name is Susanta Saha. His father proffesion is a electric mechanic. Sriga is the youngest daughter in their family . Srija studies of Chandannagar Kashishori Pathsala . She studies in class four .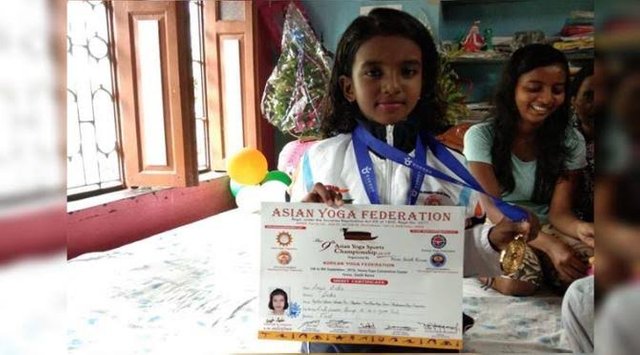 Now india are proud of srija. Really Srija is proud face of bengal .
South Korea organized this asian yoga competition . There , As Indian competitor , Srija had participated Yoga competitions . Finally she had snatched champion trophy of Asian yoga Fedaration. She has achieved Gold as a champion. In 26 August he went to reach for playing of South Korea . As champion , she has returned his own country of Friday . Mankunda people are very happy for srija. Many noble persons and different types person are coming srijas home for seeing of Srikanto.
Srija's mother name is nabanita . Nabanita saha had impressed with yoga . Because she like yoga . Really one day Nabanita visited yoga competition of local club . There she had attracted with yoga . After that he took decision for addmiiting of Srija. Srija went to visit that competition . She liked that compettion . Srija had admitted of Trisokti club by her mother . That year, she had become champion in District . After that he was become first place in state . She had achieved ten place of national step. Srija had started her struggle finally . Trinar Amit Das trained srija . Finally Srija saha got great chance for asian competition . When she took decide for going to south korea , she faced many financial problem . Her school teacher Seilen supported some money . Becides State govt provided srija of 2 lak taka. Sports minister managed srija subject . Srija mother expressed grateful to MLA of Channangar. In a word We are proud of Srija saha . As a younger girl , she achieved great achievement . Undoutely Srija achievement will make big inspiration for more people . Many people will involved with yoga . Yoga is very comfortable for every human bodies . Finally Srija has achieved great reward of gold as a champion in Asian yoga Fedaration.
Regards @simaroy