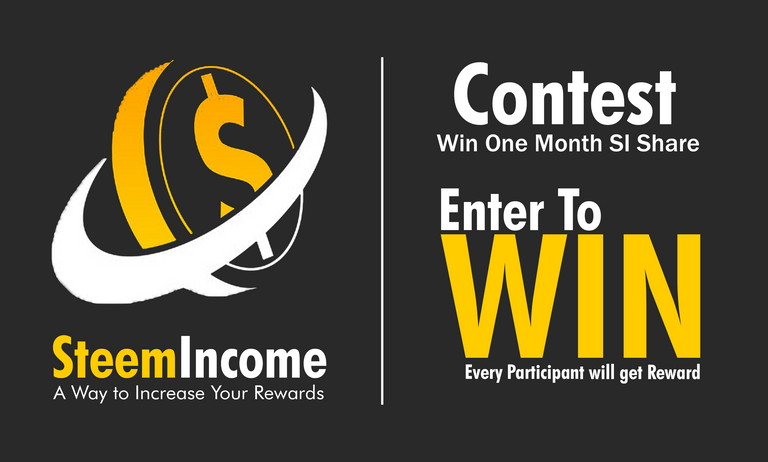 We are very happy to announce Our 7th Weekly SteemIncome contest! Join in and win amazing prizes!
In this contest, the winner will get One SI Share for One Month and Every Participant who will participate in this contest will get 1 SI Token as Appreciation.
How to Participate
As SteemIncome is in the initial stage so this contest is all about promotions and giving demo to steemians.
Rules for participating
Participating rules are pretty simple, Anyone can join us in this contest by following these steps
The Winner will be Selected through "Steem Comment Picker".
What is SteemIncome?
SteemIncome is a service like "One Time Payment for Lifetime Upvote" to Increase your Post's Reward. Its a Perfect Opportunity for the steemians to start getting daily upvote on their post by Just Purchasing shares in SteemIncome and sponsoring a fellow steemian in it. You and your sponsored member will start getting daily upvote from @steemincome on their latest Post. The worth of the upvote depends on the quantity of your share but you'll get daily upvote even if you have Only One Share.
---
How to Purchase Share?
Simple!!! Just Send 1 Steem to @steemincome and Mention "the name of the fellow steemian you want to sponsor" in the transaction memo. You and the person you sponsor in the service will each receive 1 share.
What you get with 1 Share?
At the moment your 1 share is equal to a daily upvote of worth $0.001 Steem. Which means $0.007
worth upvote you'll get in a week and the same worth upvotes to the member you sponsor while purchasing the Share.
But it's not the end because
We've Staked some Different types of Steem-Engine Tokens for curating the different SCOT Tribe to give an extra reward to our Members who are SI Share Holders.
You can get extra rewards of:
Reality Tokens
Sports Tokens
Marlins Tokens
Actnearn Tokens
Creative Tokens
Lassecash Tokens
Lifestyle Tokens
INT Tokens
MOT Tokens
Example/ Benefits of an SI Shares
One SI Share is equal to $0.001 Worth Daily Upvote on your latest Post with an extra reward of
Reality, Sports, Marlins, Actnearn, Creative, Lassecash, Lifestyle, INT and MOT Tokens.
Delegate Us / Support Our Project
In the initial stage of @steemincome we're looking for Delegation. Now you can get shares with Delegating your Steem Power to @steemincome, Every 10 Sp you'll delegate to us is equal to 1 Share and you'll enjoy the same benefits as a SI Share Holder except Sponsoring Someone.
---
Need More Information:
Join Us on our Discord Server by Clicking the Link Below
Would Love to Invite You All to Join Our Contest.
---