I really can't believe I'm about to write this but the coronavirus has struck the sporting world and taken everyone by surprise. After Rudy Gobert, center for Utah Jazz, tested positive for the virus a domino effect has been set into motion. By Wednesday night the NBA had suspended the remainder of it's season and less than 24 hours it seems the rest of the sporting world is following suit.
I've collected a few of the press releases from various league announcements below. While I'm proud of the leagues for making the tough decisions to move forward it really kicks into gear how serious of a situation this could be for the US. I hope everyone is staying safe and doing what you can to stay healthy.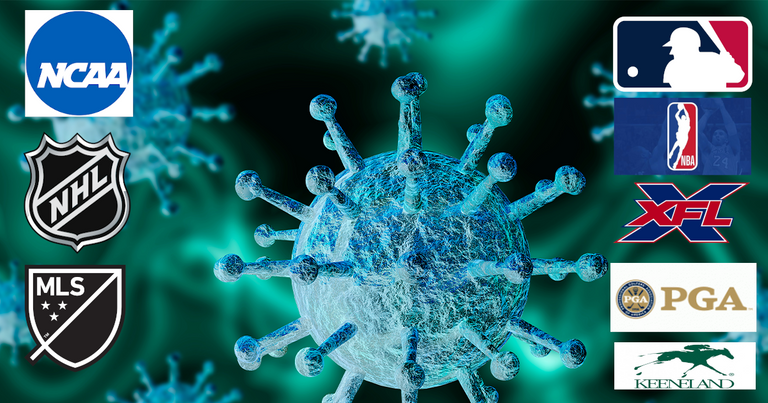 NBA
The NBA announced on Wednesday that they would be suspending the rest of the season. They are at least not resuming play for 30 days but we'll see what happens after.
http://www.nba.com/article/2020/03/11/coronavirus-pandemic-causes-nba-suspend-season
NCAA
The NCAA has had an off and on appearance as the virus began hitting the States. First there were plans to hold regional conference tournaments in limited capacities but then those all started getting cancelled. By Thursday afternoon all conference championships were canceled and the NCAA moved to cancel March Madness.
http://www.ncaa.org/about/resources/media-center/news/ncaa-cancels-remaining-winter-and-spring-championships
https://accsports.com/acc-news/acc-cancels-2020-acc-tournament/
https://bigten.org/news/2020/3/12/mens-basketball-big-ten-conference-statement.aspx
https://www.secsports.com/article/28891815/sec-suspends-regular-season-championship-competition
MLB
Major League Baseball has announced they've cancelled the remainder of Spring Training games and will be delaying opening day for at least two weeks.
https://www.mlb.com/press-release/press-release-major-league-baseball-to-delay-2020-opening-day-by-at-least-two-we
MLS Suspends Season
Major League Soccer has now moved to suspend play for 30 days after initially just announcing a temporary suspension. Additionally the US Soccer teams also announced they will cancelling all games for March and April.
https://www.mlssoccer.com/post/2020/03/12/major-league-soccer-suspends-season-30-days-impact-coronavirus
https://www.mlssoccer.com/post/2020/03/12/us-soccer-calls-national-team-games-due-covid-19-pandemic
NHL
The NHL has put a pause on their 2019-2020 season. It's uncertain if they'll finish the season or just move into playoffs when they resume play.
https://media.nhl.com/public/news/13911
XFL
The XFL has cancelled the remainder of it's regular season of it's inaugural season. They've stated they remain committed to a second season of the league but have given players the go ahead to sign with the NFL if offered.
https://www.espn.com/xfl/story/_/id/28894247/xfl-cancels-regular-season-games-committed-playing-2021
Horse Racing
There's talks about what will happen with the Kentucky Derby. There's already been a case in Jefferson County, KY which is where the Derby is held so it's hot on everyone's minds.
In a more local note the spring meet of the Keeneland will not be allowing spectators. This is a huge event for the Lexington area and will now only be for those connected to the horses running.
https://www.keeneland.com/media/news/keeneland-covid-19-update-2020-spring-race-meet-and-april-sale
Golf
The PGA announced the cancellation of The Players Championship and all other PGA Tour events through the Valero Texas Open.
https://www.pgatour.com/company/2020/03/12/pga-tour-statement-regarding-cancellation-of-the-players-championship-and-upcoming-pga-tour-events.html
WWE
As of the last I've heard the plan is for Wrestlemania 36 to still happen in Tampa on April 5. The WWE moved Smackdown to the performance center but Wrestlemania is the biggest event of the year for professional wrestling.
https://www.espn.com/wwe/story/_/id/28893696/wwe-planning-hold-wrestlemania-36