Endlich einmal wieder Aktivitäten mit Handy: Ich hatte einen Behördentermin und da ich Zeit hatte, bin ich zu Fuß geagangen und habe einen kleinen Umweg gemacht. Auf meinem Weg am Stadtrand kam ich an einem Feld vorbei. Gelb blühende Pflanzen - das bedeutet wohl nicht nur in meiner Gegend: Raps. Aber im November? Also näher ran!
I had an appointment with the local authorities and since I had time, I walked and made a small detour. On my way on the outskirts of town I passed a field with flowering plants on it. Yellow-flowering plants - that means in my area: rape seed. But in November? So I took a closer look!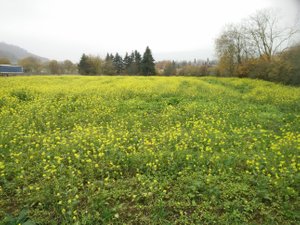 Und es war - wie zu erwarten - kein Raps. Diese gelbe Pracht ist Ackersenf (Sinapis arvensis). Er wird als Zwischenfrucht genutzt, so sollen Nährstoffe im Boden gebunden werden. Ackersenf begegnet uns in Mitteleuropa häufig, z. B. an Wegrändern und auf Brachflächen. Beim Nachlesen habe ich zwei interessante Dinge erfahren: die geschlossenen Blütenknospen kann man wie Brokkoli essen - und die Samen sind im Boden 40 Jahre keimfähig!
And it was - as expected - no rapeseed. This yellow splendour is charlock or field mustard (Sinapis arvensis). It is used as a catch crop to bind nutrients in the soil. In Central Europe we often encounter field mustard, especially at roadsides and on fallow land. While reading about it I learned two interesting things: the closed flower buds can be eaten like broccoli - and the seeds are germinable in the soil for 40 years!
---


7901

Daily Activity, Shopping, Walking