It was indeed a photo finish in the Tales v The Stars head-to-head league with the last spot in the playoffs between myself and English commentator Isa Guha going right down to the wire.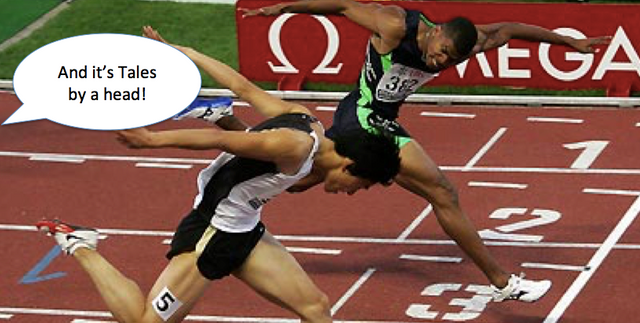 In general it's been a shocking week of cricket in the BBL with some comical low scores and a series of really uncompetitive games that have had even the most ardent lovers of the sport struggling to stay engaged. With the Sixers first match of the round being called off due to bad weather, it meant my gamble to play 4 of their players in the hope that they would score big on the double chance might backfire. Indeed, Lloyd Pope who has bowled really well for the men in pink this year wasn't involved in either game while the returning Stephen O'Keefe was in the 11 of both matches but didn't bowl a single ball! With James Pattinson rested by the Heat who were thrashed by the Adelaide Strikers, I was not only short of players but of points in general.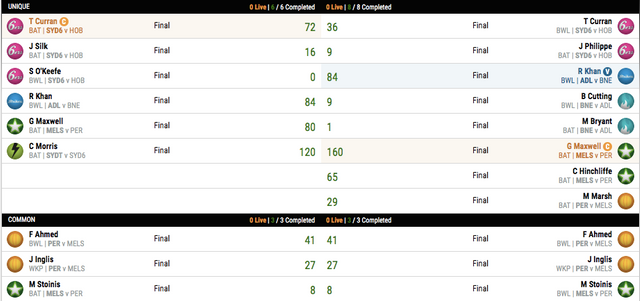 The only thing that could really save me would be big performances from the likes of Chris Morris and Tom Curran in the Sydney Derby. Morris did his part by taking 2 for 12 in his 4 overs as the Thunder bowled the Sixers out in just 95 deliveries. However, with just a measly total of 76 to defend and the dark skies once again rolling in over Sydney it seemed unlikely that Curran would get the time or opportunity to take the wickets that I needed to beat Shane Warne's team. All the while I was also keeping an eye on Isa Guha v Michael Vaughan in the knowledge that Vaughan had already won their head to head before the Sydney derby started on the basis the Guha had no players from either side playing. However, as I explained in my previous blog, if I lost my fixture against Warne then I would still need Guha to lose to Vaughan by 102 more points. Vaughan like me had Tom Curran as his captain so I knew if Curran could take a wicket it would not only be 50 points for me but 50 points against Guha, a hundred point swing that would see me into 4th place.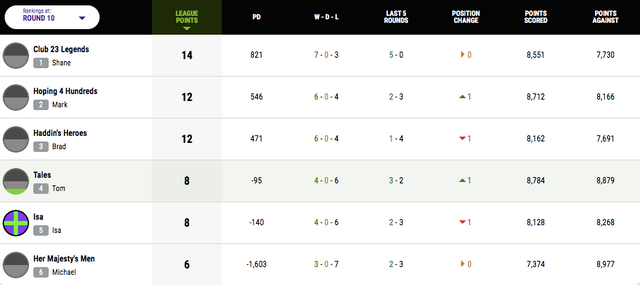 Curran's first ball was a disaster as it slipped from his hand and went sailing over the batsman's head before being rightfully called a no-ball. The resulting free-hit was gleefully dispatched for 4 and with the rain beginning to fall and the Thunder well ahead on DLS you felt that the chances of Curran getting players of Khawaja and Ferguson's class and experience out in such a situation were slim. But then..... 4th ball of the over and knowing that they must take wickets to get ahead on DLS, the Sixers put a slip in place and Curran got his reward by pitching the ball up and enticing Khawaja into a drive that he edged to Daniel Hughes! Just 5 minutes later and the players went off for rain, never to return and my place in the semi-finals was assured!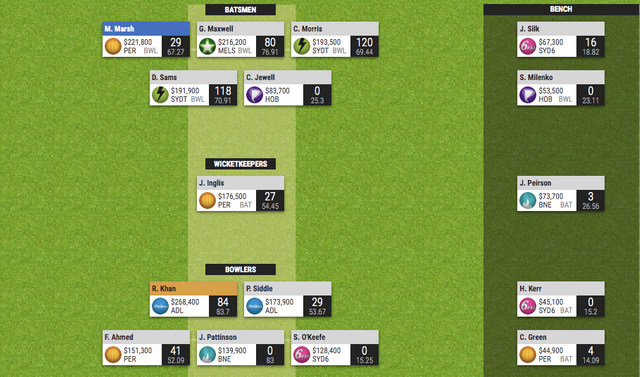 This round I'm gambling on the weather once again playing a role and with that in mind I've decided to bring in players who will be involved in the matches being played in Hobart and Perth where the forecast is much better than the matches that are scheduled on the East coast. Big money names Stoinis and Curran are both out with Mitch Marsh and Daniel Sams to the fore. Marsh has been a good point scorer for me in recent games and with the Optus Stadium generally producing high-scoring games I'd hope he can losen those big biceps and smash some more quick runs for me. Sams meanwhile is the leading wicket-taker in the tournament and despite not being able to buy a run so far has been promoted up the order in the last couple of games to number 4. Perhaps the Thunder coaching staff know something I don't and he's smoking them in the nets? Peter Siddle also returns to the side at the expense of Lloyd Pope and in general I'd expect that he and Rashid Khan who is named captain will dominate a flaky looking Hurricanes batting line-up.

It's all knockout fixtures for me from here on out with round 11 seeing me up against Brad Haddin who after being the early pacesetter has won just one of his last 5 head-to-heads. Shane Warne and Mark Howard go into the qualifier match with the winner going straight to the final and the loser playing whoever wins my game with Haddin.