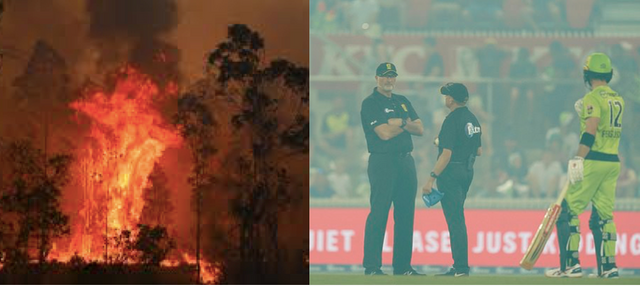 Point scoring in the 2nd round was difficult for all involved in the BBL fantasy league as 1 of the 4 matches was cut-short when smoke from a nearby bushfire blew across the ground making it difficult for players and spectators to breath and see. While it was disappointing for all involved not to have finished what would have been a good game there are of course some things that are more important than cricket. The situation across most of South and East Australia at present is terrible. Massive loss of property, natural habit and even a few lives have occurred as a result of dozens of bushfires that the authorities are struggling to control. Last Friday a man in the Adelaide Hills, a few miles away from where I grew up as a child died as a result of a bushfire and the situation doesn't show signs of improving. I wish all of the families who have been displaced or lost loved ones as a result of this catastrophe well and hope that they can get back to better times soon.
In general, it was a pretty ordinary week for my team with only Aaron Finch passing the 50 point mark although Fawad Ahmed and Jimmy Peirson who were left on my bench both managed more points than him...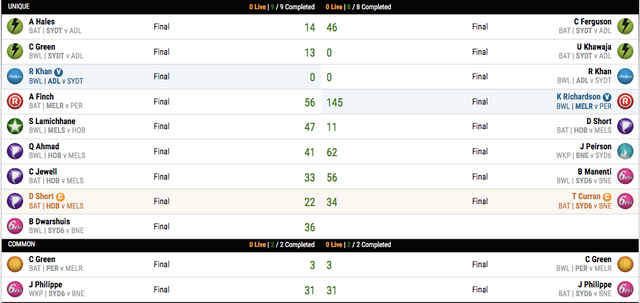 As a result, I lost my head to head with Mark Howard whose own team didn't have a great time of it either with the exception of Kane Richardson who despite being part of a Renegades line-up that got smashed for the best part of 200 runs, managed to pick up a 4 wicket haul. After a fairly low-scoring tournament in 2018/19 this year's Big Bash is now living up to its name with The Heat topping the Scorchers performance on Saturday and becoming the first team this year to breach the 200 mark. Chris Lynn's incredible innings of 94 from just 35 balls earned him a whopping 189 points and I'm sure that a few coaches around the world who had him down as captain will be enjoying a good dose of "Lynnsanity" tonight as his score doubled would have been better than the average team score for round 2!
Incredible performance from Chris Lynn to smash one of the leagues most effective bowling attacks all over the SCG. He was out going for another 6 that if he had got it would have broken the all-time record for the fastest BBL century
The defeat leaves me 5th in the league without a win in my opening 2 head-to-heads and next up I play top of the league Brad Haddin!
Round 3 will see The Strikers, The Sixers and The Scorchers all play twice and so I've ensured I have plenty of those players in my 11 this week. The Sixers players were pretty much already there as I had anticipated their double points weeks in round 1 and round 3 but I also had to be careful not to overstock on them given that they have a bye in round 4. It also made sense to go bigger on the Strikers players who have a double game this round and then another in round 4. Therefore, I'm hoping that bringing in Alex Carey, Phil Salt and Billy Stanlake will see me claim enough points to get myself back into this tournament. Alongside Fawad Ahmed, Cameroon Green, Josh Phillipe and Ben Dwarshuis it means that 8 of my 11 players will play twice this round or to put it another way, I will have 19 point scoring opportunities compared to the 11 from round 2. However, looking at Haddin's squad from last round he is likely to have something similar so the reality is it will still be down to whose players can perform better over the next few days.