This weekend I was sitting back to relax and watch a bit of the T20 Blast that started recently over here when my viewing entertainment was cut short due to a weather interruption.
Now as many of you will be aware by now I herald from good Old Blighty aka England which is renown for wet weather throughout the year. We lost a few games of the recently completed World Cup to what even by our standards was torrential rain resulting in a few users commenting on my blogs that they feel that England should never be allowed to host the tournament again! Bit harsh but I agreed so long as they can guarantee me that it never rains in their country either, no one replied back to those comments........
Anyway, the irony was that this particular weather interruption wasn't to do with precipitation of any kind at all. Instead, the players were lead from the ground because the conditions were TOO SUNNY!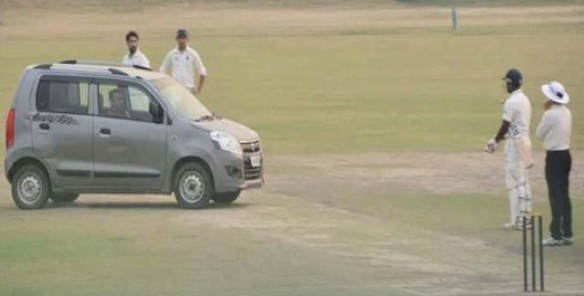 "Fill her up please!" - Play is stopped in a Ranji Trophy game between Delhi and UP after a man drives onto the pitch
The issue occurred at Canterbury during the match between Kent and Somerset when the setting sun shone into the eyes of the batsmen from one end. Apparently, this is not that uncommon an occurrence at the ground and perhaps begs the question why they felt the need to lay the pitch along an East-West axis to begin with! Anyway, the players trudged off to the pavilion, the punters packed out the bars and I was left having to listen to the commentary teams feeble attempts to fill time until it finally got dark enough for us to continue.
In between times, it got me thinking about the other weird and wonderful reasons that I know for why sporting matches have been interrupted or indeed called off.
Keeping on the weather theme (I'm English after all) beyond rain and now sun we've also seen cricket matches delayed in this country due to snow! The last time play was stopped for snow was in April 2016 when Middlesex were playing Durham. Granted that was just a flutter and in early season conditions but stranger things have happened.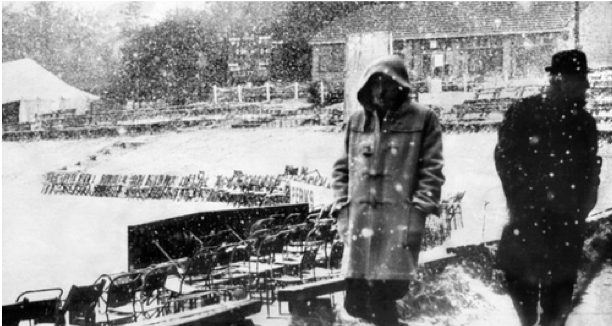 Derbyshire, June 1975. Spectators walk the stands in winter coats and boots
Take for example a match between Derbyshire and Lancashire in June of 1975. The game started on a Saturday with reports that many of the crowd were shirtless and enjoying ice-creams as a result of fine weather. They were also treated to a fluent century from West Indian Clive Lloyd who a month later would go onto to lift the inaugural World Cup, also played in England. However, as Lancashire looked to complete their victory on the following Monday, the game was stopped first for rain, then for hail and finally for snow, with almost 6 inches of the white stuff falling despite it being mid-summer.
Beyond weather what about interruptions from our four-legged friends?
We had a game stopped by a swarm of bees at the World Cup and it may come as a surprise to non-cricket lovers but this is not an entirely unique occurrence. I was also at the Oval earlier this year to watch a domestic match when a fox ran onto the outfield in broad daylight and in front of several thousand people!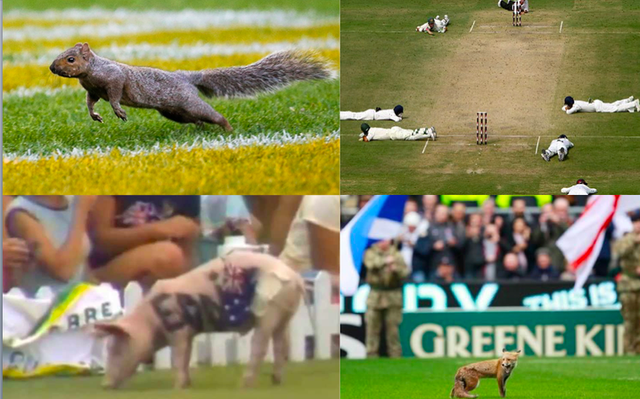 Clockwise - A squirrel heads for the end zone at an NFL match, A swarm of bees force cricketers to duck for cover, a fox interrupts the Calcutta Cup between Scotland & England in Rugby Union and Australian cricket supporters release a pig onto the pitch during the Ashes
Of course, human beings don't need nature or acts of God to interrupt a game, we are perfectly capable of ruining the event ourselves!
With security heightened and modern day stadiums all about health and safety, it's not surprising that just occasionally the emergency services and ground security get a little too eager to stop a match due to a perceived threat.
We've all been there, it's another weekday morning, you're blurry-eyed and semi-conscious and yet as usual late for work again. As such you're forced to try and multitask in order to get out the door on time. You end up with your shirt buttons not matching, hair like a porcupine and of course toast that resembles charcoal more than bread. The fire alarm goes off and you wake up the rest of your sleeping housemates/family.
Now imagine that you're an International cricketer and burning the toast in the dressing room results in the deployment of several fire trucks, the evacuation of an entire stand and over a 30minute delay to the match you are playing in - embarrassing hey! That is precisely what happened to Australian spinner Nathan Lyon in 2017 during a Sheffield Shield game in Queensland. I can just picture him now desperately opening a window while waving a tea towel.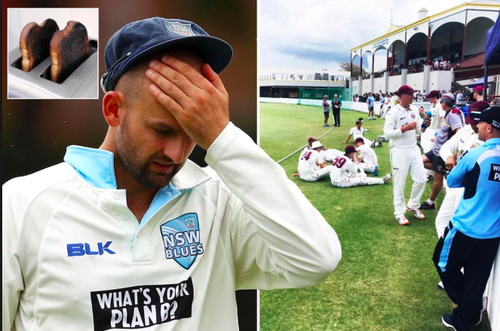 Refs, umpires and match officials get a tough time of it in almost any sport these days but it would be fair to say that sometimes they do bring it on themselves. Turning up with the proper equipment for everyone to start the game on time should really be one of the easier things to get right in professional sport but it hasn't always turned out that way.
And if it isn't players or officials causing the delay then you can always count on a few overzealous fans to ruin your entertainment.
The delay below was during the 1997-98 Champions League Semi-Final between Real Madrid and Borussia Dortmund. Excitable Madrid fans had earlier climbed the fences and hung off the goal. The match started over an hour late as officials scampered around Madrid looking for another regulation set of posts.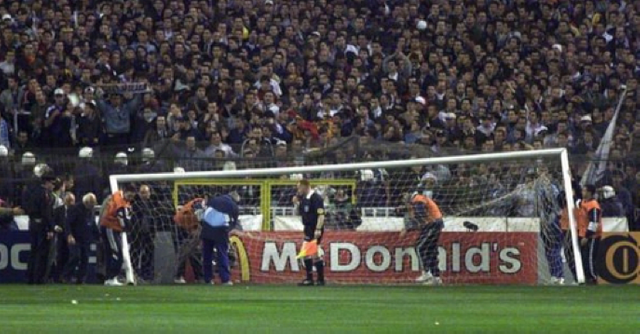 Can you think of any bizarre reasons you've seen or experienced delays in sports matches?