Though it's snowing in Denver today, yesterday the high temperature was nearly 80 degrees and Allan (@hanedane) and I shot a last "summer" round at Greenwood Village. (I'm not expecting the disc golf season to really end for us, though; Allan played all last winter on warmer days.)
The Greenwood Village course is almost always windy, with very few trees for shade or wind break. But it was during this windy round I shot my first par on Hole 4! It's possible that my disc was held up by the wind; you can see the 18mph wind flag is raised. Here I am, victoriously holding my par-worthy little pink disc!
Normally I drive off the tee and then take Allan's lie, but on this hole I was able to take my own lies, reaching the green in three and making the putt for par. It only took a year! I played disc golf for the first time on October 17, 2018. And it only took me a year to start throwing semi-decently. As I've posted before, Allan turned me on to the game and is coaching me along. I've pretty much got the cross-step down (and I didn't fall off the tee!... long story) and am now working on my lines. Below is a drive from yesterday; I'm not keeping the disc level enough, but the wind took that disc up and outta there!
This putt was not to be.
This putt was.
 
Allan had a good round, too, shooting five under par. He did try to show me a new skill yesterday, involving throwing the disk up to clear some trees off to my right. As of this posting, I have not mastered this skill.
And... the celebratory selfie. The next time you see me on the tee, I hope to be showing you a level disc!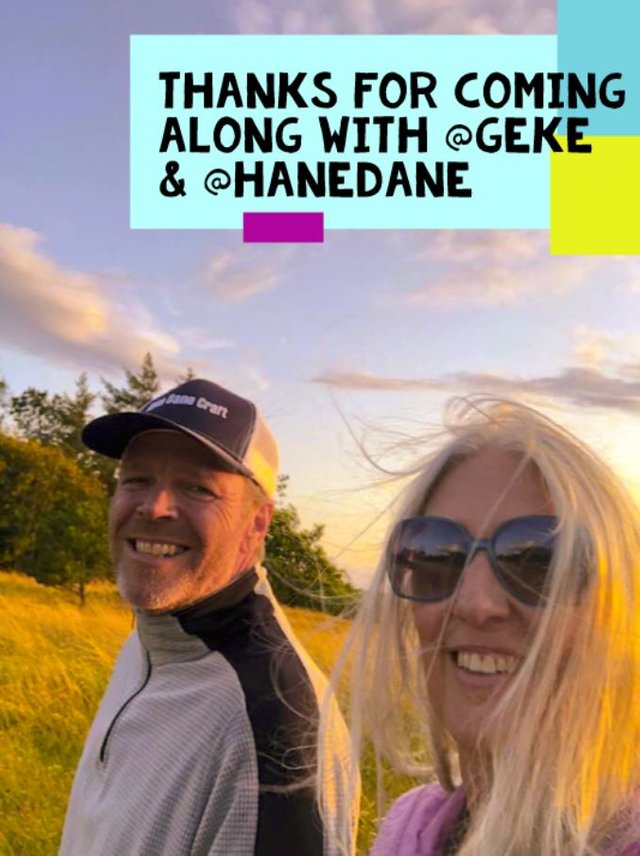 Thank you for reading and joining us on our travels! We're Allan and Stephanie... making our way through middle age.
All photos are originals, taken by @hanedane or @geke. (Dividing bars courtesy of pixabay.com.)
Please leave us a comment to let us know you stopped by! We'd love to hear from you. 😃😃😃😃😃