Steem for Tricks | A Skateboarding Challenge

What's up everyone?
Today's #steemskate video is one of the best till now. An epic collaboration between me and our 2 youngest community members, @dikayskate and @zagorosioss.
I met the new gen #steemskaters at the local skate park of Ioannina city and I wanted to motivate them to learn new tricks so I invited them in a challenge called "Steem for Tricks". Steem is a cryptocurrency and the currency of the Steem platform which can be exchanged for real money. So you can also say I challenged the youngsters to a "Cash for Tricks" contest.
What happened? Check out my video and find out.
Thank you all for watching and supporting me my friends, means a lot. If you want to see more skateboarding action check out #steemskate , our skate community in which you actually own your content and earn money for it!
Link bellow :
https://steempeak.com/@steemskate
Much love and #SKATEFORLIFE
Music : Stixchampion - Lunchtime Hustle
Find me Here
Steempeak.com : https://steempeak.com/@knowhow92
Instagram : https://www.instagram.com/haris_housos/
Youtube (Brave Browser creator) :
https://www.youtube.com/channel/UCVrLX4OeK23BFsj7FQcAH2g
Greek Youtube channel (Brave Browser creator) :
https://www.youtube.com/channel/UCJTNnvAHca8jcxaBpWn-bzA
Twitter : https://twitter.com/theocharis_ch
Palnet : https://www.palnet.io/@knowhow92
Creativecoin.xyz : https://www.creativecoin.xyz/@knowhow92
Steemace : https://www.steemace.io/@knowhow92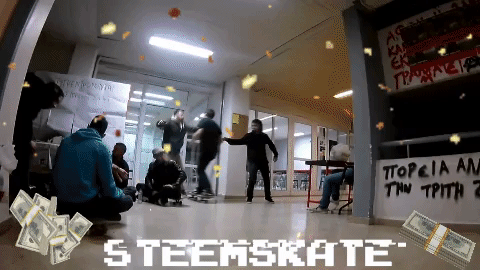 ---
▶️ DTube
▶️ YouTube
---
---