Yo, what's up everyone?
It's been raining all day today in Ioannina city and as you understand not anyone wants to go #skateboarding while it's raining but on the other hand I wasn't feeling like sitting home after drinking my morning coffee.
Lucky me, there is a school right next to my house which is perfect for rainy days like today. I haven't skated that spot for some time now and when I got there I realised that it was much smaller than I remember. It was like 3.5m x 1.5 m LOL! Well, since I was already there I challenged myself to land as many flatground tricks as I can! What happened?
Click play and find out!
Thank you all for watching and supporting me my friends, means a lot. If you want to see more skateboarding action check out #steemskate , our skate community in which you actually own your content and earn money for it!
Link bellow :
Much love and #SKATEFORLIFE
Music by my homie SiNTROM413
Find me Here
Steempeak.com : https://steempeak.com/@knowhow92
Instagram : https://www.instagram.com/haris_housos/
Youtube (Brave Browser creator) :
https://www.youtube.com/channel/UCVrLX4OeK23BFsj7FQcAH2g
Greek Youtube channel (Brave Browser creator) :
https://www.youtube.com/channel/UCJTNnvAHca8jcxaBpWn-bzA
Twitter : https://twitter.com/theocharis_ch
Palnet : https://www.palnet.io/@knowhow92
Creativecoin.xyz : https://www.creativecoin.xyz/@knowhow92
Steemace : https://www.steemace.io/@knowhow92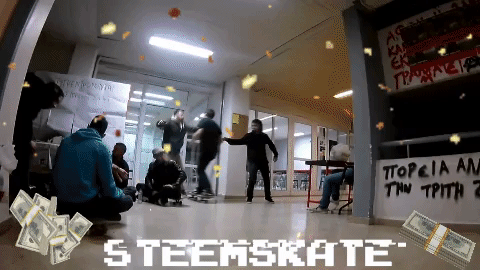 ---
▶️ DTube
▶️ YouTube