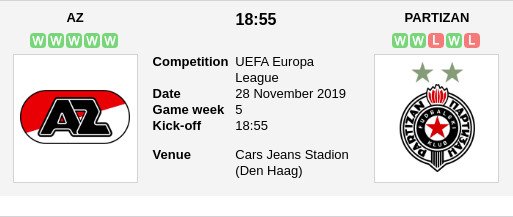 Thursday night we'll see decisive match between Holland side AZ Alkmaar and Serbian club Partizan Belgrade. Look at the table of group L shows us AZ has 8 points while Partizan only 4. Catch is Partizan will 100% win Astana in last game at home, while AZ will play against Manchester United away. This means if Partizan can win this match club has good chances to qualify in next stage. Of course scenario in which United win Astana away and get qualified and then run out with 3rd team against AZ and lose is possible too, but I believe Manchester will not gamble with their reputation in last leg.

Hope is here, all Partizan players are ready. Game on Friday was easy win with 6:2 against Javor Ivanjica. Soumah even missed penalty in this game. Umar Sadiq scored 3 goals, but display in last line was not to good. Coach Savo Milosevic was furious after the game saying literally "We didn't do anything good in tactical or technical sense. We won the game only on individual quality because we are 30 times more expensive team than Javor. This is first time I feel shame for being coach of Partizan. We'll talk about all of this in few moments in dressing room!" He was furious and red faced. I couldn't avoid asking myself what he wants to achieve, why is he so furious after 6:2 win ? It's true display in defense was not so good, Javor could score one or two more goals, but they didn't have enough concentration in crucial moments. As far as I know all players in Partizan are ready for AZ game which means we'll see this lineup: Stojkovic - Miletic, Pavlovic, Ostojic, Urosevic - Zdjelar , Natko - Assano, Soumah, Tosic - Sadiq.

AZ Alkmaar has impressive run with a lot of wins including taking scalp of Dutch giant PSV Eindhoven. I can comfortable say that at the moment they are better than PSV and very close to Ajax. They play very fast and are dangerous in transition. They can make diagonal long passes on opposite wing without problems. Their wings and striker are real danger. They are hungry for goals. I can't forget scene in Astana when on 5:0 AZ player made desperate gesture because he missed a chance to score goal. They look like machine for scoring goals. I feel Partizan full backs Urosevic and Miletic are no match for their wingers. Look at these results:


PSV away 0:4 (!?), Twente 3, Astana 5, Emmen 3, Utrecht 3. All without single conceded goal ?! Are they extra terrestrials ? No one can escape without at least 3 goals in the net. This is frightening row of winnings.
In first game in Belgrade they had 1:0 lead, but then one player got red card and Partizan took initiative and made it 2:1, but Dutch side equalized after one good counter attack. They made good impression on me even in that game. When they scored second I thought what would they do if they are with 11 players in entire game ?
What bothers me the most is fact that Partizan must run for victory here against stronger opponent. I don't like situations like this because in them you can concede a lot of goals on counter attacks. If Partizan full backs start to run in attack that will be the end. They lack pace to return back on time in case of losing ball. Partizan has some quality in attack which was invisible in Manchester, but could do something against AZ defense. I am not to big optimist before this game, but I am looking forward for watching game against club from better league which play nice, fast and attacking football. If we must lose this game let's make it with plenty of goals on both sides something like my favorite 4:3. :)