In 1905 Frank Reichelt was the first man to test his theory of flying with a wing suit. He jumped off the Eiffel Tower in what turned out to be a failed attempt. Technology has come along way since then and with inventors copying the flying squirrel and using lightweight strong materials they have perfected the ultimate flying suit.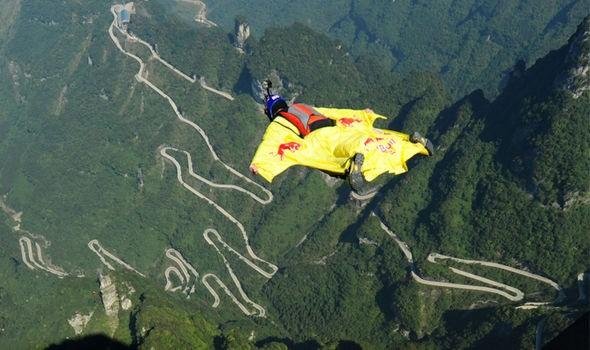 We have seen adrenaline junkies for years pushing the barriers of what is possible. The ones that make it we hear about and I am sure there are many failed ones that don't get a mention.
Base jumping with a wing suit and parachute isn't enough today even though it was ground breaking when it first appeared. Today "nutters" are jumping without a parachute and using water to land on or a pile of cardboard boxes.

source
Landing on Lake Garda, Italy.
The aim of the wing suit is to allow one to glide at a ratio of 2.5 meters traveled for every meter dropped. It helps if the wind is behind you as it increases your traveling speed.
Another adaption to the suit was adding carbon fiber to the wing making a wing pack suit which then gives you a ratio of 6 meters traveled for ever 1 meter dropped. In 2003 an Austrian jumped from 30 000 feet and crossed the English Channel having covered more than 35 Kilometers.
I am sure what we see today is nothing compared to what the military have and I am sure special forces have more advanced suits. I was reading an article where they mentioned that special forces could be dropped 30 miles away from the target zone and open their parachutes 200 feet from the ground exactly on target.