---
I wish I could say this was a really important win for me, but the fact is, it had no impact on the rest of my season. Although this win keeps me out of last place, I still didn't make it to the playoffs which start next week for our league. On top of that, my brother in law who I beat this past weekend did still make it to the playoffs.
The only bright side in this whole thing is that @mrsbozz won last week too and with that win she edged out her brother for first place in the league. She will be heading to the playoffs next week.
Let's look at the breakdown: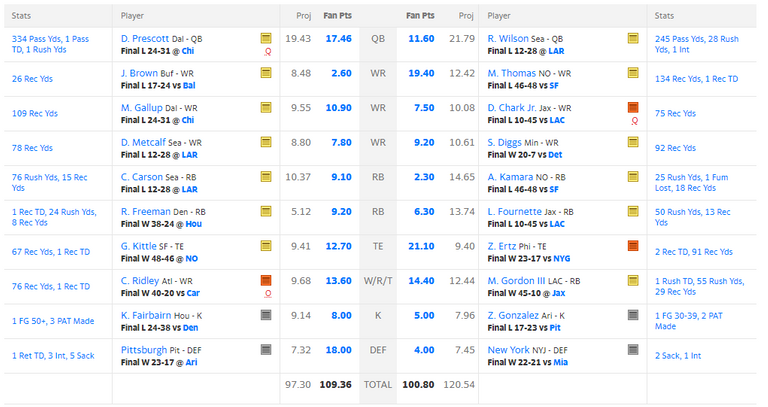 ---
Prescott had another mediocre game at quarterback but I guess I can't complain too much since I came away with the win. Brown had a horrible game at wide receiver, he has been pretty solid since I started playing him, so I have to believe this was just a fluke.
Gallup should have done better, but since he plays for the same team as my QB, I think their performance can be tied together. It's not that surprising that if one of them has a bad game the other one does too. I try to avoid having QB's and other players from the same team for that reason, but I must have missed that this season.
The rest of my team had pretty reasonable numbers. I had to replace Bell last minute because he was suddenly listed as out. The replacement ended up scoring close to ten points, so I can't complain too much.
I was happy to see that Diggs who I dropped earlier in the season and my brother in law picked up didn't come back to bite me in this game. His 9.2 points were easily matched by the rest of my team.

---
As you can see the benches didn't make much of a difference in this game. Putting Freeman in at running back instead of Kamara might have moved my brother in law past me, but why in the world would you not play Kamara, he is usually rock solid. He probably doesn't care too much. Like I said, he has made it to the playoffs so everything starts fresh there.
As for @mrsbozz, I am hoping she can pull off a win. We are the only family that hasn't won the season at least once and it is getting to be a bit annoying! I know who I will be cheering for come next weekend!