Many football lovers all over the world will be very happy to see some of their favorite league resuming back this weekend most especially the English Premier league which seems to be the most followed league and it is not just about the action alone but with lots of games to be played such as betting, fantasy league and other things.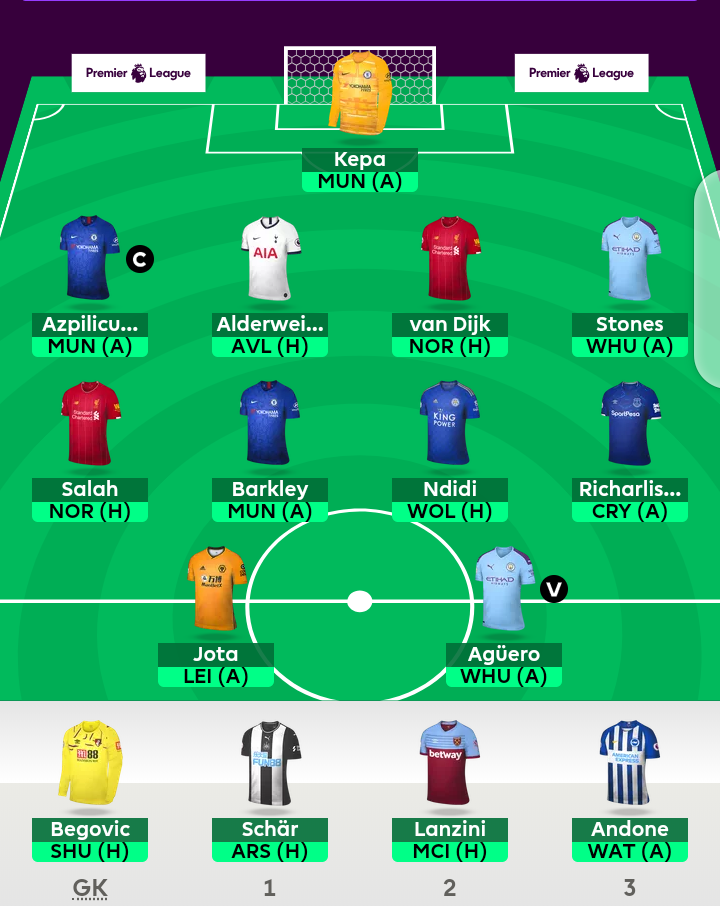 One amazing thing about this fantasy league is the fact that it allows everyone to build his/her team and manage it every week and with lots of prizes to be won every week, month and at the end of the season. So if you are yet to set up your own team, what are you still waiting for because aside from the prizes, it is also an avenue to see how your best players performs week in and week out.
It took me a while to sign up my account before I finally did yesterday, although this is not the first time I am hearing about this league. I had an account some years back which I can't even remember the password again. So yesterday, I created another account and finally set up my team after reading some guidelines provided here on how to arrange your team and the kind of players you should go for so that the transfer budget will not be exceeded. So if you are new to this league, you need to check the guidelines out to serve as a roadmap for you.
Now let me go straight to how I manage my £100 in selecting my team which I believe will go far when the league finally start this weekend, although I can still modify it probably once in every two weeks, according to what I read in the guidelines, you will always have access to change a player per week but it is advisable to allow it to roll over in other not to create any problem at the end of the day.
Goalkeeper
I didn't spend much in this department, I only spent £10 out of my budget after going for Kepa at £5.5 and Begovic as a back up for 4.5, I have my reasons why I choose these two goalkeepers. When you take a look at Kepa who join Chelsea last season from La Liga, you will agree with me that this guy have a lot of confidence and he also had some good saves last season when he helped history club to win the Europa league last season and this season, I am expecting more from him and for Begovic, this is a guy that has be in this league for awhile now with lots of experience and for him to have a clean sheet in any game will be a blessing to my team.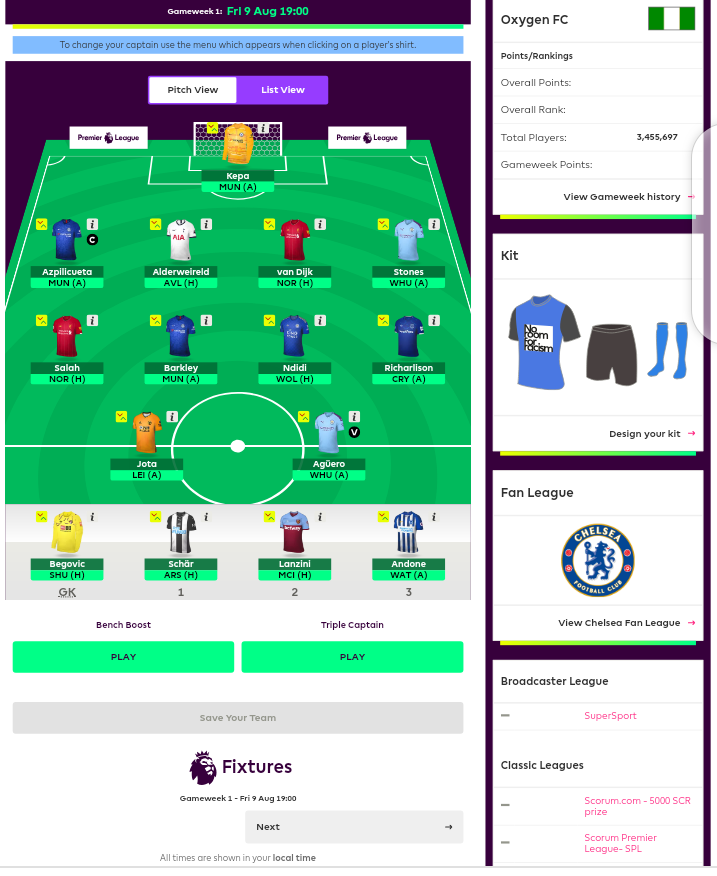 Defenders
After taking my time to decide on the type of players to be in my defense line and how to manage my budget so that I will not have a debt at the end, I end up selecting Azpilicueta at £6.0, Alderweireld at £5.5, Van Dijk at £6.5, Stone at £5.5 and finally Schär at £5.0 and that makes the addition of £28.5 on defenders. These are great players who are used to the league for some time as well and to have these set of defenders in real life will cost any team huge amount of money but thanks to FPL that gave them to me at a cheaper price...lol.
Midfielder
This is where the confusion came up before I finally came up with some great players to watch out for in the league. Here I just want to have all the best Midfielder's that I know but my balance keep on alerting me but yet, this is where I spent much of my budget because this is where we have most of the players to watch out for in the league. I selected Salah at £12.5, in fact, everybody will want to have this man in his team with the performance he put up last season, Barkley at £6.0 (my favorite), Ndidi at £5.0 because Kante is still a doubt for the week one game, Lanzini at £6.5 and finally Richarlison at £8.0 and that took my spending here to £38.
Striker
I don't really know how many points the striking department will earn me every weeks because one major thing which I think will be the criteria here is the number of shots and goals they have for their respectively clubs. Aguero iat £12.0 is someone that knows how to turn defenders and score great goals and Jota at £6.5 may just surprise everyone as well because he has got the potentials to do well after proving himself for Wolverhampton last season while Andone at £5.0 will be there as a substitute.
Here comes team Oxygen FC and in case you sign up and still wondering the league to join, you can simply join the following leagues
Scorum.com 5000 SCR prize - Code: g5i593, Scorum Premier League (SPL) - Code: 58mczk Or the one organised by Sportstalk by @blanchy.sports by using this Code: 0lvhqd
With Love,
@oxygen02
Post shared from here
I hope you find this post interesting and educating, until then, i remain my humble self @Oxygen02. The guy who support life with his writeups. Thanks for reading.