This week's edition of Grandpa Gotta Cook will combine two very different meals—one celebratory, and thus calorie laden, the other more or less to make up for the celebration.
A counter balancing, if you will, to bring everything back into equilibrium.
The Rose Bowl
The 2020 Rose Bowl took place on Wednesday, January 1 at the Rose Bowl in Pasadena, California at 2 pm Pacific Standard Time. The contest pitted the Mighty Ducks of Oregon against the Wisconsin Badgers, a rematch, of sorts of the 2012 Rose Bowl. Fans of the teams certainly do remember it, even if the players and probably all of the coaches were different this time around.
Since the regular season ended with the Ducks winning the Pac-12 Championship game over the Utah Utes, our family and a close friend had been waiting for the Rose Bowl. The Ducks had been in the running for a National Championship playoff berth but were derailed by virtue of losing to Arizona State a few weeks earlier. As consolation prizes go, though, the Rose Bowl is one of the best.
With the game at 2 pm, smack in the middle between lunch and dinner, but not ending until around 5:30 pm, when typically supper would be eaten, I wasn't much in the mood to cook, but since I was inviting my oldest son and my friend over, it was on me to provide something. My wife had already told me earlier in the week she didn't want pizza, which is my go to for such occasions, and she's not overly keen on me spending money on restaurant food (when there's perfectly good food to make something in the refrigerator or freezer).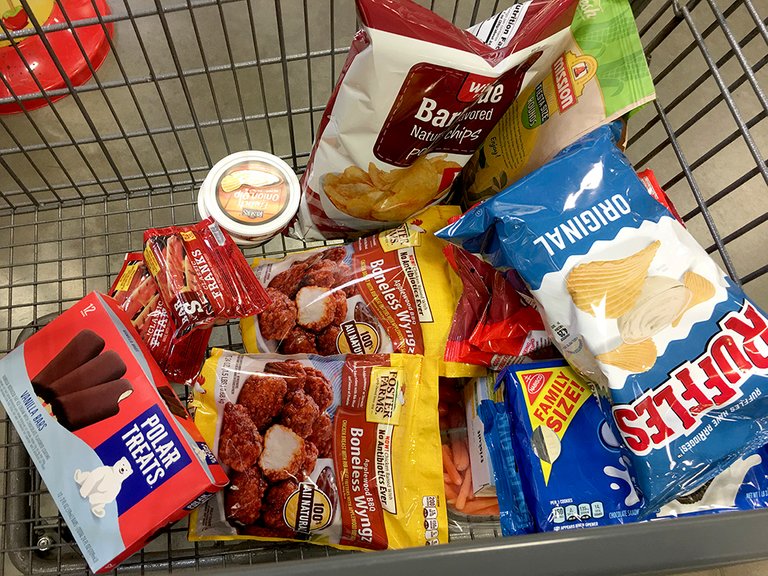 Well, I think I mentioned at the beginning that this meal was meant to be celebratory, and I feel the need to re-emphasize that I wasn't much in the mood for cooking, so I did the next best thing. I went to the store and bought a bunch of snacks and prepared food that I could basically pop into the oven.
You can see most of what I bought in the image of the grocery cart above: two kinds of potato chips as well as tortilla chips (the round kind, which are more conducive to dipping), french onion and clam dip, what turned out to be chicken hotdogs (they were cheap and I didn't see the ingredients), Honey BBQ Boneless Wings, a pre-made vegetable tray with ranch dressing for dipping, Oreo and chocolate chip cookies, and Red Robin Steak Fries. Oh, and there's the vanilla ice cream bars (that I ended up keeping for myself, just because).

The purchase took place at WinCo, which tends to have higher quality products for lower prices. I don't go there frequently because the parking lot is always full morning, noon and night, and I don't like navigating through all the people.
However, once I'm in the store, I find myself looking at all the possibilities because of the reasonable prices, something I never do in any other grocery store.
The game began, shortly after the two o'clock hour and proved to be a back and forth battle until the very end, when the Ducks managed to squeak out the win, 28-27. Honestly, it could have gone either way, and had a play or two gone differently, it would have. The Badgers missed a field goal earlier in the game that would have won it for them, and then received an offensive pass interference call during a subsequent drive that cost them a potential touchdown.
Needless to say, though, our household was happy with the outcome.
However, during this entertaining nailbiter of a game, I had to get the wings and the fries in the oven, while setting the dogs to boil. I found myself distracted by the food preparation and the game at the same time so that I wasn't quite paying full attention to either. Somehow, everything managed to come out okay as far as the food went, even though the steak fries were a little to crispy and dry on the outer edges of the round tray I used. Fortunately the majority heading into the middle were just fine.
Taste Test
Chips, vegetables and dips were all pretty tasty, though my wife complained that the carrots and cherry tomatoes looked old to her. They wouldn't have one a contest at a county fair, but they were certainly edible.
The hot dogs didn't have much flavor, which my wife noted, too. I was going for cheap, and I got it.
The wings were the biggest disappointment for me, since I was expecting one thing and got another. They did not taste like Honey BBQ, but more like Buffalo Wings, which I specifically tried to avoid. They have a spicy taste I don't like, which covers up any flavor they might have.
Except for the hot dogs, everything else was consumed that day, and we still have a bag of steak fries and wings in the freezer for another occasion if so choose.
All-in-all, I would consider the gathering a success, if not entirely the meal.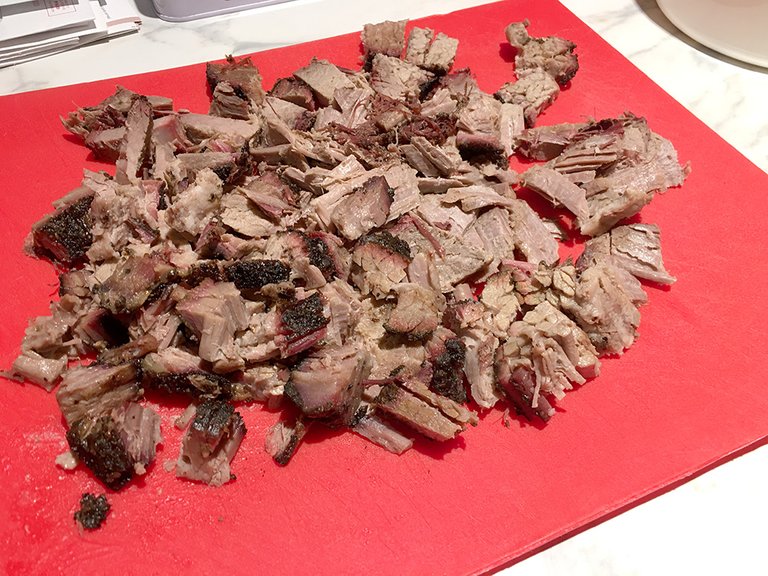 Salad With Smoked Brisket
We fast forward now to last Saturday, when it was once again my turn to come with the evening meal.
I looked at crockpot recipes early into it, but didn't see anything I really wanted to do. And one of the dirty little secrets about slow cooking I've been discovering is, some of them still have a lot of prep, and as my younger son once very astutely pointed out, I could probably prepare and then just cook it and save the wait.
With that in the back of my head, I moved away from the crockpot idea and started looking at regular recipes. However, after several minutes of doing that, nothing struck my fancy.
That's not good when you're the cook and time is ticking.
Finally, I struck upon the idea of making a salad as the entree and looked up several of them. All were a little more than I wanted to do, so I started thinking about Southwest salads I've had in the past and went to see what we had for fixings. Basically, we had everything, so I was good to go.
In this particular salad I chopped up bell pepper, tomatoes and avocados, crushed some tortilla chips, and opened up a can of black beans and sweet corn. I cut up some iceberg lettuce (that's what was in the fridge) and added some shredded carrots. That left what to use for meat.
Not too far from us is a small place where they sell barbecue. You can buy different meats in a meal or by the pound. After looking over their menu, and then asking for suggestions when I got there, I ended up purchasing a pound of their Smoked Brisket.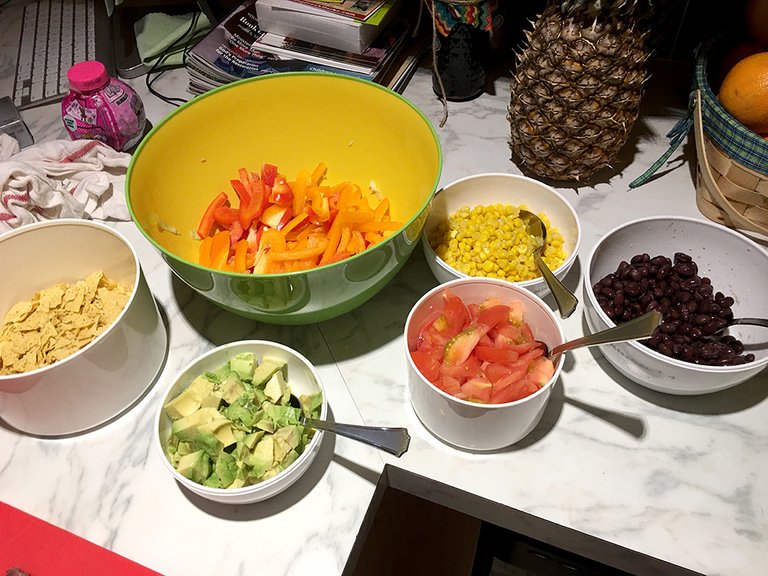 The Tale Of The Taste
Now, salad isn't high on the list as far as the family goes, particularly the youngins, but because of the options and the meat, it became an instant hit.
To quote my youngest son:
If this was how we ate salad, I wouldn't mind eating this more often.
With the lettuce as a base, an ample amount of the meat and piling on the rest of the fixings, all that was left was to choose a dressing. I would have liked to have some kind of salsa (this was supposed to be a southwest salad, after all), but I didn't want to buy salsa, and my wife, who is the salsa expert, didn't get off work until after the meal was ready.
Maybe next time, I'll actually think ahead.
Regardless, I think it was the perfect combination of ingredients, to bring about a hearty, yet healthy, and surprisingly filling, meal.
I wouldn't mind seeing us eat a salad like this at least once a week, and maybe, at whatever point the kids move out, maybe my wife and I will have them more often then that.
So Long, Farewell...
That pretty much takes care of this combination food post. I'm not sure if the salad made up for our overindulgences on New Year's, but maybe eating a few more will.
This could take weeks.
Until then...
...Enjoy!
Images courtesy of Glen Anthony Albrethsen
This edition of Grandpa Gotta Cook is published in conjunction with the @foodfightfriday weekly contest. All are invited to participate. All that is required is that you write about food, use the #fff tag, post on a Friday, and then dive in and read other entries so you can help pick the winners. First, second and third place winners receive STEEM awards, thanks to the generosity of @appreciator.