Less than two weeks to go before the start of the new Premiership season - have you sorted your team out and entered the leagues yet?
---
I've been involved in fantasy football leagues since the early 90's. The first one I remember was hosted by The Daily Telegraph and involved posting or ringing an automated line to update your team. At one point I was 10th in the league of 350,000 people and top of the Man Utd supporters table. I still have that newspaper cutting, somewhere :)
Dion Dublin wasn't getting a game at Man U and signed for Coventry, he was dirt cheap and ended up one of the seasons top strikers. I had 3 or 4 left-backs at one point too - Remember Julian Dicks? He scored a bunch of points that year taking corners and banging a few free-kicks in.
Since then though, I've been mostly handing 20 pounds a season over to my friends via a group league which is hosted and managed on https://fantasy.premierleague.com/
The rules have changed a little and it's much easier to change your team around, but the core of the game still stands - keep an eye on the football news and don't forget to switch your team around most weeks!
My current team
Which is likely to change before the first game in 13 days time.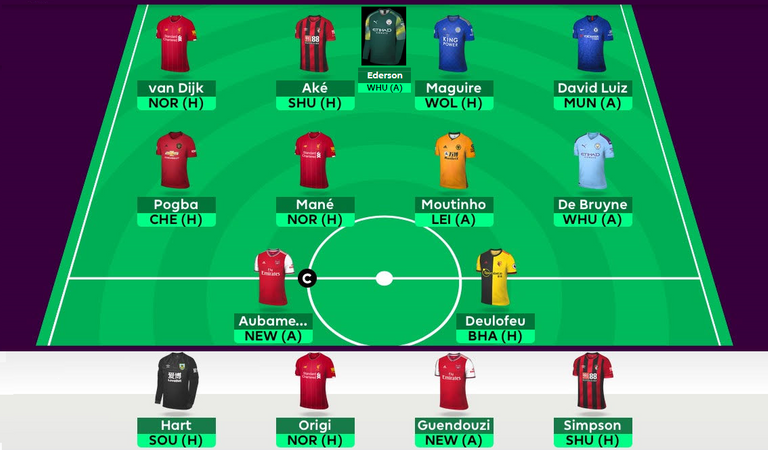 This image took far to long to organise
Goalkeepers
Ederson: 2nd top points scoring goalkeeper last year behind Liverpool's Alisson. A toss up between those two but I prefer at present to have 3 outfield players for Liverpool and that is the maximum number per squad.
Hart: Cheapo sub and i can't see him getting a game unless something happens to Ederson before I can transfer him out.
---
Defenders
van Dijk: Half a million cheaper than his teammates Robertson and Alexander-Arnold gets him the vote here, although A-A missed a few games last season and so I expect him to potentially top the points for defenders this year.
Maguire: Is he going to Man Utd? If so, I think he could be undervalued - especially if he helps the Reds keep a few more clean sheets.
David Luiz: I think Luiz could have a good season under Lampard. Chelsea are usually pretty tight at the back and this guy can score a goal or two.
Ake: Up there last year on points gained, and still reasonably priced at 5 million. Can score the odd goal and could well improve on last years tally.
Simpson: Cheap sub and not expected to play if the others are fit.
---
Midfielders
De Bruyne: Top player and potential to improve a lot on his total score last season as he spent a reasonable portion on the sidelines with injury in 2018/19. Could be given the captains armband at times too.
Mane: 3rd top scorer for midfielders last year behind Salah and Sterling who are more expensive (1 mill and .5 mill). A little surprised he's still down as a Midfielder to be honest!
Pogba: Wildcard Pogba! Exceptional on his day, could take penalties and with a free role (if Matic is fit) can easily get up to score 20 goals this season. Just as likely he'll have a shocker and leave for Real Madrid.
Moutinho: Had a really good season last year for Wolves and at 5.5 I consider him a bargain.
Guendouzi: Looked like a potentially useful player last year and could well be present more often this season with the departure of Ramsey. Could well be playing too deep and unlikely to contribute goals or assists and will likely start as sub for my team.
---
Forwards
Aubameyang: Top points scorer last year and still 1 million cheaper than an aging and injury prone Aguero. Hopefully the number 1 choice as penalty taker for Arsenal - could be swapped for the cheaper Lacazette.
Origi: Taken a little bit of a flyer with Origi but I expect he'll appear more this season. Will be watching closely though as with a fit squad and youth players coming through the ranks, competition up-front for the Scousers is likely to be fierce.
Deulofeu: Was pretty average last time he was in the top flight, but did get a nasty injury which spoilt things a bit. Had a good season last year in the Championship and could go better this time - or flop again.
---
The Leagues
Last year, @acidyo hosted the #sfpl (Steem Fantasy Premier League) and has a load entrants with the winner picking up thousands of STEEM. I think that will be happening again and we already have a couple of leagues hosted by SportsTalkSocial members to join. More information in the links below:
https://www.sportstalksocial.com/football/@blanchy/sportstalk-social-fantasy-premier-league-500-sbi-and-50-000-sports-tokens-to-be-won
https://www.sportstalksocial.com/sports/@chekohler/join-my-epl-fantasy-league-for-the-2019-20-season
---
Ok so that's my team, for today at least. I may have thrown a couple of duffers in there which will be replaced before the start of the league, just in case anyone feels like copying my choices. Seriously though, my teams have been shit for years so I think you are better off selecting your own.
Roll on the new season!
Cheers
Asher