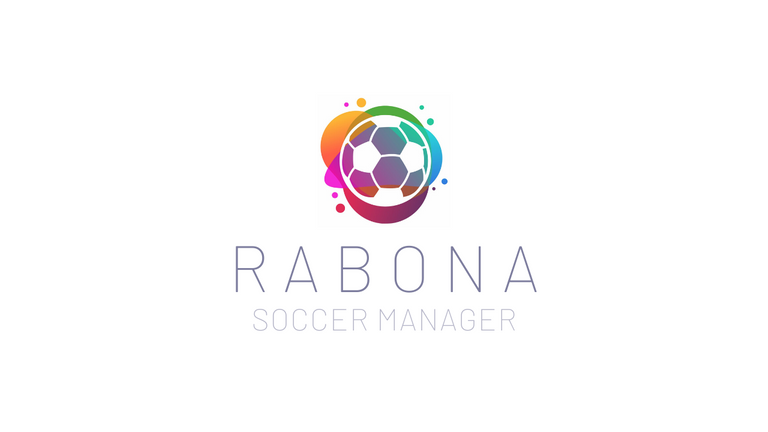 Rabona Soccer Manager launched recently and even though I didn't find the time to try it out during the beta much I'm glad I spent more time getting into it at the beta launch. At first glance it seemed quite simple but the more you got into it the more you noticed how much depth there is and things you can do. I'm going to go through some simple things new players should start building and do while they wait for the new season to start so they can get their players onto the field - which will happen in approximately 6 days as each season lasts 1 week of 4 games being played per day - every 6 hours.
Before you sign up, you should be aware of it's win-win referral structure: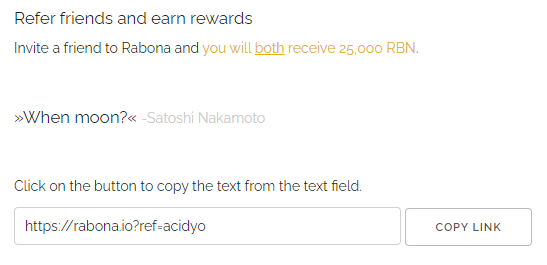 so if you use my referral link we'd both get 25k RBN extra, be aware though that there's a starting cost in the starter kit of 5 USD which is needed to get a full team of players.
Clicking on the second icon will get you to your team, I'm not going to screenshot my team at this time because I have way too many players in it as you need to sign contracts with scouted players to be able to sell them in the market and the screenshot would only fit my goalkeepers and half of the defenders. There you will have your randomized statistic players after purchasing your starter kit.
Goalkeepers, Defenders, Midfielders and Attackers are what the players consist of. I'm going to be trying and make this short and only bring up some important points as I mentioned this game has some pretty big depth to it so it would make the post rather long and difficult to read. The important stats for these player roles are: GK for Goalkeepers, Defense and Passing for Defenders, Passing and Dribbling for Midfielders and Passing and Shots for Attackers. The (OS) Overall Score will reflect on the roles of the players and the important stats for their roles, for instance a Defender with high Defense and Passing will get a high OS score but also depending on other stats.
Before you dig into training, I'd suggest finetuning your team first. There's 1 free training you can do per day and skip the cooldown for a $1 cost to train your players more. You can train each of the stats once per training session and depending on what you're training it might bring down the other stats slightly, for instance: training endurance will lower your speed stats for about 10-20% of the endurance increase. A simple thing to check here is to click one of the stats you want trained and overlook how much your points your players would gain from it overall compared to your other stats and focus on training that first to get a good balance for the matches.
For the sake of making this post short and since the next season starts in 6 days first I'm going to be skipping fixtures, I'm sure once you've got the hang of the rest you'll have some extra time to figure out what fixtures would work best for your players depending on their stats and what you'd want to train before your first match. Once you get there though, here's a FAQ page created by @oliverschmid which isn't fully finished yet but has more info about most aspects of the game So let's head over to the Stadium icon.
Here you can upgrade your stadium to fit a bigger audience, don't worry, covid doesn't exist in this universe. You can also change the ticket price at will, a good practice here would be to have it low at first and increase it in increments if you have a 100% attendance, be aware that your teams performance can affect attendance interest. Then there's catering capacity which you can also upgrade, number of shops and prices of merch they sell and then there's Youth Academy which is important to evolve regurarly.
Be aware that these all have costs, if you perform well early on you might also land yourself some sponsors that will generate you RBN for many seasons in advance. Youth Academy affects your Scouting efficiency. On your team Icon if you noticed the "Scout a new player" for 20k RBN button, that means you'll generate a new player with randomized statistics. As far as I understood it the higher your Youth Academy level the better your odds at scouting players with higher OS and statistics on average, but be prepared that at a certain point you'll often find yourself scouting low OS players and will have to spend quite a bit of RBN to get something good and useful. If you happen to get players who are slightly lower than your teams players and you already have a full team with 11 players + 10 reserves for your matchups, you need to remember that you still have to sign a contract with the players (in the Sign Icon page) to be able to place them on the market (from your Team page).
The market consists of all these players in teams that managers are willing to sell, prices can be set as you please but of course comparing with other players stats and the prices the managers put them out for will increase your chances at getting them sold. As long as you sell them for more than the contract cost which right now is 400 RBN per season and the scouting cost - 20k RBN, you'll likely end up making a profit (minus some fees) by placing players 21k RBN + and getting them sold.
Then there's a ranking system of all managers in the game that you can filter by any stat you want, in this screenshot I chose the one thing I'm high up on the leaderboard of: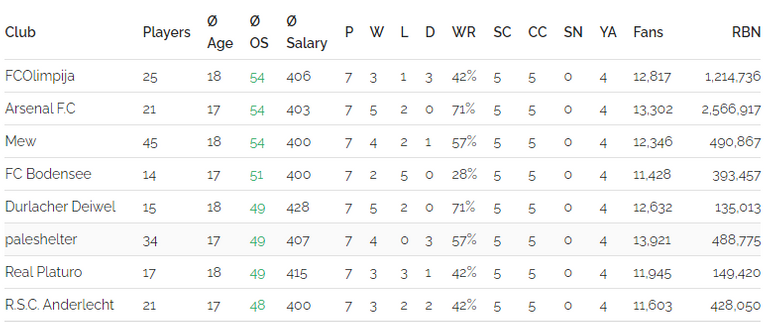 Then there's the dashboard which has some tasks for beginners and rewards you with RBN for each completed one, timer when the new season starts, some overall stats of your manager and team and news such as completed trainings, scouted players and purchases and sells on the market along with Fixture outcomes and upcoming ones.
---
I wanted to also take the time to talk a bit about why I'm interested in this game aside from being semi-interested in football in general and following the Premier League quite a bit. The beauty and freedom that comes with this game is that everything is fictional in it, the players, teams and say stadiums don't exist and the Rabona team don't have to ask for licensing which would make it really complicated and possibly expensive.
With the future of blockchain and NFT's (NFT's are already in the game a little bit as you can freeze certain players to startegize for later use) there's a lot of possibilities of this evolving in a big way. I talked to @rondras recently and he let me know of the engine behind the game that simulates how the outcomes of the matches based on all statistics of all players on the field and of course some RNG/luck which occurs in real games more often than your sports bets would like. Over time one could take this simulation which right now is calculated instantly and span it over a bit longer so players could see the game being played through commentaries and dots on the field or something similar to give it a bit more excitement, maybe even allow for substitute decisions and formation changes midgame - it would make it really interesting.
The long term ideas I'd like to be considered once the team/hive has a more funding/higher price would be to add more graphics to the simulations. The RNG could for instance also create faces for all players and random body sizes reflecting on their randomized stats. Being able to watch the simulations in real time would make it even more exciting even though they're just fictional players playing in a fictional world. On top of that it would open up the possibility of VR, think what decentraland is doing but the audience would be able to go watch these simulations in simulated NFT stadiums, buying the tickets with RBN like the fictional audience are doing now. Selling adspace like real Football clubs and stadiums do now. Creating Fantasy Leagues based on Fantasy players like Fantasy Premier League does now for real players and teams. The sky would be the limit.
This is why I decided to spend some more time checking the game out properly, investing and supporting it a bit with my Hive and even though the outcomes of some games is still a bit flaky, I'm sure over the beta period it will become much better over time and make for a more competitive scene with tons of additions to the game even before we'll get all futuristic and heavy investment demanding like the ideas I shared above.
Definitely worth the $5 to get into it even if you don't have too much time poking your players on a day to day basis. Who knows if some of them may grow up to become star players in a decade from now (which in the game only takes 11-12 seasons as one season takes 1 week irl time).
Anyway, let me know your thoughts and if I'm shooting too high above the goal post with my thoughts on how this could evolve over time.
Thanks for reading!
---