To clear that inevitable doubt by the time you must have understood what the topic of this article is all about, I am not trying to justify failure but rather imply that every ramification of the subject of the matter put into consideration is justifiable of any excuse.
Eden Hazard, Luka Jovic, Ferland Mendy, Rodrygo Goes, all faced defeat on their premature debut for their new team against Bayern Munich on Saturday. Zidane rolled out his apparent first team in the first half, a team that featured veterans in Sergio Ramos, Marcelo, Dani Carvajal, Raphael Varane, Toni Kroos, Luka Modric, Casemiro, Eden Hazard, Benzema and Marco Asensio all played through to half time without scoring a goal while they were all replaced by a new 11 at half time that featured Ferland Mendy, Rodygo Goes, Kubo and Luka Jovic.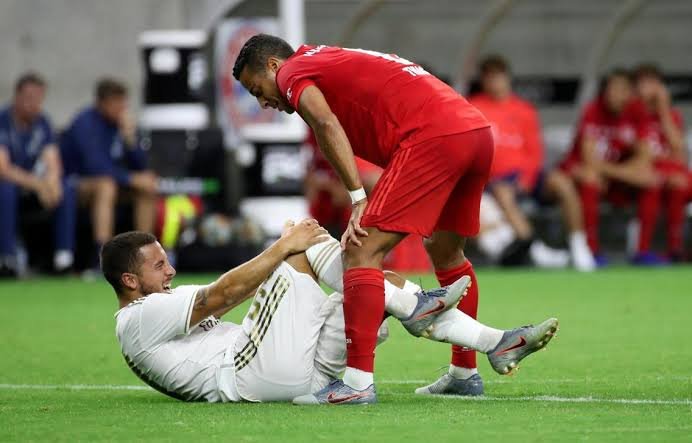 Source
One of the second eleven changes at half time would go on to score nothing but a consolation goal in the latter stages of the match through a free kick and being also one of the new recruits appears fun but their performance is still something to worry about.
Real Madrid bossed the match for much part of the first half, Ede Hazard who was the only new signing in the first half team was typical Hazard, combining well, turning well and looking to carve open the Bayern defence. He was successful sometimes but had only the wasteful Benzema to blame for missing chances harder to miss than to score.
Before you begin to criticize these stars and why they were beaten by a Bayern Munich with lesser professionals, it will interest you to remember that this is just a pre season match and the first the team is playing in since last season ended. There is still much work to be done to get them in shape and flowing in the same rhythm and coach Zinedine Zidane has still got sometime left to inject the much needed mentality in his team and until then, everyone should judge this team at the end of the coming season.
THANKS FOR READING..