source
You don't have to be a genius to work out keeping the team together is the way forward.
I am hoping that more football teams in the English Premiership will start following what Chelsea has done and push their youngsters into the limelight sooner rather than later. We all know that Chelsea had no choice this year as they fell foul of the fair play laws and were barred from the next two transfer windows.
Every year we see clubs buying 3 or 4 "top" players for astronomical figures and not all of them are a success. It is not an exact science and nothing is guaranteed on how that player will fit into your squad and be an overnight superstar. Many teams have been burnt by overpaying for a player for them not to perform.
Managers will normally play to a certain style and know what type of player fits in with their style. Not every player fits into those particular roles and it is as important to have players of a decent quality around them. If you are a top striker you need to be getting a decent service which will then create opportunities. I think a good manager is one that uses his resources wisely and isn't always looking to buy players but rather promoting form within. Successful companies and businesses normally look for new staff if they don't have the resources internally and a football club is no different.
Liverpool played a very youthful looking side last night and they may have conceded five goals in their 5 all draw, they were still blooding new players to the big stage. This way they are showing their fans what they have in their cupboard or a sneak preview of what is still coming. Fans demand instant success and history has shown us teams that have been developed over a few years are the teams that do well and everyone talks about. Very few teams currently have a team dominated by players that have come through the clubs various age groups and that needs to change.
When Allan Shearer was a big hit at Newcastle he had decent players giving him a great service like Gillespie and Beardsley who made his job that much easier. If you had to take those players away his job would become a lot harder and he wouldn't have been as good. There needs to be an understanding between the players and to know what each one is thinking.

,img src="
"/>
source
Three of Chelsea's youngsters playing on loan for Swindon this year. This is how clubs hang on to players by loaning them out and getting experience for them.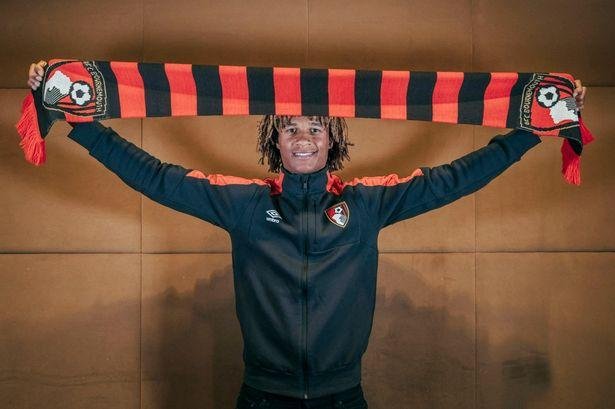 source
Jose Mourinho used Ake for 6 matches in the 2.5 years he was there. He said he left a broken player as he was getting no opportunities.
I saw an article last week that the next purchase Chelsea should make is the ex Chelsea player now playing with Bournemouth Nathan Ake. The reason behind it is simple as the bulk of the Chelsea team currently is the youngsters who did well a few years ago winning the youth cup. Ake was part of that team and now that team makes up the bulk of the Chelsea team. Familiar faces by bringing the team back together should make for a stronger team. he left a broken player after Jose Mourinho was in charge. Six games in 2.5 years and no wonder he was happy to be loaned out. Conte bought him back only to have him sold off permanently to Bournemouth.
When he left for Bournemouth first on loan and then purchased they included an option to purchase him back for £40 Million. Currently he is valued at £75 Million so once their transfer ban is lifted I am sure they will buy him back as that makes for good business. The players know him and it is putting the old team back together trying to replicate what they once had.
When I played Rugby in the army we had a championship winning team and if a smart club had taken us all we would have been invincible. Unfortunately that never happened and the team was diluted which was fairly sad as we all knew what we were capable of as a team. Teams struggle to replicate what we had and I agree exactly with how Chelsea are thinking. This was obviously forced on them and wouldn't have been their plan originally and luckily for them it has turned out fairly well so far.