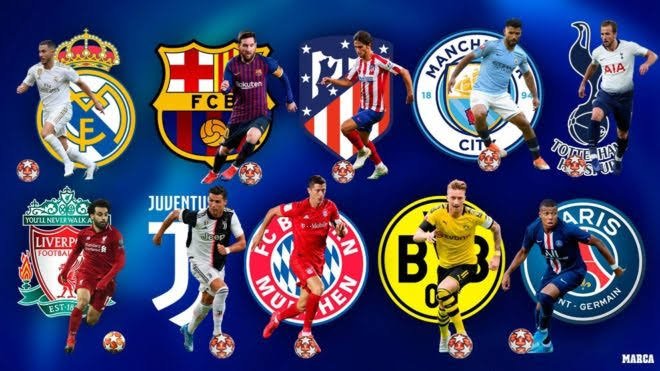 source
Every season throughout Europe teams are trying to not only win their own league,,but also to qualify for the lucrative Champions League. Winning the Champions League is the ultimate, but every team who plays scores financially.
Obviously the longer you remain in the tournament the more money your club makes. The breakdown of the rewards excludes television payments which vary depending on what country you are in.This could be worth more than 10 Million Euros alone.
For every match you win the team will receive 2.7 Million Euros.Drawn matches are only worth 900 000 Euros,but still all add up to something substantial.
Reaching the group stages: 15 Million Euros
Reaching the round of 16: 9.5 Million Euros
Reaching the quarter-finals: 10.5 Million Euros
Reaching the semi-finals: 12 Million Euros
Reaching the final: 15 Million Euros
Winning the final: 4 Million Euros
I honestly thought winning the final would be worth more than just 4 Million.A team winning all it's matches and the final will earn in excess of 88 Million Euros. Don't forget gate receipts (Inter Milan recorded 5.8 Million Euros against Barcelona alone) the television revenue and your own sponsors and a successful campaign i now way over 150 Million Euro's.
Compare this to the Europa League and you can see why teams want to win this cup as it allows you qualification for the Champions League the following year.
Reaching the group stages 2.75 Million Euros
Reaching the round of 32 500,000 Euros
Reaching the round of 16 1.1 Million Euros
Reaching the quarter-finals 1.5 Million Euros
Reaching the semi-finals 2.4 Million Euros
Reaching the final 4.5 Million Euros
Winning the final 4 Million Euros
The payments are much smaller except for the overall winner which is the same.
Liverpool earned roughly 180 Million Euro's just from the Premiership last season excluding winning the Champions League title. The club had a bumper season earning in excess of 300 Million Euros.