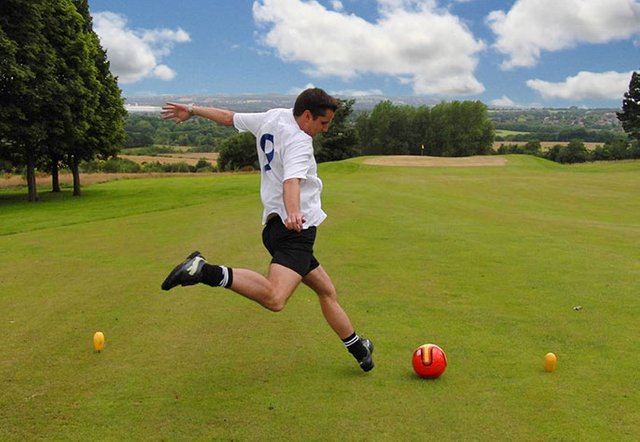 source
I can recall @abh12345.sports saying he picked up an injury playing foot golf and had no idea what he was on about. He wasn't fooling around as it is a sport, even though it is a little strange.
No golf clubs required and the only thing you need is a foot ball and a decent kick. A round of foot golf takes about half as long as a round of golf plus minus 2 hours.
The holes are shortened from a normal golfing round and the cups or holes are widened to accommodate a football (Diameter 21 inches). The same rules apply from golf to foot golf and that is the fewer kicks the better to complete the hole with the average hole being anywhere between 100 and 200 yards depending on the par of the hole. For instance a Par 5 will obviously be much longer than a Par 3.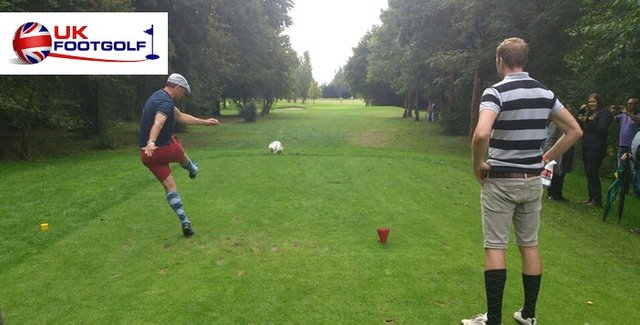 source
I saw an advert for a special that was 40 Pounds for 5 players plus ball hire for 18 holes which is not bad value considering you get out the house and are getting plenty of exercise. This is something I would at least try as your hands are free allowing you to drink and play which sounds about right.
The holes are placed off the golf greens as they would get messed up rather quickly with players walking over them with football boots on. The game has it's origins back in the 1920'2 in the States where similar game called codeball was played.
Footgolf came about via Tottenham Hotspur of all places through a brother of one of the players. The founders Michael Jansen and Bas Korsten came upon the idea because Bas's brother Willem Korsten who was at Tottenham in the 1990's and gave him the idea.The Spurs players after training used to see how many kicks it took to get the ball into the dressing room doorway. The player with the fewest kicks won.
Believe it or not in 2016 Argentina held a Foot Golf World Cup with 230 players representing 26 different countries. I wonder how long before this becomes a proper sport accepted by the Olympics.