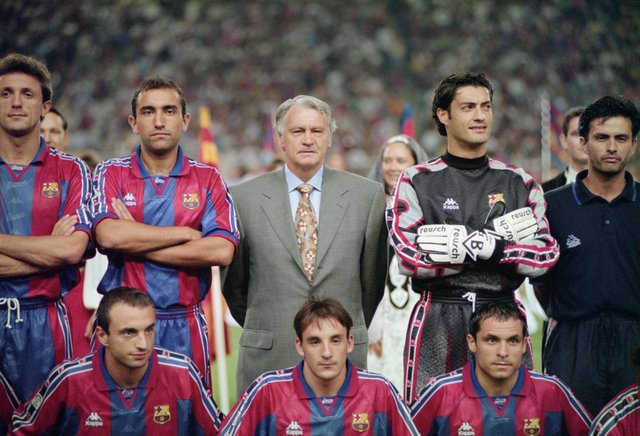 source
Mourinho at Barcelona with Bobby Robson. He is the one on the far right standing looking very serious.
When I was looking at the various football managers the other day I thought I would look up Jose Mourinhio and how he progressed from being a player to a manager. Some players have such a big name like Zinedine Zidane that it helps open doors and it doesn't mean they will be a success though. Going straight from playing to managing could be disastrous and it has showed he doesn't have the certain magic required.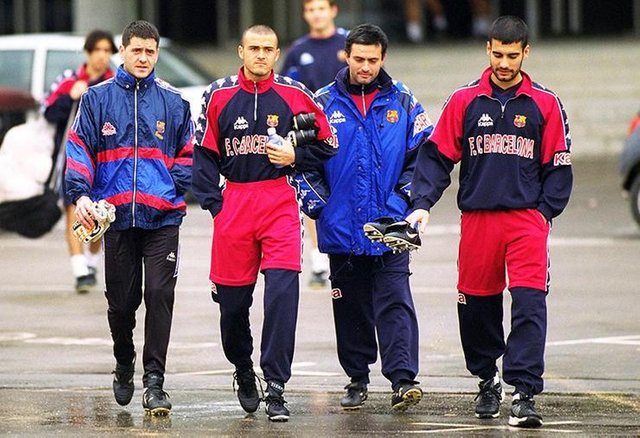 source
The Barcelona days with Enrique,Pep and Jose going to training. Who would have thought how their managerial careers would play out and be huge rivals.
Some of the best coaches are ex players as they understand the game better and what goes through a players mind. Having personal skills and understanding people I think is what sets managers apart. Getting the best out of a group that others have failed to do is the sign of a good manager in my books and not how big the cheque book is in front of you.
Brian Clough was renown for bringing players back down to earth with a bump with his tough love approach. Roy Keane was punched in the stomach after a back pass led to a goal whilst playing for Nottingham Forest against Crystal Palace. hat wouldn't go down too well today but it didn't upset Roy Keane as he felt he deserved it.
I digressed a bit there and back to Mourinho. He arrived in management not the normal way and it is interesting to see how it shaped his career. When Bobby Robson was at Porto as their manager he needed a translator and Jose took up that role. Doing this kept him on the inside learning from one of the best managers of his generation. He would of been hands on at practices and everywhere Robson was Mourinho was as well. A shadow and a sponge taking in everything he could.
Robson left Sporting to take over the reigns at Barcelona and Jose went with him as part of his trusted team. At this point Jose knew how Bobby worked and became entrusted in organising practices when he wasn't around.When Robson left Barcelona Jose was asked to stay on and be Louis van Gaal's number 2 which he did by managing the Barcelona 'B' team.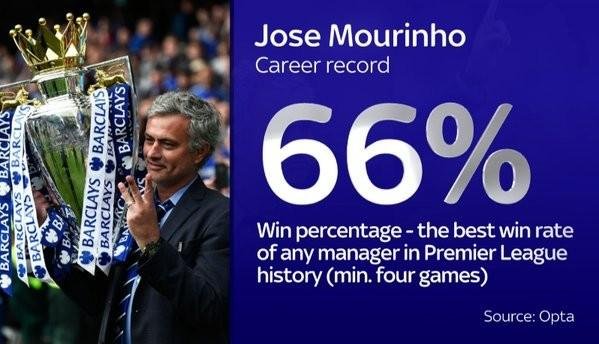 source
It is actually on 65% now and that is with more than 900 matches and has close to 18 % draws and 18% losses which is rather good considering he normally has to come in and do some repair work first.
What Jose learnt over this time being Bobby Robsons shadow you could never buy that information as you are learning from the best. Under van Gaal he was still learning, but different things adding to what he already knew. Hr had two great mentors to teach him everything he knew.
The rest is history after that as he went to Benfica and lasted 9 matches before a change in the board room had him replaced. Benfica regretted this as his next role was at Porto where he not only one the league two years in a row but also the Uefa Champions League.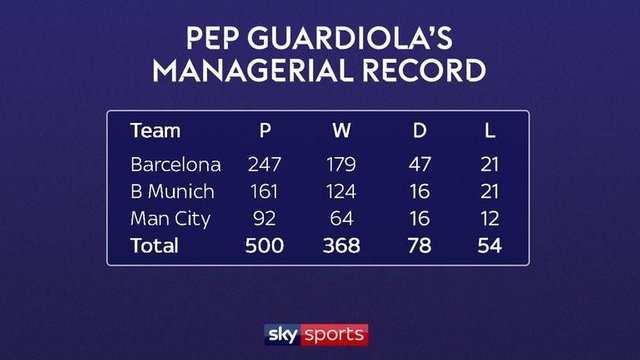 Pep Guardiola's stats up until last season. You can see why they have such a big rivalry as Pep is about 10 percent better off.
Jose never stays longer than 4 years in a club and will normally gain success very quickly and see the challenge as over and move on. His management style is different to many others as he sees himself as having something special that others don't have. He definitely arrived in management through the back door and took whatever he could learn and has added to it. No one can deny that he hasn't had success as his league titles and trophies are proof of that.
I for one would like to see him go to Tottenham as I believe they don't have a bad team at all and he could sort the issues out. The problem I believe lies in the changing room between the players with contracts and the ones who wont sign new ones. If a player doesn't want to sign then he should be shown the door and work with the ones that want to be there. It is that simple and clubs will see the players for what they are. I don't blame the players on this one, but more the club for getting into this situation. Mourinho will fix it as that is what he is paid to do.