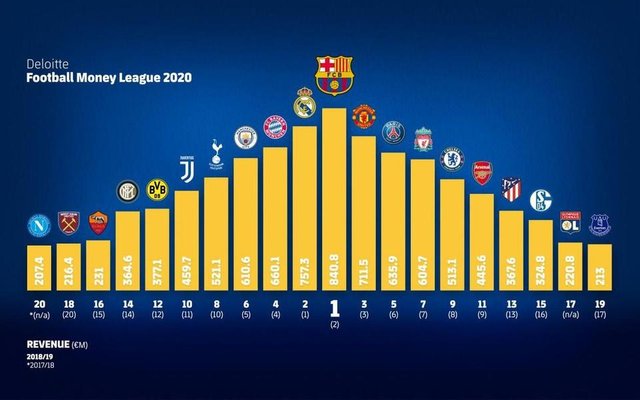 source
Deloitte is a global accounting firm and they have been running a football league of it's best earners for the last 20 odd years. The Deloitte's Football Money League tracks all revenue to see who is doing what amongst the footballing world.
Barcelona and Real Madrid comfortably sit at number one and two followed by a trio of English Premier League clubs plus Bayern and PSG. This is not surprising to see 5 English clubs in the top 10 considering the televison broadcast right deals that the Premiership receives today.
Manchester United is in third spot but for how long as one cannot expect to grow if nothing is happening on the field. Popularity and support are maintained by onfield success and this is not an area that a club can just expect to receive support. Manchester United fans are fickle and at some point the new generation will turn to supporting someone else. In the past if a father supported that club the children most likely did as well but that is not the case anymore. Manchester United have been solid in their business performances and with the boardroom has definitely outshone the players performances over the last few years.


source
Just 3 years ago United sat at the top of the table and have been sliding down ever since.


source
This shows who is performing and who isn't. Barcelona, PSG,Liverpool and Tottenham seem to have things right on the business side of things.
Clubs need to be in all the major competitions firstly for the extra tv rights they receive plus home ground sales of supporters tickets and merchandise. The Champions League is a prime example of this as Barcelona,Real Madrid,Manchester City and Liverpool have done fairly well over the last few years and have been involved in this tournament whereas United haven't.
Barcelona's revenue is up this year yet again and is a result of bringing their merchandise department into the whole package and taking control of the licencing agreements on their branded apparel. They jumped a staggering 130 million Euros in revenue in just one year.
Liverpool have just completed a new deal taking control of their licencing agreements with a new shirt supplier giving them more control and expect to see them rise sharply up the table over the next year. They have a fantastic team and are on a massive high which should see a new fan base growing and honestly expect to see them leapfrog United by the end of 2021 or even sooner.
United is a prime example of a club resting on it's laurels and past performances from years gone by and that can only buy you so much time. Staying in the public eye being involved and competing at the highest level is where the true money is and to be frank they are no where near good enough anymore.
The rankings say a lot as Arsenal,Manchester United and Chelsea have stagnated in their revenue growth compared to other clubs around them whereas a club like Tottenham is on a massive growth curve. They have a new modern stadium with more capacity plus they had a good run in the Champions League losing in the final.
The established clubs will always do well as they have performed over the years building their fan base. The likes of Liverpool have always been a big club but have the potential to become a giant club with performances on the pitch matching what the directors are doing in the boardrooms. The potential to break into the top 3 should be their target right now as it is possible. The likes of Bayern and United seem to be behind the times with how things should be done and if they are not careful will slip out of the top 10 over the next 5 years.
The football clubs need to be generating huge revenue with decent sized profits just to stay up with the leading clubs around Europe. The last 5 years will only be seen over the next 5 years as it will have a snow balling effect and the likes of Arsenal, Chelsea and United will definitely lose ground to their rivals. Today you still need to perform on and off the field as this links directly to the earning power generating new growth by tapping into new revenue streams.