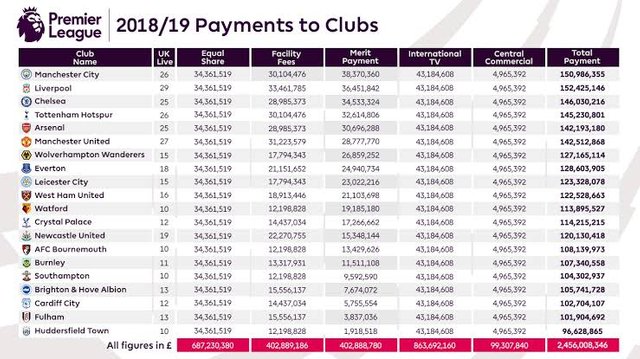 source
Clubs who got paid a small fortune last year are struggling to come back up.
I am almost certain we will see one or two of the old guard going down from the Premiership to the Championship at the end of the season. I was looking at the Premier League table today and it is still too early to call as there are loads of possibilities still to play out.
Last season Sheffield United,Norwich and Aston Villa came up and Cardiff City,Fulham and Huddersfield went down. You would expect the three going down to have a fair chance of coming straight back up, but this is not so simple. Teams that languish at the bottom of the Premiership every season and there are many are not used to the fighting that takes place in every game.
There is a different mind set from survival and winning and the ones going down haven't had much experience of winning week in and week out. The three that were promoted know what a struggle it was to get up in the first place and what it now means to them and don't want to go back down.
Every season it seems the same clubs are having to avoid the drop and as long as they do it is job done until the following season. This is now getting harder as the teams coming up are better prepared. Aston Villa went to town this year and spent a small fortune in order to better their chances of staying up,Sheffield United have a some what decent squad and should make the top half of the table. Norwich we don't know what to expect but when it comes to the time to fight to stay up they may have it in them as they battled last season to come up.
The teams that went down last season are having a difficult time with Huddersfield possibly 2 points away from another relegation battle,Cardiff are mid table and Fulham are in with a chance of being promoted back. These teams have an advantage as they have a parachute payment of 40 Million pounds this year,25 Million next year and 10 Million in the third year. This doesn't guarantee much though as look at teams from previous seasons disappearing down the leagues.
Bolton Wanderers with the Stadium of Light used to be a Premier team and is more like the Stadium of darkness today as they are looking to be relegated into Sky bet League 2 next season which would be 3 leagues away from the Premiership.
Looking at the cellar dwellers or relegation battling teams this season some names stand out Southampton who have been in the Premiership since 2012, West ham who have been up now for 14 seasons and Everton who have always been in the Premiership. I doubt they will go down, but one never knows. All it takes is 3 or 4 results to go your way and you are out of the relegation battle for the time being. It will be interesting to see the table in the New year after the festive matches have been played as I expect some bigger names at the bottom end.