As I stated in a blog earlier in the week, the best thing a new manager in any profession can do is look for the easy wins and today's match between West Ham and Spurs demonstrated how an experienced campaigner like Jose Mourinho knows this all too well. The changes he made were hardly groundbreaking or tactical masterstrokes but what they did do is to simplify the game of football for a Spurs team whose form has been woeful for the best part of a year.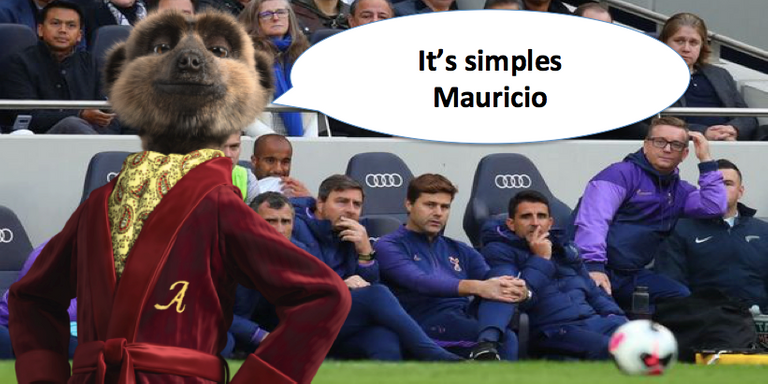 Spurs were of course helped by the fact that West Ham were truly awful! I don't think I've ever seen a derby between these 2 sides with so little bite, particularly from the home team who were as generous in defence as they were toothless in attack for the first hour. However, Mourinho can take credit for having instigated some early changes that contributed to Spurs securing their first away win in the Premier League for 10 months!
Round pegs in round holes
It may seem obvious but playing players in their preferred position had a massive bearing on Spurs dominating this London derby. Mourinho decided that he would stick largely with the same formation that Poch had used for the previous 5 seasons but he made some very significant changes in personnel within that shape.
Perhaps the biggest decision was to start Dele Alli while leaving Christian Eriksen on the bench. Both men are ideally suited to the number 10 role within the 4-2-3-1 formation but in recent months Pochettino has shoehorned both players into the starting 11, requiring Alli to play on the left-hand side of the 3 attackers behind Kane. It's not Alli's ideal position and his form has suffered in recent seasons as a result. Today, however, he seemed reinvigorated playing off Kane and was instrumental in Spurs first 2 goals.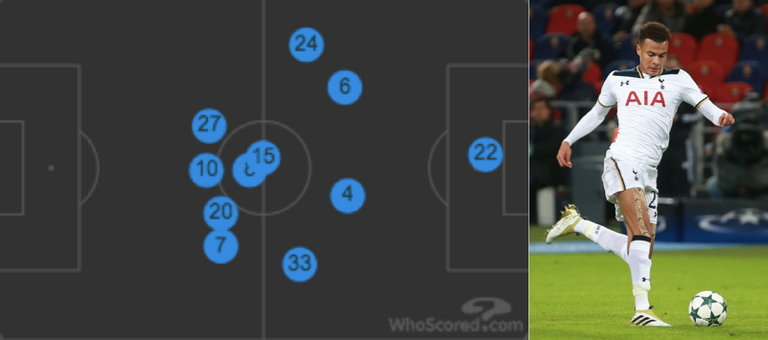 Average positions of the Spurs team v West Ham - Alli (no.20) played almost alongside Kane for the duration
There are reports that within his first training session Mourinho called Alli over and asked him "Are you Dele Alli or are you his brother?" Alli answered "I'm Dele Alli" to which Mourihno responded, "Then go out and play like him". Given the uncertainty around Eriksen's future, it was perhaps understandable that Mourinho would give Alli first crack at the whip in the number 10 role but the change in position, as well as the pep talk, brought about a performance (particularly in the first 45mins) that was reminiscent of the player who burst onto the scene as a teenager several years ago.
Elsewhere, the decision to play Dier and Winks as the double pivot in midfield was viewed as a typical Mourinhoesque tactic. Dier is a player that Mourinho was strongly linked with during his time at Manchester United and it seems that admiration has continued as the new boss immediately reinstated him into the midfield role where he has played his best football for Spurs. Certainly, that midfield anchor position is an area where Spurs have been found wanting of late with Dier falling out of favour and Wanyama's form and fitness issues all but ending his career at Tottenham.
Pochetinno had favoured combinations involving 2 of Sissoko, Winks and Ndombele so far this season and while each has their own unique skill set, none of them are ideally suited to playing the role of a defensive shield in front of the back 4. Dier gave a steady performance today but will undoubtedly need to prove himself against higher quality opposition in the games to come. It will be interesting to see what role Mourinho has in mind for Ndombele when he returns from the knock that kept him out of today's match.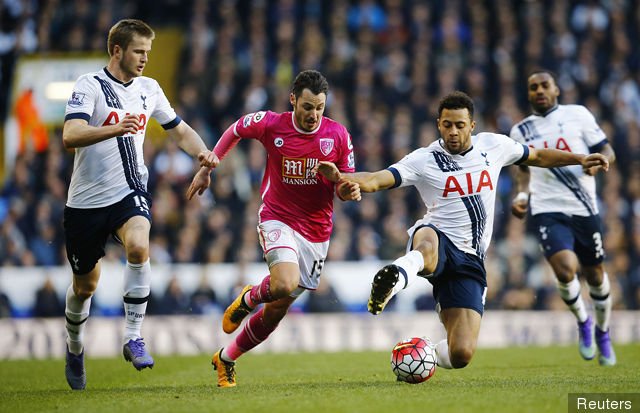 Spurs best midfield pairing of recent years was Dier and Dembele. Can Dier rediscover that form and could Ndombele play the role that The Mouse did so effectively for Spurs? source
Attackers who attack and defenders who defend
Again, very simple tactics and a very simple message from a manager who is yet to have the time with his squad for anything else. The front 4 players were given license to attack while the rest of the team were given defence as their primary focus.
The midfield pairing mentioned above meant that Spurs were far more compact in the middle but the other and perhaps larger tactical change was the role of the full-backs in this Mourinho team. With the aforementioned shift of Dele Alli into the number 10 berth, Son was pushed onto the left (his best position) and Moura onto the right. Anyone who watched Chelsea in Mourinho's first stint in charge will know that he likes forwards who can keep the width while also popping up in the box to score. Having players in these positions also means that the full-backs aren't required to abandon their defensive duties in order to provide width to the attack.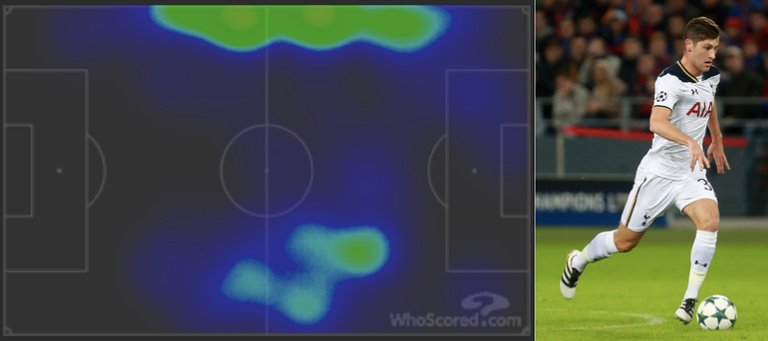 Aurier advanced a little more down the right but Davies rarely ventured across the half-way line
Again, if you are playing 2 out of Eriksen, Alli, Lamela or Lo Celso (which Pochettino regularly did) then your full-backs must bomb on down at least one of the flanks in order to provide width to the team. Today they sat much deeper, particularly Ben Davies on the left and yet Spurs looked most dangerous in attack in the first half down that flank with Son, Alli and Kane all comfortable in their positions and all knowing were the others were likely to be. Simultaneously, Yarmelenko down that same side of the pitch never got a sniff as Ben Davies was always in position to marshall any West Ham attack that developed down their right.
It was noticeable that Aurier did push on more from right-back and perhaps that was to compensate for the fact that both Kane and Alli while staying largely central do like to join attacks from the left because they are both right-footed players and it opens up the goal for them to shoot. Moura, therefore, was a little bit more isolated down that flank, he didn't have runners in behind or Dele Alli popping up in space and therefore he regularly had to play back or at best sideways in order to keep possession. He did of course score by doing what any good wide forward does and getting to the back post as the attack developed down the opposite flank. However, there is clearly room to work on the combinations down the right-side because better-organised sides than West Ham will need to be challenged in all areas of the pitch.
Play the ball towards the opposition's goal
Damn Barcelona and the Spanish national team. Their success led to every manager thinking that his side needs to play tiki-taka style football in order to win games. When you have the players to do it and it's done at pace then it's fantastic but watching Spurs play a possession-based game in recent months has been akin to watching paint dry. So many needless square balls and so predictable in their build-up from the back.
For me, that results in 2 big problems that have snowballed out of control this season. Firstly the lack of pace in our passing and build-up means the opposition are able to get their defensive shape back and it's very difficult for any team let alone one that is struggling for form to play through a side in those circumstances. Secondly, when you play out from the back every single time it allows the opposition the chance to press you high-up the pitch and be confident that you aren't going to hit a long-ball over the top that might suddenly leave them short of numbers.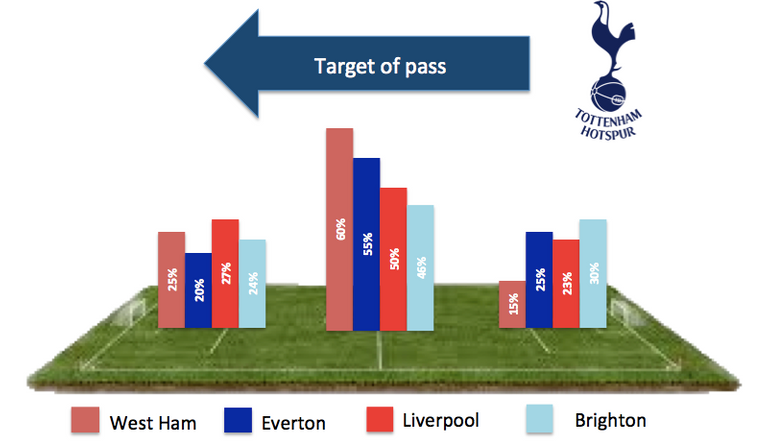 The graphic shows the intended destination of all passes in Spurs last 4 away games. It is split into attacking third, middle third and defensive third. Spurs played just 15% of their passes against West Ham towards their defensive third significantly less than their previous 3 matches
Probably the most frustrating thing for a Spurs supporter is that it didn't start like this under Pochetinno. The early success we had was as a result of playing fast direct football, pressing the opposition in their own half and looking to spring a quick counter-attack as well as the occasional long raking pass from our centre-backs looking for runners in behind - The Aldeierweld cross-field pass into Dele Alli tactic got us numerous goals in the first few seasons of Poch's reign!
Where Poch abandoned those tactics Mourinho seems intent to set about reinstating them. We played very little from the back yesterday with most goal kicks being hit into the opposition half. Given the frailty of West Hams goalkeeper and 2 CBs this was the perfect tactic - quite simply it put pressure on them while removing it from us. At the same time Dier, Winks and the defenders picked off plenty of passes in the middle third meaning that Spurs could launch their attacks from a much more advanced position.


Minutes possession required per chance created - Spurs required just over 3 minutes of possession in the West Ham game to create a goal-scoring chance. A stat that is a marked improvement on Poch's last 3 EPL away games
Onwards and upwards?
When all is said and done, football is a results-based business and Mourinho is a manager who is famed for getting the win. It was important that Spurs showed something in this match and the hope is that momentum can be built off the back of it. It's also worth pointing out that in December Spurs play away to Bayern Munich and Wolves while also entertaining Chelsea. I think we will know a lot more about the true extent of the Mourinho effect once those games are completed.
All infographics are my own with stats and pitch maps taken from WhoScored? and additional images from Wiki Commons